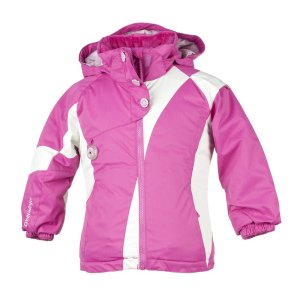 Girls' puffa jackets are an important purchase as the chill of winter is just round the corner making it a good time to wrap up with a quality jacket. Picking a coat for children is just as important as choosing a quality jacket for adults, but there are some key differences to keep in mind. Picking a jacket that suits a girl's taste means that she is more likely to wear it more often, less likely to lose it, and more likely t take good care of it. When purchasing a girl's puffa jacket, there are many structural options to consider. There are a variety of fits and other aspects to keep in mind, such as whether to have a lining and what the intended purpose the jacket is. Factors that should be considered when deciding on the many features in a girl's puffa jacket are covered in this guide. These include construction, features, design, sizing, and proper care of a puffa jacket.
Girls' Puffa Jacket Construction
Puffa jackets are typically constructed from several different compartments. This keeps the inner filling from bunching up and thinning out in parts of the coat. The filling is therefore spread evenly throughout the jacket and if it wasn't for the compartments which are sewn in, when bunching occurs, certain parts of the jacket would be left vulnerable to the cold. The quantity, as well as the quality, of filling in the jacket will contribute to warmth and have an impact on the size of the puffa jacket.
Filling for a puffa jacket is generally one of of two types; down feathers or synthetic fibres. Synthetic fibres were created to be similar to down while being more weather resistant. Down is very warm and lightweight, but can be easily damaged if it gets wet.
Puffa Jacket Exterior Material and Lining
Puffa jacket exterior material is most commonly both water resistant and wind resistant. It is not waterproof though if it gets very wet, and some types of filling can bunch and be damaged if they are not dried in the proper way.
The lining of the jacket will either touch the skin or under-layers of clothing. A lot of linings on puffa jackets will be the same material as on the exterior, while others will have a softer material. A commonly used material is fleece on the interior. Soft linings add more comfort but are also more susceptible to staying damp if they become wet.
Puffa Jacket Closures
Jackets are typically closed with a zipper and then also have other snaps, buttons, or sometimes a velcro closure. When a zipper is exposed to the exterior of the jacket, heat is lost. Puffa jackets with an overlap of material that covers a zipper will keep in heat better than those without. Zippers can act as one-way zips, which zip from the top of the jacket to the bottom, and a two-way zips, which have two zippers; one that zips down from the top of the jacket, and a second that zips up from the bottom. A two-way zipper is slightly better at regulating the amount of heat kept in by the jacket.
Girls' Puffa Jacket Styles
There are longer and shorter puffa jackets, both having their pros and cons. Longer length puffas provide more coverage and thus more full-body warmth, while shorter jackets provide less coverage but allow for more versatility for activities. This is an especially important point to consider when buying a puffa for children, as they are more likely to take off jackets if they inhibit activity or are uncomfortable. Longer jackets are therefore not as conducive to a child's lifestyle, as they are not as comfortable to wear during playtime and while running around. Some shorter puffa jackets also have a scoop on the lower back to keep the lower back warm and covered when the arms move up and down.
Many jackets for children are gender specific. Girls' puffa jackets tend to be more pastel colours, such as pink, purple, and yellow. Other jackets come with patterns that appeal to girls.
Features of Girls' Puffa Jackets
Some puffa jackets have reinforced material on the exterior of the jacket to make the jacket more wear resistant. This reinforced material is most commonly found on the shoulders and elbows of the jacket.
Hoods for Puffa Jackets
There are three options for a puffa jacket regarding hoods. The first is a jacket without a hood. The second is a hooded puffa jacket. The third and most versatile is a jacket that comes with a removable hood. This allows for the most personalisation and also allows adjustments to the jacket based on the preference, weather, or activity of each day.
Deciding to have a hood or not is a personal decision and should be based on what the activities of the child are likely to be. While having a hood is beneficial for keeping in body heat when caught in especially cold or windy weather, it is important to remember that hoods and indeed puffas in general are not generally waterproof and are not a good option for rainier weather.
Pockets on Puffa Jackets
Pockets are generally found on either the exterior or the interior of the jacket. The number of pockets is a personal option, and the desired puffa jacket pocket location is best decided based on previous personal experience. Many coats for children keep the pockets simplistic, on the exterior of the of jacket, but some do have extra pockets. There are a variety of ways that pockets are kept closed. Some, mainly on the interior, are kept closed with a zip, which is a good place to keep important personal belongings or to store small items that can be lost. Pockets on the exterior of the coat are a good way to keep hands warm while walking or playing outside in the cold.
Drawcords on Puffa Jackets
Another optional feature to be aware of on puffa jackets is drawcords. Drawcords run along the base of the jacket or around the hood. They can be pulled tight to keep the warm air in around the core of the body or the head making them another feature that can be used to regulate heat and a good option for especially cold weather.
Caring for a Puffa Jacket
Cleaning the jacket is something to consider when making a puffa jacket purchase. Be sure to check the brand's cleaning recommendations on the tag or located on the brand's website. In general, clean puffa jackets on a gentle cycle with regular detergent. A front loading washer is recommended but not required. Drying is the most important part of cleaning a puffa jacket and takes some time. Dry on a low heat as high heats can damage the jacket. Take the jacket out periodically to de-clump the filling material, or if clean tennis balls are handy, toss them into the dryer with the jacket.
Because the jacket is drying on low heat, it will take more time than on a high heat. Check the jacket to make sure that it is drying evenly. Do ensure that the jacket is completely dry before removing it from the dryer, as leaving patches of dampness ruins a jacket. The cleaning and drying process is similar for both down and synthetic fibres. Synthetics are easier to dry, as down at times appears dry but can still have small damp clumps deep within the jacket. Be sure to check for dampness when drying jackets filled with down.
Sizing for Girls' Puffa Jackets
Below is an approximate sizing chart for girls' puffa jackets. Follow these guidelines to get a feel for the approximate size to browse for before starting shopping.
| | | | | | |
| --- | --- | --- | --- | --- | --- |
| Size | XS (6-7) | S (8) | M (10-12) | L (14-16) | XL (18) |
| Height (cm) | 109.2 - 115.5 | 114.3 - 129.5 | 130.8 - 147.3 | 146 - 162.5 | 163.8 - 170.1 |
| Chest (cm) | 59.6 - 62.2 | 64.7 - 68.5 | 72.3 - 76.2 | 80 - 83.8 | 88.9 |
| Waist (cm) | 50.8 - 53.3 | 55.8 - 58.4 | 60.9 - 63.5 | 66 - 69.8 | 73.6 |
| Hip (cm) | 48.2 - 53.3 | 48.2 - 53.3 | 59.6 - 63.5 | 67.3 - 71.1 | 76.2 |

When taking measurements be sure that the measuring tape is snug around the core of the body to ensure accurate measurement. The measuring tape should be snug but comfortable for measuring the chest, waist, and hips.
How to Buy Girls' Puffa Jackets on eBay
Girls' puffa jackets are available in brick and mortar stores as well as online. eBay has a wide variety of girls' puffa jackets in all sorts of types, colours and styles, and with many different features. Begin your search for a puffa jacket on the eBay home page. Type in "girl's puffa jacket" and narrow down the search by clicking on the filters that suit your specifications. You can also type more descriptive words into the search box if you have decided on various colours, features or other desired aspects of the jacket. eBay has a large selection of jackets to browse and to select from which cater for a variety of different tastes and styles.
Be sure to read seller feedback and to look at the other auctions by the same seller. Looking for clothing bundles may also be a good option to purchase a variety of items you are looking for while also helping to save on postage.
Conclusions
A girl's puffa jacket is a necessary purchase for the cold winter months. There are a wide variety of specifications to decide upon. The structure of the jacket, such as its filling type, is an important element of the decision making process. The length of the jacket is also an important decision as a longer jacket will provide more warmth while a short jacket will have more versatility for playing and running around.
The decision whether to purchase a jacket that has a hood, or one without, and whether to have a jacket with drawstrings or not, will vary depending on the weather and on the intended use of the jacket. Knowing the proper sizing is helpful before starting to browse for a jacket, although when a jacket has been decided upon, always check the brand's own sizing chart. Proper care of the jacket is also important to ensure the longevity and durability of the jacket. eBay has a large selection of jackets which cater for every girl's style and comfort.