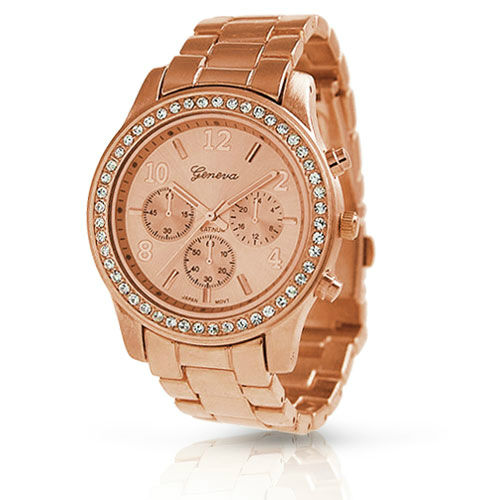 Children of almost any age can learn to appreciate and use a wristwatch, but that does not mean it is easy to pick out a suitable watch. Anyone purchasing a girls' wristwatch is faced with finding the correct size, choosing options that are suitable for their child's lifestyle, and finding a watch that is pleasing enough to be worn by someone who might be very young. While there are many reasons to purchase a girls' wristwatch, there are also many different choices, and some first-time buyers can be a bit overwhelmed.
Most girls' watches can be found in toy stores, jewellery stores, watch stores on and offline, and on eBay, where buyers can find a huge selection of wristwatches for girls of all ages. Considerations for anyone trying to buy a girls' wristwatch include looking for a quality and durable watch that fits the girl they are buying it for, and is likely to be appreciated by that girl. Check out Michael Kors on eBay which offers a great selection watches for girls.
When to Purchase a Girls' Wristwatch
Many people chose to purchase a wristwatch for a girl as young as four, or as old as fifteen. Generally, the choice is up to the parents, but factors such as levels of responsibility, temperament, and lifestyle should be taken into account. Some people purchase a watch for their girls of very young age in order to help them learn to tell the time. For older girls, a watch can be used to help reinforce when to do chores, do homework, or even learn bus and school rituals. At other times, a watch could simply be purchased as a gift.
Depending on the needs of the buyer, the watch should be purchased accordingly. For example, parents who want their young child to learn time more easily can simply choose to purchase a toddler's wristwatch, while someone who wants to instil responsible time management into their child would buy a watch for an older girl. As a gift, the only important considerations are the age of the girl so that she can appreciate the watch (usually seven or older) and the style of the watch so that it matches her tastes.
Sizing a Girls' Wristwatch
One of the most important considerations for purchasing a girls' wristwatch is that the watch must be the correct size. Most children's watches are sized with an adjustable band, usually meant to fit a range of wrist sizes. However, the difference can only be a few centimetres, meaning that a toddler might need a different size watch than a ten or fifteen year old. Generally, watches are sold with the band measurements on either the back of the package or the description.
Some girls' wristwatches also have size labels, although this is not very common. Size labels could include 'Toddler', '5-8', '8-10', or other similar measurements to indicate the age of the child the watch is intended for. It is important to consider that if the girl's wrist is larger than average, she might have to size up, or vice versa. Usually the safest bet is to use a soft measuring tape to check the circumference of the child's wrist in centimetres and compare it with the size of the watch band.
Styles and Types of Girls' Wristwatches
The next step to purchasing a girls' wristwatch is to choose a type. Common styles of children's wristwatches include digital and standard timepieces, and both have pros and cons, which parents, or anyone buying a child a gift, should consider. Buyers should look for options that suit their girl's preferences, lifestyle, and fashion sense.
Watch Bands or Straps
The first consideration is the type of band. Many children's wristwatches come with rubber, nylon, fake leather, and sometimes metal as well. Metal and nylon are the most durable, while rubber and fake leather can be chewed and swallowed by very young children. Metal watches are also not normally suggested for girls who tend to get into a great deal of accidents, because the metal can cause bruises during a fall. Most people find that the band material is purely a personal choice, and does not really affect the overall buying decision too much except with toddlers and children under six years of age.
Different types of clasps can also be chosen. The most common clasp is a simple buckle closure that uses holes in the strap and a small prong to close the watch. Another common type of watch closure is a tongue clasp that closes inside of a box. Usually these are plastic, but are easier to get on and off of a younger child than a buckle watch. There are many other types of watch clasps, but not all of them are common on girls' wristwatches.
Digital Girls' Watch
Girls' digital watches are probably one of the best options for younger children. Digital watches are normally made with plastic lenses, are generally in hard rubber or plastic, and can include features such as waterproof, shatterproof, shock resistance, and an easy way to tell time for children. Other pros include that many of these wristwatches come with built-in alarms and even stopwatches. The cons include that a digital watch is not useful for teaching a girl to tell time. However, digital watches can be quite inexpensive, can come in a variety of qualities, and are made for girls of all ages.
Analogue Girls' Watch
The classic timepiece or analogue watch is one with a dial and either numbers or dots to tell time. This type of watch can depict cartoon characters or look like an adult watch, and has two to three hands. Most of the time classic dial watches are made for six-year-old girls and up, as they are not usually as durable as digital watches. For younger girls, most of the dials are made with plastic instead of glass and can be shatterproof or not, depending on the maker. The band can be made of rubber, plastic, fake leather, metal, and in some cases real leather, although this option is not common.
Expensive jewellery versions can be made of gold, silver, or have actual stones on the band. The pros of the classic dial include that the watch can be used to teach a girl to tell time; but the cons include that features including waterproof and shock resistance that are often present in digital watches are likely not available. These are probably the best wristwatches to give as gifts, and can be purchased in metal-bracelet-type watches as gifts for older girls.
Durability Factors to Look For
Most children, even girls, are a lot harder on their watches then adults are. Whether from play, simple carelessness, or forgetfulness, a girls' watch should be durable enough to stand up to her lifestyle. Very active girls need very durable watches, and mildly active girls should still have watches made of some type of durable material. General factors to look out for include shatterproof, which means that the glass does not break into pieces if hit against something. This is an important safety factor for younger children. A strong, sturdy band is another good feature to look out for, as cheap rubber ones can quickly break. Nylon and thicker rubber or plastic are excellent alternatives for anyone who does not want their child wearing a metal band.
Waterproof and water resistant factors are also excellent choices. Most girls do not want to remove their watch before washing their hands, so water resistance can help to protect the band and the timepiece from brief interactions with water. Usually only digital and sports watches are fully waterproof, but most girls might not appreciate the style, so unless for a very young child, or a girl not interested in feminine dress or behaviour, a more feminine watch is a better choice.
Buying a Girls' Wristwatch on eBay
eBay is an excellent place for anyone to find and purchase a girls' wristwatch. Styles range from feminine to unisex, and are available on eBay for girls ages four to 15, although the latter are sometimes labelled as teen or women's watches. You can search for a watch for any age and for any style. Considerations include that very active girls are likely to appreciate a sports watch, but that feminine girls may prefer other styles.
Once you have found an appropriate watch on eBay, you should read the description carefully. This should label any specifications about the watch, including any damage to the watch if it is a used item. You can check the shipping to see if the item is located locally or internationally, and then make your buying decision. If you do not have enough information, you can probably ask the seller any questions you have.
Conclusion
Considerations when purchasing girls' watches include finding the correct band size and choosing a wristwatch style that suits the child's temperament. For example, some girls' watches are available in pink, or with popular culture media such as 'Hello Kitty' on the face. Unisex watches can also be purchased for girls, although these are usually very simple bands without gender-defining colours or characteristics.
In general, the most important part of purchasing a girls' wristwatch is to ensure that the watch is the right size for her wrist, that the durability matches her lifestyle, and that the watch does not have anything (such as breakable glass) that can hurt her. Girls' wristwatches can be bought for every age from four to fifteen, in every style, from feminine to boyish, and at a variety of stores including online and offline stores such as toy stores and eBay. The main considerations when purchasing a watch are to pay attention to size, style, and features, but other than that, most people have no trouble with purchasing girls watches either online or locally.