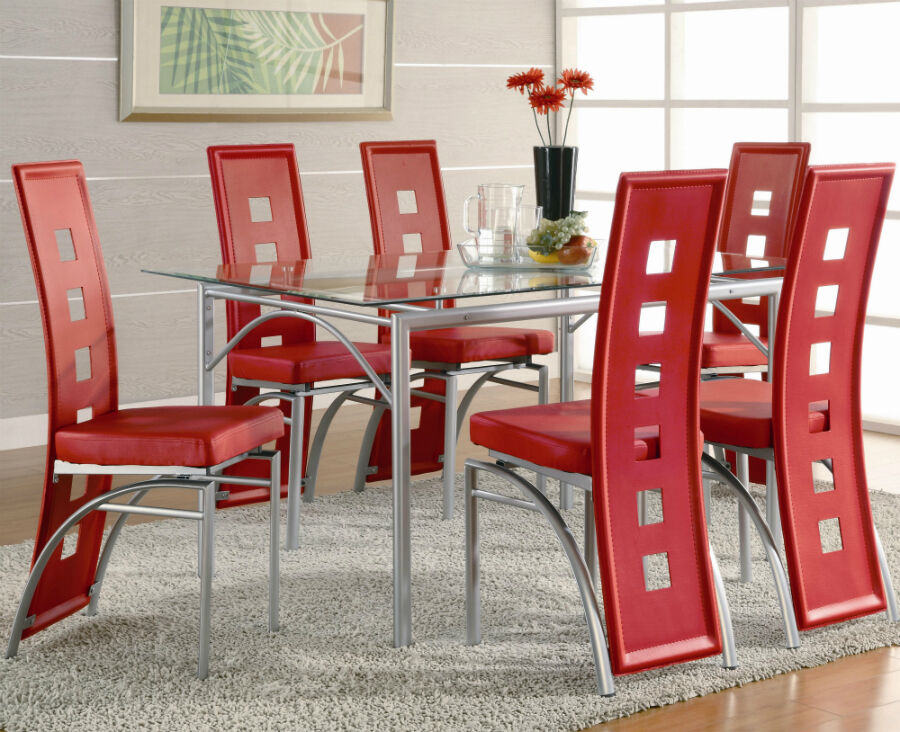 The dining room is not just the place where one eats; it is also the place where guests are entertained, family bonds are strengthened, and food is enjoyed. Because of this, it is important to ensure that the dining room furniture is just as pleasing to the eye and comfortable as the other rooms in the house. Oftentimes, the furniture for the dining room is bought in a set, rather than individually, so that the style of the table and that of the chairs match perfectly. There are many types of dining room sets, and among the most aesthetic ones, but also practical because they are easy to clean, are glass dining room sets.
Before buyers purchase a glass dining room set, they should take into account many aspects, but the most important are the size of the family, the size of the dining room, and the style of the table and chairs. Each of these aspects, as well as tips on how to purchase a glass dining set on eBay, should be considered to ensure the buyer purchases the furniture that will complement their dining room perfectly.
When shopping for a glass dining room set, there are a few things the buyers should look at. First of all, they should consider buying a dining room set that matches the overall theme of their dining room. For example, if the other pieces of furniture in the dining room, such as cupboards or display cabinets, have an antique look, then the dining room set should have an antique look as well. For a minimalist-style dining room, a simple glass dining room set can be an inspired choice.
Decide if a Glass Dining Room Set is Appropriate
The next thing the buyers should consider is whether a glass dining room set is appropriate for their home or not. Glass is fragile, and some dining room sets made of glass have thin tables that may crack or break with rough usage. Even though broken glass can be easily replaced, it may not be convenient to do so if the glass is permanently exposed to the risk of breaking. If there are young children or pets in the family, then a glass dining room set may not be suitable, and more sturdy options like wood or metal should be considered. However, a glass table can be very practical, because it is easy to clean, it does not stain and scratch easily, not to mention it is elegant and modern-looking.
Take Measurements
Before shopping for a glass dining room set locally or on eBay, it would be wise to measure the size of the dining room and of the available space so that a dining room set of the appropriate size can be bought. For smaller rooms, a round dining room table of small to medium size is enough, while a bigger room can accommodate a larger dining room table. As a rule of thumb, the dining room should not feel too cramped and be difficult to move around in because of the furniture, and at the same time, the dining room set should not be too small and look awkward inside the dining room.
Things to Look for in a Glass Dining Room Table
When shopping for a glass dining room set, the buyer should look at a few things and make sure that the dining room set meets these criteria. The size, the style, and the quality of glass dining room sets are the main considerations to make and each of these is discussed in detail next.
Size of a Glass Dining Room Set
The dining room set should have the appropriate size to fit correctly in the dining room. This is why taking accurate measurements of the available space prior to purchasing this type of furniture is important. However, even if there is enough space available in the dining room to accommodate a table of any size, not any size is appropriate. For example, for a small family, getting a large dining room set may make meal sessions feel impersonal, while a small dining room set for a big family gathering can make everyone feel uncomfortable. The size of the dining room set should be large enough to offer comfort yet small enough to ensure a personal environment when the buyer and his or her family or guests are dining. Glass dining room sets generally come in sizes to fit four, six, and eight people.
The buyer should not forget to also inspect the chairs and ensure that they are the right size. Chairs that are too big or heavy may make it difficult for children to climb onto, and chairs with a low back will not be comfortable for tall people.
Style of a Glass Dining Room Set
Just like other pieces of furniture, the glass dining room set has to fit the overall look of the room as well. There are several types of designs the buyer may encounter when shopping for glass dining room sets. Sometimes, the glass dining table has a minimalistic style and is simply a flat piece of glass placed upon metal or wooden legs and the chairs are made of wood or metal with a basic design. Other times, the glass table has carvings, metalwork, and wooden or metal borders. If the room has a traditional decor, a glass table with a wooden border may look better than a plain glass table. If, however, the room has a minimalist, modern design, embellished glass tables with metal or wooden borders may look out of place.
Depending on their materials and design, glass dining sets can be quite expensive; however, buyers on a budget can choose to buy used glass dining room sets at affordable prices. Buyers who are not concerned about price and want a unique dining room set, can choose vintage and antique pieces, keeping in mind that some of them may need refurbishing before being ready for use. New, used, and antique glass dining room sets are all available on eBay in a range of styles, conditions, and prices.
Quality of a Glass Dining Room Set
A dining room set makes a good investment if it does not only look good, but is of good quality as well. The buyer can ensure this by inspecting the set and making sure that it is sturdy and made of quality materials. The finish of the dining room set should also be good, and if there are wooden or metal parts, they should be checked for scratches or rust when buying used furniture. The glass part of the dining room table should be solid and not too thin or fragile. If the buyers cannot inspect the set before buying it, they should ensure that the set comes with a return policy in case it is not up to their standards. There are many places where one can purchase a glass dining room set, including furniture shops, antique shops, and online shops like eBay.
How to Buy a Glass Dining Room Set on eBay
eBay has a variety of glass dining room sets for you to choose from, available from sellers from across the country and globe. Looking up items on eBay is easy; just go to the eBay home page and type in the search box a relevant search term such as "glass dining room furniture set". After you have done this, click on "Search" and you will be directed to a section of the website with a variety of glass dining room sets available for sale. Alternatively, you can browse all furniture category and refine your search using the available options, including price, type, and location of the seller.
If you see something you might be interested in, you can click on that listing to be brought to the item page. On this page, you can see more information regarding the item and also its seller. To ensure the best buying experience, it is recommended to buy from sellers who have a good feedback rating. Before you purchase the dining room set, ensure that it can be returned if you are not satisfied, and make sure you have read all the details. If you are certain this is the purchase you want to make, then you can buy or bid on that particular glass dining room set.
Conclusion
Dining room sets are basic components of any dining room, and furniture made of glass is elegant yet easy to clean in the same time, making glass dining room sets a good choice for many people. When choosing a dining room set, the buyer has to ensure that the table and chairs match the decor of the room, as there are many styles available, some with decorations, and others with a minimalist design.
Before shopping for a glass dining room set, the buyer has to first measure the available space in the dining room to ensure they buy a table in the right size. As glass dining room sets are made of different combinations of materials, including glass and wood or glass and metal, the buyer needs to evaluate the quality of the materials, especially when buying used or antique pieces of furniture. While there are many places that sell glass dining room set, eBay is one of the most convenient locations to purchase one because of the range of styles available and the user-friendly search system that makes it easy for anybody to find what they are looking for.