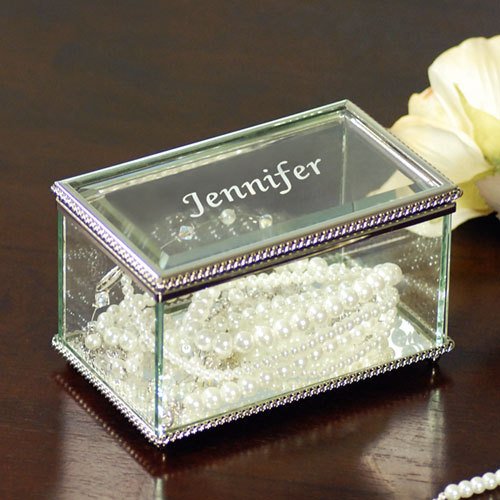 In past times, the jewellery box functioned like a treasure chest for the noble classes. These were hand-crafted and highly ornate, each piece reflecting the use and needs of the people they belonged to. As jewellery became more attainable to the middle classes during the industrial revolution, jewellery boxes began to be mass produced.
A glass jewellery box may be one of the most practical places to store jewellery and potentially the most decorative also. They may be simple with minimal design features or painted ornately and exquisitely crafted. Some jewellery boxes are compartmentalised, and others are just one open space. eBay contains a multitude of various glass jewellery boxes, and there is certain to be one to suit the needs of just about anybody with jewellery storage requirements. The right jewellery box, however, may depend on what type of jewellery a customer has and what design factors are important to them.
Selecting a Glass Jewellery Box
Nobody wants to have to detangle a piece of jewellery each time they wear it, so a primary consideration in a jewellery box is how well it can organise each piece and keep precious items clear and free of knots. If the customer intends to store all their pieces in the one box, well-designed compartments become an important factor in choosing the right jewellery box.
The customer's choice of jewellery box is determined by both practical and aesthetic considerations. They normally should consider if the jewellery box can be locked to secure precious items and whether it is attractive so that it may serve as a decorative feature. There are both compartmentalised and non-compartmentalised designs, so keeping this in mind should help the customer choose one that is right for them. Glass jewellery boxes are usually between 10 and 30 centimetres in diameter and sit comfortably on a dressing table or similar table or bench top, although there are exceptions to this. The following list prompts the customer to consider these points before deciding on a jewellery box.
Compartmentalised or Non-Compartmentalised
The first consideration is whether the designated glass jewellery box should be compartmentalised or not. There are those that have compartments designed especially for earrings, necklaces and pendants. And then there are those that function more literally as a box and require the jewellery wearer to stash all items in together.
The antique jewellery box often contained many compartments, sometimes with obscure and secret drawers. Some of these boxes doubled as a mechanical music box and were sometimes designed as a puzzle where the user had to work out the solution before being able to see their jewels. No doubt, this functioned as an early form of combination security for the box without a lock.
Modern jewellery boxes, both glass and otherwise, come in both kinds and require the customer to understand how each type affects their storage needs. The compartmentalised variety is preferable for storing delicate items that may otherwise be compromised if kept with other jewellery items.
Jewellery Type
The type of jewellery may determine whether the customer wishes to simply store their jewellery in a rather ad hoc way or carefully categorise each type into their own compartments. For instance, plastic jewellery that children often wear survives quite well being kept together. On the other end of the scale, formal and delicate, high-end jewellery should always be kept separately, as constant rubbing damages the surfaces over time.
Jewellery Maintenance
Quality jewellery should always be kept in cool, dry environments. For sterling silver jewellery, a piece of chalk can be kept in the jewellery box to absorb any moisture that may be present to help avoid tarnishing. The inside of the jewellery box should be soft and contain a felt lining or something similar. Copper jewellery should be kept in a zip-lock plastic bag to prevent tarnishing. On the other hand, plastic jewellery may fare perfectly well on a glass base with no lining, so this is a matter of determining the type and value of the jewellery.
Various Glass Jewellery boxes
Glass jewellery boxes come in many different styles, for example, Victorian, classical or modern. The glass component may make up the entire box or form only a small part. Many of the antique boxes are highly ornate, and any glass included is often recessed into a wooden structure. There are also steel-framed jewellery boxes with glass panels that can be painted or have pieces of jewellery attached to the outside as decoration. Below is a selection of some of the popular glass jewellery boxes that can be found on eBay.
The Glass Jewellery Box with a Mirror
One of the most convenient of all jewellery boxes, the glass jewellery box with a mirror has a built-in mirror that usually pops up as a lid or is attached to the underside of the lid. eBay contains many of these items, varying from antique to modern, from decorative and dainty to plain and simple. Some of these boxes are highly compartmentalised with designated spaces for each type of jewellery.
The Glass Jewellery Box with Drawers
This jewellery box is also known as a jewellery chest. The glass jewellery box with drawers allows the user to keep their jewellery neat, flat, and separate to avoid rubbing. Some of these contain open drawers, whilst others have individually allocated spaces within each drawer. There are also wooden versions of this jewellery box that have small patterned areas of glass forming a door, lid or side panel, such as many vintage varieties. Some of these jewellery boxes are also mirrored, either partly or completely forming the entire outside surface.
The Musical Jewellery Box
There are many versions of the music box that are still popular today after having been loved by many generations. The musical jewellery box is available in various materials, including glass. Although sometimes thought to be kitsch, the musical jewellery box has been a hit with little girls for many years, particularly the type that includes a dancing ballerina that pops up when the lid is opened.
There are, however, more refined varieties to appeal to adult tastes. Such jewellery boxes are quite decorative and may often include a mirror. The musical jewellery box may be operated by either a battery or a small motor. The motor which operates the wind-up variety may take up significant room, considerably reducing available storage space.
The Glass Trinket Box
The trinket box is a descendent of the jewellery box, designed to incorporate a wider storage purpose for the various odds and ends that Victorians accumulated in their homes in the 19th Century. These items are usually simple in design, containing but one single compartment. The glass trinket box is normally a small item for the dresser and often highly decorative. eBay also has modern glass trinket boxes among its listings, with varied designs reflecting the diversities of taste and aesthetic purpose. Nevertheless, they all provide storage for small jewellery pieces or miscellaneous items.
Jewellery Box Interior
Most of the small dresser table glass jewellery boxes are felt-lined to create a soft jewellery bed. However, some boxes are glass all the way around with no lining. This is a primary consideration for the customer when choosing the most suitable box for their jewellery.
Unlike antique and vintage wooden jewellery boxes that are often highly organised with many compartments, the glass varieties are more typically open plan. However, there are some glass jewellery boxes that are not just compartmentalised but designed for individual items to be stored without any contact between the various pieces. The glass jewellery box with drawers is a perfect example, especially the boxes with individually allocated compartments.
How to Buy a Glass Jewellery Box on eBay
When you know what you need in a glass jewellery box, it is simply a case of entering the appropriate keywords into the search bar, such as "mirrored glass jewellery box", and go through the listings. When you have located a few jewellery boxes that can serve your needs, carefully read through all information pertaining to the items.
It is recommended that you compare the various sellers of your favourite listed items, paying heed to each seller's ratings and feedback information. Your purchasing decision should be based on both the item itself and its seller. Check your seller's terms of sale and all details relating to their return policy. Ask yourself if you feel you can trust the information given or if you need to clarify anything with the seller via email before you decide.
Glass jewellery boxes are fragile items and great care must be taken in their delivery. The way it is packaged and handled could determine your satisfaction. If you are concerned about how the item might survive the delivery process, check with the seller as to how they intend to package it, or even consult the relevant postal authorities.
Conclusion
Jewellery boxes have been in constant use for hundreds of years, and are still a much sought after commodity for their practical function, collectability, resale value, sentimentality, and aesthetic appeal. eBay has a varied selection of glass jewellery boxes at great prices and so is the ideal place to begin shopping for this item. A customer can best determine the type of jewellery box they need by considering the type of jewellery they own and how it needs to be maintained.
Many people have received their jewellery boxes as family heirlooms. Such inherited treasures may retain aspects of a family's heritage for several generations, and therefore normally remain within a family. There are, however, purchasing opportunities for both vintage and antique glass jewellery boxes on eBay. Although there are new versions listed alongside the old, few can match the charm and capture the scene quite as well as the jewellery boxes from the past. However, irrespective of a buyer's glass jewellery box style preferences, or whether they prefer old or new, there is ample supply of each on eBay's pages.