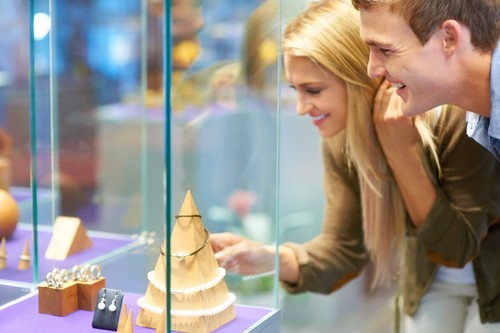 Jewellery is an important accessory to many people, and it is worn every day in a variety of situations by people all over the world. Jewellery is so popular, in fact, that a good number of people have taken to crafting their own jewellery to sell at fairs and other places. For those who wish to display jewellery in an attractive and pleasing way, either to sell it or to simply keep it in a safe place for personal use, it is helpful to have a glass jewellery display.
Glass jewellery displays are incredibly versatile, and are adjusted or modified easily in order to accommodate many kinds of jewellery. Finding the right glass jewellery display poses potential difficulty, unless one is willing to track down a specialty store. It is much easier, therefore, to look for one on eBay, where sellers offer a wide variety of options. Regardless of where a glass jewellery display is purchased, it is helpful to have a good sense of what makes a display effective in terms of colour, design, and construction materials. Knowing these things can go a long way toward making the buying process easier and less complex.
Using Colour
Glass jewellery displays typically have a glass cover that allows anyone to have a clear view of the jewellery on display. For this reason, it is important to examine the ways in which colour and design help or hinder the way jewellery is seen. If the purpose of the display is to sell jewellery, it is even more important to make sure that the colour of the display backing complements the jewellery properly. It should be noted that an important rule of thumb for displaying jewellery is to match the personality of the jewellery to the background.
Black
Black is by far the most popular choice as a background for jewellery displays. Black allows any coloured gemstones or other precious minerals to stand out boldly. This is ideal for those who sell colourful jewellery as the black does not distract the eye. Black is also helpful for certain colours of gold, as yellow gold and rose gold look warm against it. The problem with a black background is that silver jewellery, platinum jewellery, white gold, and any other white metal, may appear dull and cold. This may work when gemstones are the main feature of a piece of jewellery, but for any jewellery that does not contain gemstones, or those with diamonds, black may not be the best choice.
White
Like black, white is a common choice for a jewellery display background. White is similar to black in that it allows for bright colours to appear more vibrant and bold. White also has the benefit of making most metals appear warm and bright. White is especially popular for rings. Some jewellery, like those with diamonds, may not benefit as much from a white background.
Other Colours
There are other colour options for backgrounds in glass jewellery displays. Blue, grey, and even yellow and red, are used at times. Brighter colours work very well with silver jewellery, and help make silver and other white metals seem warmer and more elegant. It is always important to understand what kind of jewellery is set to be displayed, before purchasing a certain background for a glass display case.
Choosing Display Construction Materials
Glass jewellery display cases are made from a variety of different materials. Different materials are used not only in the case itself, but in making the trays and inserts where jewellery is placed for display as well. Since the display case itself is never the centre of attention, when displaying jewellery it is important to choose materials that complement and benefit the jewellery.
Stand Alone Displays
Some jewellery is not displayed in a box, but rather is displayed on an upright display made of glass. These displays are better suited for necklaces, as they can be hung and displayed in the most attractive way possible. Other stand alone displays are designed for rings or earrings. With this type of display, colour or other materials are not usually a concern.
The Outer Case
Wood is a popular choice for glass jewellery displays. Wood can be attractive without distracting those who are examining the jewellery. The reason for this is that wood, even with the rich tones and colours of exotic woods like cherry and teak, are not commonly found in jewellery. A wooden outer case can also blend well with other furniture. In some cases, the wooden outer case is painted black or even more vibrant colours like red. Black is a good choice because it allows the viewer to see the jewellery inside without being distracted by the colour of the case. Leather is also used for the outer case. A leather covering on the outer case makes it softer, and thus prone to damage if the case is transported.
Trays and Inserts
Leather is also a common option for trays and inserts where jewellery is displayed. Leather is dyed in many colours, but white is typically the most popular choice. Leather inserts are useful for all kinds of jewellery, since it does not harm the metal, and is a soft enough that it never damages or react chemically with metal or gemstones. Velvet is the other popular choice for background material. Velvet, like leather, is soft and pliable. It also imparts a certain feeling of luxury for those who see it. The only drawback to velvet is that over time, it can become worn, and potentially appear frayed and tattered.
Selecting Trays and Inserts
Every proper glass jewellery case contains a removable tray, or insert, that is designed to display jewellery. In some cases, the tray is very basic, a simple area where jewellery is placed in order for viewers to see it.
Trays
Trays are useful due to the fact that they make the process of picking up individual pieces of jewellery easier. This is especially helpful for those selling jewellery in informal situations. Trays are also useful for oddly shaped, or oddly sized pieces of jewellery. The main drawbacks to a simple tray are that it is impossible to position any jewellery in the most attractive manner, and that there is no vertical element to the display, which means that a person must be directly over a display to see anything.
Inserts
Inserts are lightweight platforms that are usually designed for specific pieces of jewellery. In most cases, these inserts are set inside of a tray, or into any empty display when the type of jewellery inside changes. For the most part, inserts are designed for specific pieces of jewellery. Some ring inserts consist of a number of unraised cones, occasionally found in tiers, where a ring is to be placed to display gems and bands properly.
Another type of ring display is a flat surface filled with indentations where rings are placed with their gemstones facing upward. This has the benefit of allowing rings to be placed in such a way that they display their more prominent attributes first. In some cases, these indentations are tiered, and in others they are all on the same plane. Inserts with indentations, are sometimes used for other kinds of jewellery as well, for example earrings and cufflinks.
Buying a Glass Jewellery Display on eBay
Glass jewellery displays come in all shapes and sizes, many of which are found on eBay. Some are hand crafted, and others are made in a factory, but anyone can find exactly what they need to display their jewellery. The fastest and most efficient way to find such a display on eBay is to go to the home page, then enter 'glass jewellery display' into the search bar. This provides you with a list of every item that fits that description. This list can be shorted by simply adding more terms to the initial search. Once a promising product has been discovered, it is always important to read the product description as thoroughly as possible. In this way, you can discover if it truly is the right display for you, or if there are any indications of damage or construction flaws that are not completely visible in pictures. It is always important to remember that sellers can be contacted to answer questions and provide additional information.
Conclusion
A glass jewellery display is a fine way to show off jewellery, in a jewellery store or at a local market. In some cases, people may wish to simply have a glass display at home so that their private collection of jewellery is attractively presented and easily accessible. When making the purchase of a glass jewellery display, it is important to take a moment to evaluate what kind of jewellery is to be used in the display, and if the colours of the display complement it. Black is a popular choice, as it denotes class and sophistication, but it can make a collection of primarily silver, or silver toned jewellery, appear cold and unattractive.
White is another popular option, although jewellery containing diamonds may not benefit as well as jewellery containing other, more colourful gems. It is also important to choose a sturdy, attractive outer case for the display that complements the interior colour. The inserts, where the jewellery is placed is also very important, and certain types of inserts better complement certain kinds of jewellery. Keeping all of these things in mind help to make the buying process much more simple and satisfying.