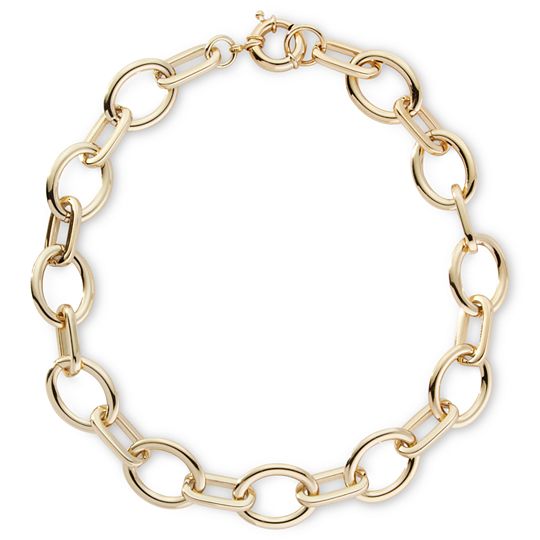 For many people, men and women alike, wearing jewellery is a way to make a personal statement. Gold worn around the neck can be eye catching. It can imbue the wearer with confidence and completely transform an outfit. However, buying a gold chain necklace can be expensive. Many people buy big ticket items such as a gold chain necklace as a birthday or anniversary gift. Buyers should understand the many gold chain necklace choices available on the market to be sure the item they choose becomes a centrepiece of their jewellery collection. Moreover, it is helpful if buyers to have some understanding of the varieties of gold used to craft chain necklaces. Lastly, buyers need to know how and where they can find a high quality gold chain necklace at a price that does not break their budget.
Gold chain necklaces are sold by jewellery retailers of both the bricks-and-mortar and online varieties. Online marketplaces like eBay have a huge selection to choose from, and make finding the right necklace easy with their intuitive, easy to use search functions.
Gold of Different Purities
When buying a gold chain necklace, buyers should consider how pure the gold is. Gold is never 100 per cent pure. If it were, it would be too soft to be of any use as jewellery. To strengthen it, jewellers mix it with various metals in differing amounts to create gold alloys. The purity of the gold is measured in carats. A similar measure of gold's purity is its fineness.
| Purity | Fineness | Gold content (%) |
| --- | --- | --- |
| | 990 | 99+ |
| | 916 | 91.6 |
| | 750 | 75.0 |
| | 585 | 58.5 |
| | 375 | 37.5 |
All British gold carries a series of hallmarks, stamped by an assay office, which describes the gold. A hallmark consists of five separate characters; reading from left to right, the third character indicates the metal its purity in fineness. Gold is hallmarked with an elongated octagon that contains a fineness rating. Prior to 1972, gold was stamped with a carat rating rather than fineness. It is import to determine the purity the gold being purchased, since this affects the price considerably.
Different Coloured Gold
Gold is traditionally thought of as being a yellow metal. However, the alloying process involves mixing the precious metal with a base metal such as copper or nickel. Thus, jewellers manufacture different colours of gold by mixing it with different base metals. However, there are strict rules governing this process to ensure the purity and malleability of the alloyed metal.
The sections below discuss several of the different colours exhibited by gold alloys.
Yellow Gold
Yellow is the colour most popular for gold necklace jewellery. It is created by mixing the gold with a 50/50 mix of copper and silver.
Red Gold
Red gold is the oldest known alloy colour after yellow gold. The red colour is achieved by alloying naturally yellow gold with copper. It is not often used in the design of rugged jewellery, as the copper makes red gold very soft. The softness can sometimes be mitigated by adding silver in small quantities to create a paler shade of red called "rose gold".
White Gold
White gold is an alloy of yellow gold and metals like nickel, palladium, rhodium or even platinum. Adding these metals bleaches out the natural yellow colour and produces a very hard, durable metal. White gold is not used for necklaces as much as it is for rings because it is a hard metal to work with. This can make intricate designs difficult to achieve.
Other Colours
Gold comes in a range of other colours, as well, including green, blue and purple. These colours are achieved through alloys of silver and cadmium; steel; or gold and platinum, respectively. The alloys produced are striking in colour, but are rarely used in jewellery, except for expensive, bespoke pieces
Plated and Rolled Gold Necklaces
Sometimes jewellery is listed as being gold, when it is, in fact, only gold plated. Gold plated necklaces have a very thin layer of gold over a base metal such as silver. Over time, the gold wears, and because the base metal has a different colour, the piece loses its lustre.
Gold filled necklaces are made from a metal where a thin layer of gold is physically bonded to a base metal such as brass. The layer of gold is thicker than a gold plate, but even so it can eventually succumb to loss of lustre and reveal the base metal.
Types of Chains
A statement piece of jewellery such as a gold necklace can be the making of an outfit. Some gold chain necklaces come in soft, feminine patterns designed to accentuate a woman's outfit being. Others are bold, striking pieces of art, in masculine styles that even the manliest man could appreciate.
A collection of jewellery can include any number of different types of necklaces. Many women maintain a large collection of necklaces in different styles, for use in a variety of circumstances, and to be worn with any of a hundred different outfits. Men, on the other hand, are likely to own just a single statement necklace, which they wear more-or-less permanently.
Jewellers offer a number of classic designs of gold chain necklaces that are widely available in the marketplace. Some of the more common types are listed in the table below.
Type of Chains

Description

Box necklace chain

Links look like interconnected boxes.
Sometimes known as a Venetian chain

Cable necklace chain

Round, same-sized links

Rolo necklace chain

Similar to cable necklace

Round same sized links

Links designed to lay flat

Curb necklace chain

Oval shaped links

Links are twisted and designed to lie flat

Figaro necklace chain

Alternating pattern of ring and box links

Typically two square or rectangular links followed by three round links

Pattern of square and round links can vary

Byzantine chain

Complex interwoven construction

Two pairs of fine ovals linked by a third thick oval link attached to each pair

Wheat necklace chain

Oval links that are twisted

Links are connected and interwoven

Repeat pattern creates a woven appearance

Bead necklace chain

Small spherical links

Creates the effect of a chain of beads

Rope necklace chain

Two thicker chains woven together

Creates the effect of a spiral

Mariner necklace chain

Oval links separated by a bar

Mesh necklace chain

Wider than normal necklaces

Small circular links twisted and woven together

Snake necklace chain

Round wavy rings with a slight curve in the middle

Rings joined at side

Creates a smooth flexible tube

Omega necklace chain

Flat links rectangular smooth plates

Crimped onto a mesh of metal mesh

Singapore necklace chain

Flat diamond cut interwoven links
Considering that gold comes in several different colours, this means the possible combinations of type and colour are nearly limitless. A three-coloured chain, with strands of yellow, white, and red gold, is just one (especially opulent) option.
How to Buy a Gold Chain Necklace on eBay
To search for gold chain necklaces on eBay, simply enter "gold chain necklaces" into the search bar on the eBay homepage. eBay returns a list of all items matching the search terms that are currently listed for sale anywhere on the site. You can then browse through the item listings to find a necklace that meets your needs. To review a listing in more detail, simply click on it. You can then read a detailed item description, view one or more photographs, and learn more about the condition, terms, and shipping options.
To narrow your search to more specific items, simply enter a more detailed search phrase into the search box. For example, entering "gold box necklace chain" or "gold curb necklace chain" returns only those listings that match your specific keywords. If you are uncertain of which search keywords to enter, eBay helps by suggesting some. You can also use the filters that appear in the sidebar, which let you narrow the search by metal, metal purity, and price range. Selecting one or more of these focuses the search and returns more and more relevant listings.
Performing a search on eBay to find the gold chain necklace you want is simple and straightforward. Even buyers new to online shopping stand a good chance of finding what they want within minutes.
Conclusion
Purchasing a gold chain necklace online is one way buyers can avail themselves of a wide selection and easy search utilities. Both novice and expert online shoppers can find that an online retail platform like eBay offers them a much wider choice of gold necklace chains than traditional retailers can. Traditional retailers are limited by space, and therefore can only display a small number of items. They may also have close relationships with a limited number of suppliers, which results in a narrower choice for shoppers. On eBay, the number brands, designs and styles is far wider. The selection is also ever-changing, as new sellers list new merchandise on a regular basis. If a satisfactory item cannot be found, buyers can simply check back again the next day to see what new listings have been added.
Shopping online can be done at the buyer's convenience, since eBay is open 24 hours a day and never closes on Sunday. Even better, you need not even leave the comfort of your living room or office.