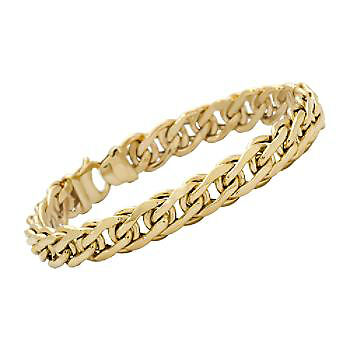 Gold link bracelets have a series of similar links joined together to form a chain. The links can be plain or highly elaborate and intricately crafted, with or without adornments. Some gold link bracelets have charms or pendants attached to them. Often, the links may be hidden on the back of the jewellery by the quantity of decoration on the front of the bracelet. Gold link bracelets are suitable for any occasion. They can be found in different types of gold, including white, yellow, and rose gold, and an array of metal purities. When purchasing a gold link bracelet, buyers should familiarise themselves with the various types of gold, learn how to define metal purity, consider the wide array of gold link bracelet types available, and understand how gold link bracelets are sized. Gold link bracelets of all types can be bought from jewellery shops, department stores, and online at eBay.
Types of Gold
When deciding between the various types of gold link bracelet available on eBay, there are a number of factors to take into account, such as the value and quality of the metal. Each type of gold varies in its characteristics, as seen in the table below.
Type of Gold

Characteristics

Soft, silvery appearance appreciated for its lustre

Alloyed with nickel, palladium, zinc, and copper to give it its characteristic silver colour

Often plated with rhodium which may wear down over time

Durable

More expensive than yellow gold

Bright, warm colour

Brightness of yellow gold depends on its purity

Alloyed with copper and silver to strengthen it

Mixed with copper to provide its pinkish tinge
The type of gold prefered is often a matter of personal taste. Some people prefer white gold for its colour, while others choose traditional yellow gold, which requires less maintenance and never goes out of fashion. Rose gold is well liked for its rosy hue.
Metal Purity for Gold
When searching for a gold link bracelet on eBay, buyers may choose to filter their search based on metal purity. 14 carat gold is the most common grade of gold. However, buyers can also find 9, 18, and 24 carat gold. Due to its lack of durability, 24 carat gold is rarely used in jewellery. 18 carat gold is popular in high-end jewellery, while 14 carat gold is preferred for its durability and affordability. 9 carat gold contains the lowest amount of pure gold.
Types of Gold Link Bracelet
There are various types of gold links that can be used to make bracelets. With the wide variety available, becoming familiar with the different types before shopping on eBay helps the buyer to make a decision. When searching for a gold link bracelet, buyers should choose the type of link that most appeals to them.
Gold Box Link Bracelet
Gold box link bracelets are the most popular and common style. Each individual link looks like a small box that ranges in width from one millimetre to 1.8 millimetres. This type of link best suits thin bracelets and is typically used for holding pendants.
Gold Cable Link Bracelet
Gold cable links are shaped like a small oval. These links are usually very flexible.
Gold Omega Link Bracelet
When connected, gold omega links make a flat and wide bracelet. This shape is conducive to slide clasps. Omega links display more of the gold in the bracelet than other types. Therefore, they tend to be more expensive.
Gold Fox Link Bracelet
Gold fox link bracelets are similar to omega link bracelets. However, the links are hidden, making the bracelet look like a single long length of gold.
Gold Rope Link Bracelet
Gold rope link bracelets consist of two long strands twisted together in a style that looks like a rope. Each strand may be coloured differently, for instance, one may be white gold and the other yellow. Gold rope link bracelets have various styles including two tone, straight rope, and twisted rope.
Gold Curb Link Bracelet
Gold curb links are frequently seen in large bracelets worn by the hip hop crowd and men. The links are made from flattened circles or ovals.
Gold Herringbone Bracelet
Herringbone bracelets are made to look like intricately woven string or rope. The links are tightly woven, giving the design a dense and detailed look. They are usually made out of thin strips of 9 or 14 carat gold that bend slightly in the middle as the strips line up together. Herringbone bracelets lie flat on the wearer's wrist.
Gold Marine Bracelet
Gold marine bracelets are characterised by a classic oval link. They consist of a vertically centred bar or post which is suspended at the centre of each oval link. They come in various gauge widths and lengths including the concave flat marine link bracelet, which is a thinner bracelet for those who do not want to draw attention to their jewellery.
Gold Figaro Bracelets
Figaro bracelets do not have one standard type of link. Instead, they alternate between three or four round links in a row, followed by a single long oval link. This pattern then repeats itself.
Gold Snake Bracelets
Gold snake bracelets look similar to flexible tubes made from wavy shaped links.
Gold Bar and Bead Bracelets
Gold bar and bead bracelets alternate between two different kinds of unit: long, rectangular links and spherical gold beads. This style is often used to combine two different colours of gold.
Sizing a Gold Link Bracelet
When choosing a gold link bracelet on eBay, buyers should consider the size and person that will wear the bracelet. The standard bracelet size for women is seven inches, while the standard for men is eight inches. It is important to remember that standard sizing may vary slightly according to the style or manufacturer. Some styles may have clasps that can be adjusted by the wearer. Also, some gold link bracelet styles allow for the removal or addition of links to adjust to the wearer's wrist size. When purchasing a gold link bracelet on eBay that has been previously altered to fit the wrist of the past owner, buyers should ensure that any excess links are included. Replacement links can be rather expensive for fine jewellery.
Buying a Gold Link Bracelet on eBay
When searching for a gold link bracelet, buyers should begin their search on the eBay homepage. From here, buyers are free to browse by inputting related key terms into the search box, such as "gold link bracelet". This is likely to render a large number of item listings. Alternatively, buyers can search using eBay's advanced search feature. This feature allows buyers to narrow down listings successfully based on price or condition.
Reviewing Item Descriptions
Before buying a gold link bracelet on eBay, buyers should review the item description. Item descriptions should communicate clearly pertinent information about the gold link bracelet including its condition, the number of carats, and the manufacturer. If buyers require information in addition to the description given, then they are free to use the "Ask a question" feature. This feature allows buyers to contact sellers directly. Most of the time, sellers are more than happy to answer any questions to promote a positive transaction.
Buy with Confidence
A seller's reputation within the eBay community is affected directly by their feedback rating. Buyers should always review a seller's feedback rating before purchasing from him or her. This gives the buyer insightful information about what to expect when purchasing from a particular seller. This rating is found next to a seller's user ID. Feedback ratings consist of both comments and ratings left by past buyers. Buyers can leave a positive, negative, or neutral rating in addition to a short comment. Whenever a person buys an item, they are encouraged to leave feedback regarding the transaction and their experience with the item's seller.
Conclusion
Shopping for a gold link bracelet on eBay offers the buyer a wide selection of items. In addition, eBay has competitive pricing as gold link bracelets may be found for well below their retail value. When searching for the perfect gold link bracelet, buyers should consider the various types of gold. White gold is often prefered for its durability, while yellow gold is more affordable. Buyers should also bear in mind the purity of the metal. The number of carats in the gold link bracelet is determined by the amount of pure gold.
In addition, buyers need to determine the right type of gold link bracelet for their needs. While box link bracelets are considered most popular, there are a number of other types that each have their own unique characteristics. Whether shopping for a gold link bracelet for a loved one or for themselves, buyers should always read detailed item descriptions and seller feedback ratings before making a purchase. eBay offers an excellent selection of gold link bracelets of different types, so every buyer can find the right bracelet to suit their style.