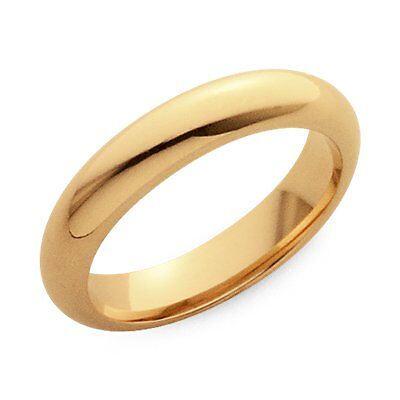 Buying a gold wedding ring is not a decision that can be taken lightly. Wedding rings are valuable assets that need to be kept and treasured for the entire life and they have a sentimental value on top of their material one. With thousands of models available in high-street shops and online, it may be very difficult to choose the perfect gold wedding ring.
Buyers should begin searching for their wedding rings with at least four to six months before the wedding, especially if they are interested in customised designs. Depending on preferences and budget, one can choose rings that go well with everyday wear or opt for more sophisticated models. Having at least a basic knowledge about the different types of gold and wedding ring styles can help one make an informed decision when it comes to buying the most important piece of jewellery in their lives.
What to Look For in a Gold Wedding Ring
Wedding rings are symbols of fidelity and eternal feelings between spouses. That is why buyers want the rings to last as long as possible and do their best to be sure they do not get tarnished or worn out over time. This is why gold is one of the most popular metals for wedding rings. Some of the factors buyers need to take into account when shopping for wedding rings include the type of gold, style, and size.
Types of Gold and Hallmarks
Wedding rings can be made from one or more metals, but when it comes to gold, there are three types to choose from. The main things to take into account when it comes to choosing the type of gold for gold wedding rings are budget, durability, and, obviously, personal preference. Generally, gold wedding rings are not made of pure gold, which is quite soft, but of gold alloys with various percentages of pure gold.
Yellow Gold Wedding Rings
Yellow gold is perhaps the most popular choice for wedding rings, and the most traditional one at the same time. Buyers can choose from various carats (ct), with the most common of them being 14ct and 18ct. Various carats have slightly different properties and looks, according to the metals present in the alloy.
White Gold Wedding Rings
Another traditional choice for wedding rings is white gold, which also comes in different carats. Buyers should keep in mind that not all white gold rings have the same colour, with some of them looking more yellowish than other. Because pure gold has a yellow colour, white gold is actually an alloy of gold and other metals.
Rose Gold Wedding Rings
Rose gold is perhaps the most romantic choice for wedding rings. Gold cannot be found in a rose shade in nature and the shade is obtained by adding copper to the alloy. The gold content of rose gold is the same as in yellow or white gold, and for 18-carat rose gold it is typically around 75 per cent.
Hallmarks
Hallmarks are quality control mark placed on all precious metals and they represent a safeguard for buyers. They show that the metal has been tested and it meets the legal standards of fineness. Hallmarks also allow buyers to check quickly the carat of a certain piece of jewellery. There are three compulsory symbols one can find on gold in the UK: the fineness mark, the sponsor's mark, and the Assay Office mark.
Style of a Gold Wedding Ring
There are endless options when it comes to the style of a gold wedding ring. Whether buyers are looking for a classic and simple gold ring or a diamond-studded one, there are plenty of traditional and modern models to choose from. Generally, the simpler the ring is, the larger the choice. When choosing the style of a gold wedding ring, buyers should remember that they need to wear the same ring for decades, so they should choose a model that looks timeless to them.
Matching the Gold Wedding Rings
Even though many women want to match their wedding ring to their engagement ring, many men also want their ring to be a close match to that worn by their wives. The symbolism of the rings is actually a result of matching the bride's ring with that of the groom's. However, if the groom does not like ornate jewellery, it may be a better idea to opt for similar rings that are not quite the same, but are made of the same metal.
How to Buy a Gold Wedding Ring in the Right Size
If there is one important thing to do before choosing the model of the wedding ring, this is taking accurate measurements of the finger. It would be really annoying to end up with a wedding ring that is too large or too small. This is especially important for those who choose to buy their wedding rings online on websites such as eBay. In this case, buyers should measure their finger before shopping for wedding rings. Alternatively, one can have their measurements taken professionally at a jeweller's before shopping online for their gold wedding rings. The chart below offers some guidelines regarding the UK sizing of rings.
| Inner Circumference (millimetres) | UK Size |
| --- | --- |
| 41–42.5 | D |
| 42.5–43.5 | E |
| 43.75–44.75 | F |
| 45–46 | G |
| 46.25–47.25 | H |
| 47.5–48.5 | I |
| 48.75–49.75 | J |
| 50–51 | K |
| 51.25–52.25 | L |
| 52.5–53.5 | M |
| 53.75–54.75 | N |
| 55–56 | O |
| 56.25–57.25 | P |
| 57.5–58.5 | Q |
| 58. 75–59.75 | R |
| 60–61 | S |
| 61.25–62.25 | T |
| 62.5–63.5 | U |
| 63.75–64.75 | V |
| 65–66 | W |
| 66.25–67.25 | X |
| 67.5–68.5 | Y |
| 68.75–69.25 | Z |
Buyers should remember to check out the sizing information provided by the seller because this may vary from one design to another. When in doubt, they should make sure they have alternatives either for returning the rings or having them altered. The morphology of the hand may have an impact on the choice of the wedding ring. Thus, people whose fingers are long and slender often prefer to buy a small and thin wedding ring, whereas persons with thicker fingers tend to choose a larger model.
Tips and Tricks for Choosing the Right Gold Wedding Ring
After deciding on the ideal model of wedding ring, buyers should not hesitate to ask for a discount. Many sellers offer this gesture of goodwill for buyers who decide to purchase their rings at the same time. If the seller does not specify this directly, it is worth trying to ask them for such a discount.
Buyers should never forget to ask how many carats the gold of the wedding ring has. In addition to that, they should also make sure they are aware of the weight of the rings before buying them. One has to beware of the so-called bargains and learning how much a gold wedding ring should be worth may be helpful when it comes to getting good value for money.
Keeping the receipt for the wedding rings is important, because it may be required for insurance purposes. Some insurance companies require pictures of the rings, so buyers should consider this as well when buying their gold wedding rings. For the same purpose, making photocopies of any certificates of authenticity can also be a good idea.
How to Find a Gold Wedding Ring on eBay
Finding the perfect gold wedding ring is all about browsing through hundreds of models until one of them catches your eye. One of the most important things to remember when shopping for gold wedding rings is that you must love it, because it can be on your finger for the rest of your life. Taking this into account, you should not settle for a model that is just pretty; it must be truly extraordinary. One of the best places to find an impressive selection of gold wedding rings is eBay.
Shopping for a gold wedding ring on eBay may seem like a daunting task in the beginning because of the countless models available on the website, but it is actually easy to find the perfect one due to the user-friendly search system that allows buyers to navigate through the hundreds of models without hassle. For example, if you want a yellow gold wedding ring, all you need to do is type the words 'yellow gold wedding ring' into eBay's search bar and then browse through the numerous results you get. Since in the majority of cases you get many pages of results, you can choose to refine them according to your preferences, such as type of gold, size, price, or location of the seller.
Conclusion
Wedding rings are symbols of eternal fidelity and buyers should choose models that reflect their personality. Whatever type of gold one chooses for their wedding rings, it may wear out over time. Taking good care of the ring is essential in order to make sure the piece of jewellery looks great over the years. It is therefore necessary to take certain precautions, particularly during housework that often require the use of harsh chemicals. It is advisable to use rubber gloves to protect one's hands or simply not wear the wedding ring during these activities. Because pure gold is a soft metal, wedding rings are made of alloys with various percentages of gold and other metals, usually copper, silver, and zinc.
Shopping for gold wedding rings should be a pleasant experience and eBay is a website that offers buyers just that. Buyers should arm themselves with a bit of patience and browse through as many models as possible in order to find the right gold ring that they can proudly show to their grandchildren in the years to come.