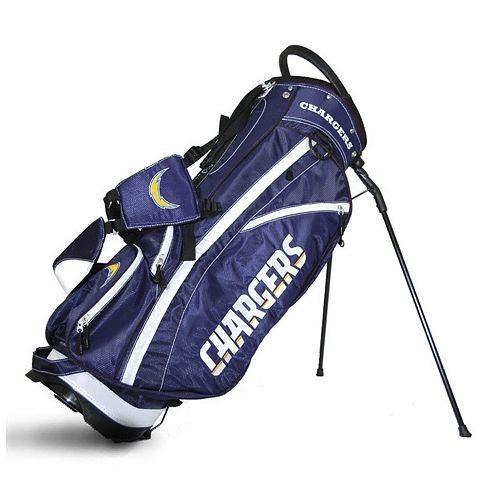 Golf bags are designed in order to assist players transport their clubs across the course with as much ease as possible. Their design has improved greatly over the years to become as efficient and comfortable as possible, not just for golf clubs but for other equipment also.
This guide will look at how to make a purchase of a golf bag from auction website eBay and the different options available when using the site. eBay has plenty of brand new and used golf bags being listed all the time from a whole host of individual sellers, meaning that golfers at varying levels and abilities are catered for.
What Are Golf Bags?
Professional golfers are allowed to carry up to 14 clubs at a time when they make their way around a course; this isn't possible naturally without the assistance of a bag that can store them all. They also include various pockets and sections that individual clubs can be inserted into, with the club head facing upwards out of the bag. Other supplies and golfing equipment can also be stored in some sections, such as tees, spare balls and personal belongings.
The modern day market has golf bags made from differing materials, usually nylon or polyester. Although leather is less commonly found on recreational golf courses, synthetic leather versions are a more affordable and lighter alternative for many amateur players. The frames of bags are made up of plastic or metal to provide sufficient support.
Different Types of Bag
There are different kinds of golf bag, which are highlighted in the table below. They suit different players who play the game at varying levels of professionalism.
| Type of Club | Description |
| --- | --- |
| Carry Bags | Sometimes referred to as Sunday bags, carry bags are designed for maximum ease of use. They are most likely made to be as lightweight and comfortable as possible. They are often less rigid also, meaning they can be rolled up and packed away neatly when not in use. They will come with separate pockets where the basics for playing golf such as balls and tees can be stored along with clubs. |
| Stand Bags | Stand bags are considered a step up from carry bags in the sense they can remain upright on their own. They come with retractable legs that pop out when placed on the ground, and tuck in when lifted. They are generally quite stable and can come with features such as segregated storage spaces and divider systems for clubs. |
| Cart Bags | For players who play with a pull or motorised golf cart, special bags are available on the market that can be attached to the vehicle. These cart bags can come with much more extensive features because weight is not a crucial factor as they do not have to be carried. They are perhaps more suited for more advanced players who intend to use the full 14 clubs when on the course. |
| Staff Bags | For professional players who don't carry their own clubs and equipment, larger staff bags have been designed for caddies and other assistants to transport. They usually come in the form of cart bags, but are also manufactured with the caddy in mind, with a large singular strap that makes short-distance transport simple. |
Different Manufacturers of Bags
Golf is a global sport with esteemed tournaments and global stars, which make the game ever increasing in popularity. Because of this, there are many different sporting manufacturers such as Nike, Wilson and Mizuno that have bought out golf bags to compete in the market alongside more devoted golf makes such as TaylorMade, Callaway and Ping.
There isn't really a right or wrong brand to go for when coming to buy a golf bag; each one may or may not suit your physique or level of play. Buying a genuine golf bag from one of the top brands will usually guarantee a high degree of quality however.
Buying Considerations for Golf Bags
Before coming to make a purchase of golf bags then consider a few basic aspects before committing to buy. Think in terms of who will be using the golf bag and at what level they are at before planning a budget. For those who complete eighteen holes on a regular basis, a more durable golf bag will be a more suitable option for example and perhaps will need increased investment.
The feel of the bag is perhaps the most important aspect to consider. Some bags may suit certain people regardless of their design or price, simply because they sit well and feel comfortable when worn. Think of your body shape and height when coming to make a purchase.
For those who play regularly, the weight of the bag is a crucial feature. Quite obviously, if playing on a regular basis then the lighter the bag the easier it will be to pick up and transport. In this respect, think of your professionalism in terms of how many clubs are realistically needed; larger and heavier bags with room for 14 clubs may simply add unnecessary weight. Think about the materials the bag is made of too; nylon will be lighter than leather for example.
Organising your bag is another aspect of the amateur player's game that can enhance their golf round considerably and make life a lot easier finding clubs and other accessories. When about to make a purchase, look at the individual design of the bag and the different compartments, pockets and dividers. Players like to have separate areas for their equipment such as clubs, balls and tees, and their personal items such as towels, food and drink. Some bags also come with full-length dividers that prevent clubs from becoming entangled at the bottom of the bag - a real nuisance for some players.
Regarding the comfort factor, the straps and handles on a golf bag are also important not only for comfort, but also for longevity. Persistent use can cause the stitching on some bags to come apart; look out for more professional bags with multiple rivets and stronger stitching that can prevent this happening. The straps on a bag should also be well padded and as comfortable as possible to wear.
Consider what type of course you are playing at also; as we all know, some golf clubs are very distinguished and exclusive. In this sense, turning up with a low cost, second-hand bag made from a tacky synthetic material may not be appropriate. High quality leather alternatives may be more preferable, for example. Likewise, playing with friends down the local park may not require the most expensive top-of-the-range model.
Knowing how much to pay for a golf bag is important in the way that it can eliminate some of the options out there that are too expensive, allowing you to narrow down the potential choice. Brand new bags from top manufacturers for general use can cost up to around £600, whilst vintage or hand-made leather versions can cost much higher. These sorts of prices don't need to be paid, however, and many bags can be found for much less - especially if buying on eBay and prepared to purchase a second-hand version.
Where to buy the bag from is another aspect to think about. Although a greater selection can be viewed online and better deals can be found, the chance to try the bag out for size and experience how it will feel is not an option. A smart way around this is to visit sports or specialist golfing shops, browse around the selections of bags and try out as many as possible. This will give a more balanced and insightful view into making a purchase online and what to search for specifically on eBay.
Conclusion
Although golfers at a low level can potentially complete amateur courses with two or three clubs carried individually, the golf bag is an important part of many players' game that like to regularly complete eighteen holes. They make playing the sport much easier and also allow you to carry personal items and spare golfing equipment around the course.
When coming to make a purchase, ensure to browse the market as closely as possible and evaluate the most suitable bags for your game and how often it will be used. Remember that eBay has plenty of styles available on its website that can suit a mixture of players.