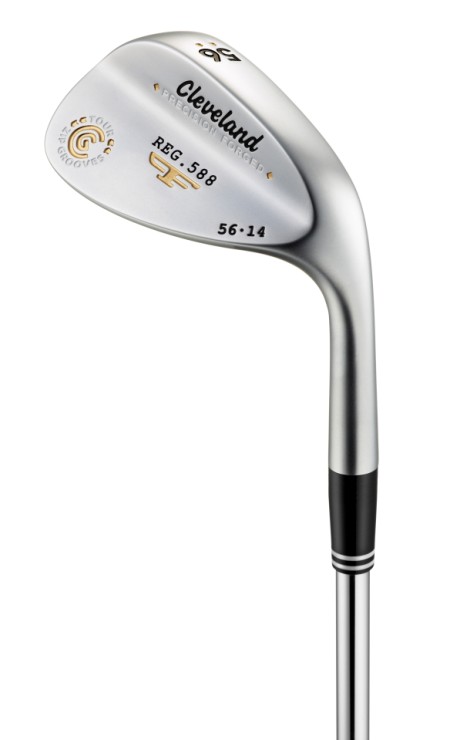 Golf is the sport of business, whether playing professionally or socially it carries a competitive element. One of the key aspects to on-course success is a reliable wedge, as it can help players achieve low scores. Wedge clubs are an iron sub-class that features a higher degree of loft than standard numbered irons.
They are the most versatile clubs in a golfer's arsenal and feature prominently in short-distance, approach, lay-up and chip shots. Wedge clubs add variation to a golfer's game whilst having an impact on ball spin. eBay has a wide selection of golf wedge's for all abilities, ranging from beginners to professionals.
Below is a list detailing the types of wedges available and their uses:
Pitching Wedge (PW) – The standard issue wedge comes with a 46 to 50 degree loft. Its main use is for longer shots into the green.
Gap or Approach Wedge (GW/AW) – With a slight loft increase, the Gap (or Approach) wedge falls between Pitching and Sand wedges. They come with a 50 to 55 degree loft.
Sand Wedge (SW) – At the core of bunker play the sand wedge comes with a 54 to 58 degree loft. Considered a must have for tour players and those dealing with rough conditions.
Lob Wedge (LW) – Used for chipping the ball to height from short distances. They typically have a 60 to 64 degree loft and are the perfect complement to any set of clubs.
Ultra Lob Wedge (FW) – With a loft of approximately 65 degrees it has the highest loft of any club currently available. Designed for extreme high-angled shots such as chips from the edge of a bunker.
Amateur golfers should opt for a wedge loft that falls somewhere between 55 and 60 degrees. Professionals are afforded more flexibility and should look to own a set of wedges that cover an array of shot techniques. Wedge clubs provide spin but surface and style of play have a large effect on how much spin can be generated. It pays dividends to understand such elements when shopping for a wedge on eBay.
The wedge market is ever increasing and is part of a golfers game that should not be ignored. Picking the right wedge is based upon a golfers requirement and professionals often have four in their bag at any one time. EBay offers wedge clubs from golfs top brands including Callaway, Nike and Titliest, all of which come at affordable prices.
What Type of Wedge is Required?
Due to the variety of brands on the market there is a large selection of clubs to choose from. It is key to narrow down you're search by highlighting personal requirements. Make an attempt to observe the game and distinguish the differences in playing styles before asking the following questions:
What is your handicap?
How would you describe your playing style?
In what conditions are you used to playing?
Determining Skill Level
Handicap is the grading system used to measure a golfer's playing ability. The lower the handicap the better a player is considered. Determining skill level is helpful when shopping for golf equipment and more often than not a golfer's handicap will be classed as either high or low.
Low Handicap
Progression is a key part of golf and it becomes crucial to utilise wedges and add backspin as a skill. The world's top professionals choose to carry up to four wedges during a round and as skills progress it may be beneficial for social players to do so as well.
Variation in wedges is key.
Knowing what wedge to use and when can be the difference between defeat and victory.
Keep your lofts varied to ensure the best spread on the course.
The type of wedge selected can assist players in getting round the green successfully. Consider both the head and groove shape in order to allow for the best bounce and spin.
High Handicap
Those playing with a higher handicap may be new to the world of golf or looking to improve upon the basics. Owning a set of irons is likely however players of this level should be looking to add wedges to their collection of clubs.
Basic wedges will suffice.
Overinvestment is a risk and best avoided.
Consider investing in extra wedges as time goes on.
Players with a high handicap should set a budget and stick to it. EBay has plenty of options available for players of all skill levels.
Wedge Grooves
The use of backspin in golf can be crucial to a player's performance. The correct wedge club can be an aid to such maneuver and help further a player's ability. Grooves are the predominant feature to pay attention to when shopping for a club of this type.
U Shaped - Known for being the shape that helps deliver the most spin, considered controversial. Its use and has been subject of various USGA and PGA investigations.
V Shaped – Has become more common place in post 2010 tournament play, does not deliver the same level of control as its U shaped counterpart.
Whether a golfer chooses a U or V shaped grooved wedge comes down what their golf aspirations are. Those wishing to play on the competitive circuit should avoid U shaped grooves due to their questioned legality in the sport. Social golfers who are looking to improve their all-around ability should opt for a U shaped groove due to its noted effects on ball spin.
Build quality plays a large part on what you can get out of a wedge on the course. Premium brand wedge heads (such as Honma and Miura) are either forged or cast. The grooves are CNC milled to ensure the best quality. Unnamed brand wedges are mass-produced at a higher rate and carry a lower RRP. Such clubs can come with groove imperfections that effect how the ball travels and are detrimental when trying to add spin to a shot. In some instances the imperfections are visible to the naked eye. Wedges of a higher standard are consistent in quality and have deeper, well-etched grooves.
Wedge Finishes
Not unlike other clubs, wedges come in a variety of finishes. It is argued that different finishes have varying effects on how a wedge performs on the course.
Finishes add a personal touch to a wedge and help a collection of clubs stand out from the crowd. Certain brands do not offer all the finishes mentioned above as they may have their own variations. EBay sellers cater for all tastes and you'll find the above finishes (including brand specific variations) for sale online.
What to Consider When Buying a Wedge?
Budget
Golf is an expensive hobby and buying clubs can be an expensive process. Price and quality are a key factor to consider when purchasing wedges but that doesn't mean you have to overspend in order to get value for money. High-end wedges have been known to retail for as much as £200, serious golfers may be accommodating of such a price so sets from Mizuno and Cleveland will be suitable. Those who play socially should look for clubs at the more affordable end of the scale. There are more options for those who are looking for reliable club that won't break the bank with Jaxx and Hotblade offering wedges for under £40.
EBay has made buying wedges online an effortless process and makes it possible to get more club for your money. Plenty of affordable options are available to professional and social golfers alike. How seriously you take your golf will play a large part in dictating a budget for purchasing wedges.
Investment
Golf clubs are notorious for their shelf life and longevity. Second hand clubs have become a stream of revenue for online sellers so it's important to take resale value into consideration when purchasing a new wedge.
Consider how important a wedge is to your core game before you invest. It is best not to overspend on clubs that are not considered pivotal to performance. Question how much a wedges value will decrease with age, as resale value has its use when it comes to future upgrades to your club collection.
Regular Playing Conditions
Golfers on the pro-circuit play on courses around the globe and require variation in their set of clubs. The ability to alter ones game plan and technique is a requirement for those playing competitively; such may not be a requirement for amateur and social golfers. Playing on local courses will often present similar conditions such as weather and sand type. In such instances golfers must think carefully on whether versatility is a core requirement when they purchase new wedges.
If the common course has regular soft conditions or steep angles it would be beneficial to use a soft sole wedge. For firmer conditions that carry shallow angles and divots a narrow sole wedge is suitable.
How to buy on eBay
There are many ways to purchase golf wedges on eBay. The first option is to type in search bar on eBay the exact search phrase that you require. An example would be "golf wedge", which will bring up all the relevant results. Whilst this is a great source to research golf wedges, users can also locate additional golf wedges by utilising the navigation bar on the left side of the page to narrow your search to the appropriate products.
Before purchasing your golf wedge, make sure to check the sellers rating and the product description properly; this will ensure a safe purchase. If unsure of any of the details, you can ask the seller a question. There are multiple payment options for each product offered on eBay, so take a look to safeguard your purchase.
Conclusion
When purchasing a wedge there are a variety of important factors to consider. However taking into consideration the aforementioned the right purchase will be easier to come by.
Understanding the variety of wedges available and what they can add to a golfer's performance will help in making an educated decision. Quality wedges are worth their weight in gold and can go a long way in lowering a player's handicap. Finding the right set of wedges, whether amateur or professional, is only a few clicks away on eBay.