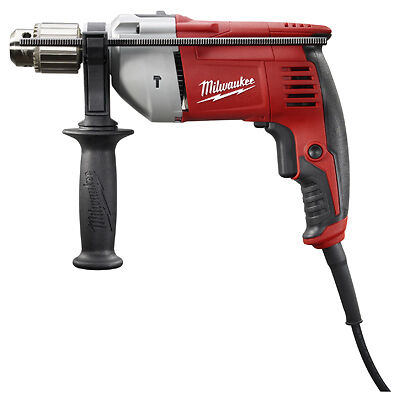 There are many people who use power tools in their work and for DIY projects at home. Although not as widely used as other power tools, the hammer drill is still popular and is necessary for various heavy duty drilling. A hammer drill may look just like other electric drills, but it can serve slightly different purposes than regular drills, while not being suitable for other drilling works. Like its name suggests, a hammer drill has a hammering action that enables it to pound into hard surfaces.
eBay has many kinds of hammer drills for sale, and it is a good idea for buyers who plan to buy one on eBay to know what to look for in a hammer drill, how to choose a suitable hammer drill for their work, and how to use the various features provided by eBay to find the suitable hammer drill for their needs. Since different projects have different goals and requirements, it is important to buy the right hammer drill for the job to ensure this is completed efficiently and safely.
About Hammer Drills
A hammer drill looks a lot like a regular drill, but it has more features. Hammer drills often have a regular drilling setting and a hammering setting. With the hammering setting, users can drill into tougher material than wood, such as concrete. The hammer drill does this by spinning the bit to drill through a material and moving the drill bit back and forth at high speed to apply more force when drilling. The hammer drill is suitable for masonry work or for drilling into a material that is too tough for regular drills to handle. With the regular and hammer setting on the drill, users can start drilling normally and switch to the hammer setting when they encounter a hard surface, and then revert back to the regular setting to finish the job.
Features to Look For when Buying a Hammer Drill on eBay
Buying a hammer drill is similar to buying other types of drills as they mostly have the same features that buyers must consider. Some important features one should consider when buying a hammer drill are the speed, power source, torque, chuck size, and also the available drill settings. Each of these features influences the performance and the ease of use of the hammer drill.
| Hammer Drill Features | Description | Choices |
| --- | --- | --- |
| | Allows users to control the drilling speed | Higher speed is needed when drilling with smaller bits and through soft materials; lower speed for larger bits and hard materials |
| Variable Torque | Allows users to adjust the drilling force | Higher torque is required to drill through harder materials; lower torque for softer materials |
| Power Source | Drill may be corded or cordless | A cordless drill uses a battery and has a charger; a corded drill needs to be plugged into a power socket |
| | Size of the part that grips the bit and drilling accessories | Size may range from 6 to over 20 millimetres |
| | Most hammer drills come with two or three settings on board | Common settings are regular drilling, hammer drilling, and chiselling |
When choosing the features of a hammer drill, the first thing buyers should consider is what they will use the drill for. Users who plan to do more heavy duty drilling can choose bigger and tougher drills whereas those who want a basic hammer drill for home projects can get a simple drill. Buyers should also consider their budget before deciding on a drill since the more advanced and tougher the drill is, the more pricey it is likely to be.
Hammer Drill Voltage and Power
Besides deciding on the main features of the drill, consumers should also think about the voltage and wattage of the hammer drill. For corded drills, users can usually choose between 110V and 240V, 240V being the standard voltage in the UK, and 110V being the voltage used in North America. When talking about cordless hammer drills, the voltage refers to the amount of energy that the battery has to power the tool. A 12V drill is usually sufficient to use around the house. However, if consumers plan to use the drill for heavy-duty work, they might want to consider choosing a drill with a higher voltage.
The wattage or power refers to the drilling power of the tool. A higher power means that the drill is more capable of handling a large sized bit and breaking hard surfaces. The power of hammer drills can be as low as 250W to over 2000W. For use at home, a 500W to 750W drill is a good option, while any drill with a higher power is more suitable for professional use. It is important for buyers to know the power level they need the drill to have since higher powered hammer drills can be more pricey than lower powered hammer drills.
Finding a Hammer Drill on eBay
eBay has a good selection of hammer drills to choose from and it is quite a simple process for one to purchase the right drill. A good way to search for a hammer drill on eBay is to use the provided search feature. Consumers should also decide well on a suitable drill that fits their budget and their work goals.
Searching for a Hammer Drill
eBay has a straightforward search feature, which buyers can use to find any item they want. They just need to type the name of the item they are looking for into the search bar to get a list of all related products. If buyers know the brand or specific model of hammer drill that they want, they can search directly for that tool. When looking at the list of 'hammer drills' available on eBay, it is crucial for customers to pay attention to the details provided for the product so they can choose the right drill for their needs. On the product listings page, buyers can also further customise their search by using the category filter provided by eBay. For example, buyers can choose between new and used hammer drills, usually depending on their budget.
Deciding on the Right Hammer Drill
To get the most out of their hammer drill, buyers should choose one with features that they really need. For example, a hammer drill with three settings may sound good to have, but users at home may not have the need for a third chiselling mode. Before deciding on a hammer drill, buyers can read reviews on it, and compare drills of other models and brands. This is important since they cannot test out a drill before buying it on eBay. Just because a hammer drill is a power tool, it does not have to be very costly to be of good quality.
Buying a Hammer Drill on eBay
To buy a hammer drill on eBay, you first need to search for it by typing the appropriate keywords into the search bar on the eBay home page. You can use keywords such as 'hammer drill', 'DeWalt hammer drill', or any other keyword that you think is relevant. You can even search for hammer drills of a certain wattage or voltage, if you want to. When browsing through the available hammer drills, make sure you take note of the price and postage fee of each item. If you buy from a local seller, they might not charge you for postage or charge very little. If you want a specific brand like Black & Decker, just include that in your search too.
Make sure that your chosen drill has the accessories that you need before buying it. However, if you decide to buy a certain drill that does not quite have the chuck and drill bit that you want, you can always buy the extra parts separately since eBay also has drill bits and other accessories for sale. Before you purchase your item, make sure you read all the provided details and you are satisfied with the hammer drill.
Conclusion
A hammer drill is necessary for professionals but it is also a good choice for regular people who only have some occasional DIY home projects on their hands. A hammer drill can not only drill through wood and regular walls, but also through harder materials like concrete. Before buying a hammer drill on eBay, buyers must first know what they will need the drill for, what features they want in their drill, and also what their budget for such purchase is. Common features that buyers should decide on are the variable drilling speed, torque, power source, chuck size, voltage and wattage, and also the number of settings available on the hammer drill.
When buying a hammer drill on eBay, buyers can simply use the search function to lookup the drill that they want. A good way to find the right hammer drill is to use several keywords or refine the search using the category filters. That way, buyers can find the hammer drill with the features that they are looking for. Buying a hammer drill on eBay is a smart choice as eBay has a very wide range of hammer drills for regular users and professionals alike.