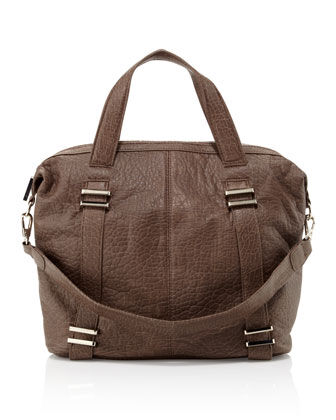 As fashion evolves, so does its set of rules: there are some fashion guidelines that can help a woman to express her own personal style. Some women's handbags are more appropriate for all seasons than others. Choosing a seasonless handbag helps women to budget as it eliminates the need to buy a new handbag as the seasons change: fashion dictates that handbag styles change from season to season. The fashion industry calendar is divided into two major season categories. Spring/summer generally spans January to June while autumn/winter runs for the six month period from July to December. Many designers and shops adhere to this division of seasons, although some may choose to operate on a slightly different schedule, for example, selling summer clothing in the winter to account for people taking a winter break in the sun.
When looking for a handbag that is appropriate for all seasons at retailers such as eBay, buyers should consider the features and types of handbags, as well as how to choose the best handbag to complement a woman's figure so that it can work with multiple outfits regardless of the season.
Handbag Features for All Seasons
When searching for a handbag that is appropriate for all seasons, buyers should consider the bag's features. These features include the material, colour, and pattern.
Material of Handbags
Suede and leather are heavier materials and often associated with the winter season. However, there is no reason not to invest in a coloured suede or leather handbag for the spring. In addition to being appropriate for all seasons, these materials also transform well from day to evening wear. They can be worn in casual settings or dressed up for more formal events.
Cotton handbags are great for the spring season as they are lightweight in material. Cotton can also work in the winter as the material is waterproof, protecting the bag from adverse weather conditions.
Colour of Handbags
When choosing a colour for a handbag that is appropriate for all seasons, consider neutral colours, such as black, brown, grey, and blue. These can be paired with different colours of clothing without looking out of place. At the other end of the spectrum, white can work with light spring/summer outfits, and has a snowy wintery look for the colder weather.
Black, Brown and Grey Handbags
Neutral colours are appropriate for all seasons. Blacks, browns, and greys should not be equated with boring. These colours are considered classics. Women can spruce up a neutral handbag with brightly coloured clothing during the spring.
Blue Handbags
Almost any block colour handbag can be considered seasonless, such as deep blue. In the spring, navy blue can represent a nautical style, while in the winter, this colour is a welcomed alternative to black and brown. Blue is less harsh than black and better complements a woman's complexion.
White Handbags
More daring fashionistas can opt for a white handbag. Once reserved as spring wear, in more modern times, white has become an acceptable colour to wear for all seasons. Whites complement dark clothing and work well with a wide array of ensembles. White winter handbags can be a striking addition to drab clothing, provided the material and style of the bag is appropriate for the season.
Pattern of Handbags
Florals are considered seasonless. They are ideal for the spring season when flowers are in full bloom and can also be worn in the winter when paired with a cropped jacket, sweater, or pair of boots. When layered, florals can create texture and warmth to the wearer's outfit.
Types of Handbags
After choosing the right material, colour, and pattern to take you through the year, next consider the style of handbag. When choosing the best handbag, women should consider the occasions that the bag is required for and the amount of space needed.
Satchel
Satchels have a single, long strap and are slung across the wearer's chest. These bags are known for their durability and ability to carry items that are mildly to moderately heavy, such as a laptop. They are often free of zips, instead, featuring a flap of cloth that folds over the opening. They can take the wearer smoothly from one season to the next.
Totes
Totes are oversized handbags that are typically square. They are generally accompanied by two wide handles that can be held in the hand, dangled from the arm, or hung from the wearer's shoulder. In the summer, totes are ideal for holiday trips where they can store all the belongings that need to be kept close, and in the winter they can be used to carry extra accessories like gloves, hats, scarves, and an umbrella, just in case any of them are needed.
Hobo
Hobo handbags are known for their large size and ability to carry a substantial amount of accessories. In addition to carrying the necessities, this bag is ideal for women who may be carrying laptops and paperwork or who often find themselves requiring additional space. Hobo bags are crescent shaped and are generally accompanied by a medium to long strap. This allows the bag to hang near the wearer's waist. Hobos are less formal than totes, but similarly give the wearer the ability to keep personal belongings close and to store additional accessories in the colder seasons.
Shoulder
Shoulder handbags may contain either a single or double strap. These bags come in various shapes, sizes, and materials. Designer bags are popular, but generic shoulder bags are also available and often less expensive. The long strap means that the bag can be carried comfortably with any style of clothing.
Handbags for Each Figure
When buying a handbag that is appropriate for all seasons, buyers should consider a woman's figure. Handbags can alter the way that a woman looks. The perfect handbag highlights a woman's attributes and downplays any unflattering areas. A good choice of handbag can be carried all year round.
Handbags for Slender Women
Women who are tall and slender should consider a seasonless handbag that is medium sized. A bag with a shorter shoulder strap draws the eye away from a woman's stature. A hobo bag can complement a woman with a narrow waist, while a shoulder bag that hangs no lower than hip level has a similar effect.
Handbags for Petite Women
Petite women should carry a smaller handbag to help to balance out their proportions. Small busted women may opt carry a handbag that drapes across the chest, like a satchel. On the other hand, a bag that dangles from the arm detracts from a larger bust. Petite women should also choose block colour handbags rather than those that are highly patterned.
Handbags for Plus-Size Women
Plus-size women benefit from a medium sized handbag. A small or large bag can appear disproportionate against a plus-size figure and can have a broadening effect. Plus-size women may choose to carry the bag by the handle, in the case of a tote, or drape it over their arm. Structured handbags best complement the figure: it is best to avoid bags that lack definition, like hobo bags.
Handbags for Larger Bottomed Women
Women with a larger bottom, often described as pear shaped, should ensure that the handbag falls above the waist. Bags that fall below waist level add extra bulk to an already broad hip area.
Buying a Handbag for all Seasons on eBay
Buying online is made easy with sites like eBay because they offer security and convenience. eBay's auction feature is especially useful to the money savvy shopper. By bidding on an item and keeping up with the bidding until the end of the auction, many items can be bought for less than their retail price.
To find a handbag that is appropriate for all seasons on eBay, simply go to the eBay homepage and type "women's handbags" into the search bar at the top of the page. On the search results page, step through the subcategories until you arrive at the bag that you would like to buy.
Choosing Top-rated sellers on eBay ensures that the seller has a history of good customer service. This feature makes eBay a secure online marketplace. It is a good idea to become familiar with the seller's terms before buying, for example, whether they have a returns policy. Any questions that a new bidder might have are addressed in the eBay Learning Centre.
Conclusion
Handbags are a fashionable and functionable accessory item. Buying a handbag can be a straightforward process when certain factors have been considered. Determining whether a handbag that is appropriate for all seasons requires an understanding of the material, colour, and types of bags that are available. With the right material and colour choices, a bag can work well with outfits from the spring/summer or autumn/winter seasons. Choosing the right pattern can give the bag some character in the colder months, and fit perfectly with the surroundings in warmer seasons. A woman's figure also has an impact on the types of handbags that are suitable for the whole year. The size of the handbag should be considered, as well as where the bag hangs on the body. Handbags should be proportionate to a woman's measurements, then they can match a range of outfits. There are a wide array of seasonless handbags available on eBay so that every women can carry the look across the changing seasons.