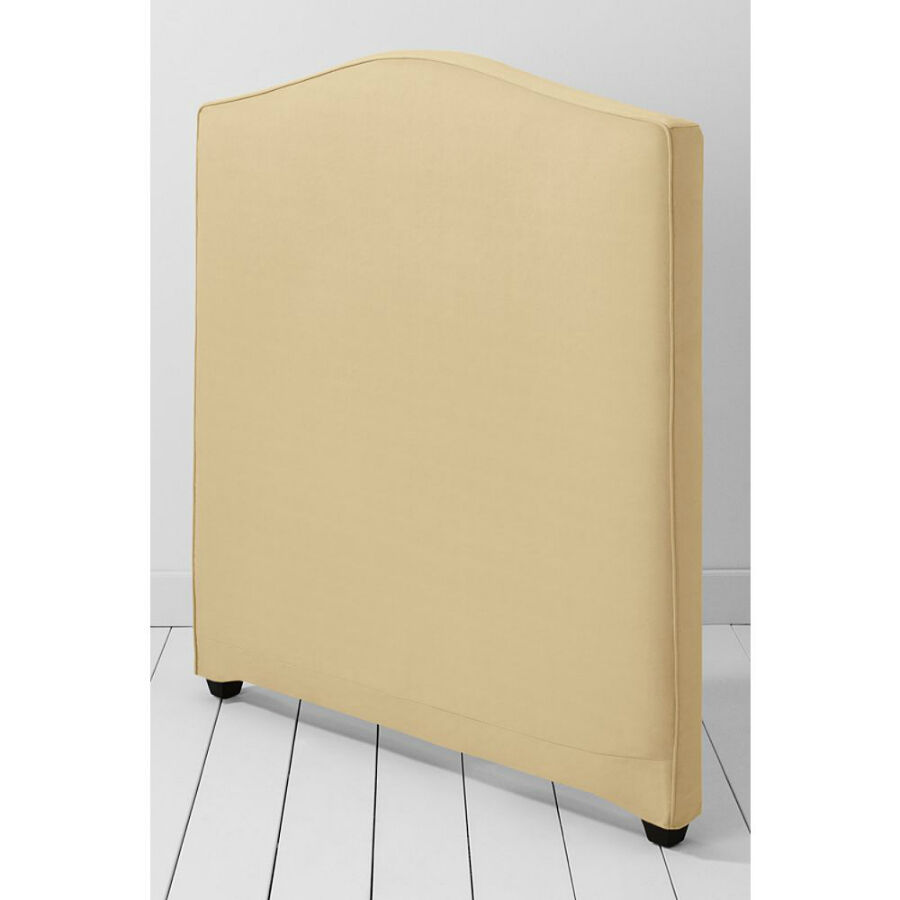 Those who have ever decorated a bedroom might agree that the headboard plays a crucial role in the overall design of the room. An attractive headboard instantly transforms a plain-looking bedroom into an elegant and stylish space. Whether decorated with a timeless design or a sleek modern look, a headboard gives the room a dash of personality as well as style. Aside from aesthetics, a headboard also has practical uses such as for storing books or other items. A headboard also hosts lamps for late night reading or studying. There are a wide variety of headboards available on the market, and these are easily purchased on eBay. Those intent on making the headboard an integral part of their interior design should understand the different types of headboards as well as the factors to consider when purchasing one.
Further, buying a headboard online lets potential buyers review options from the comfort of home. They are able to browse thousands of items without the pressure of a salesperson. Lastly, shoppers are able to browse options at all hours of the day or night because eBay never closes its doors.
Overview of Headboards
Headboards are furniture pieces located behind the heads of beds. Headboards might come with bed frames attached. Additionally, detached headboards rest behind the beds and between the mattresses and walls. Headboards also come with footboards for aesthetic balance or they are sold as stand-alone pieces. Headboards are commonly utilised for decorative purposes since they enhance the look and feel of bedrooms and tie them together. They are sometimes matched with nightstands, dressers, and other furniture to create a unique style and atmosphere.
History of Headboards
Headboards were originally used to protect sleepers from cold and draughts, especially in buildings which did not have a lot of insulation. Since they covered the wall behind the beds, they prevented the cold air from falling directly onto the sleepers and instead, the air sank to the floor. Headboards were also considered a status symbol. Those who afforded them commissioned the creation of big, ornate headboards which reflected owners' wealth and personal tastes. Ordinary people, on the other hand, often fashioned makeshift headboards from straw and rolled up cloth for comfort.
Types of Headboards
There are a wide range of options available for those shopping for headboards. Headboards come in different styles and materials to suit the different tastes of shoppers. The table below lists some of the common types of headboards based on material as well as the recommended type of look and activity for each particular headboard.
Type

Description

Often made of oak, cherry, aspen, or pine, amongst others

Vary in design from modern minimalist designs to ornate and traditional carvings and classic elegance

Good quality wood and craftsmanship equals longevity

Offer support for pillows

Often made from brass, wrought iron, stainless steel, or brushed aluminium

Often composed of shaped rods instead of one solid piece

Lend a very contemporary feel to a room and match modern furnishings

Known for durability

Not particularly comfortable without pillows

Offer a sleek, modern, and luxurious feel to a room

With proper care, they last a long time

Crafted with faux leather or real leather

Padded Headboards

Often feature a wooden base with soft padding upholstered with fabric such as cotton, silk, linen, and leather, and more

Provide a higher level of comfort than the standard headboard, due to the padding

Bookcase Headboards

Often feature shelves and drawers which are used for storing books, medicine, alarm clocks, pictures, and other small items

Ideal for small spaces where storage space is at a premium

Wall-Mounted Headboards

Also known as a wallboard

Do not attach to the bed frame

Keep the bed from taking up too much floor space, since the bed frame is sometimes positioned flush with the wall

Compatible with any bed size

Headboard Stickers

Placed on the wall where the headboard is located

Often an inexpensive way to add a pop of colour to a plain room

Commonly used in children's bedrooms to depict fantasy themes

Designs include fairy tale castles, underwater caves, enchanted forests, and many more
Choices of a headboard ultimately depend on individuals' preferences and budgets. It is best to weigh the pros and cons of each type, as well as the prices, in order to select the most suitable headboards for bedrooms. While browsing eBay's offerings, buyers may come up with questions for the sellers. If they are unsure about the dimensions of the headboards or the headboard appliques, they should ask the sellers directly.
Factors to Consider When Selecting a Headboard
Aside from the material and design, it is important to consider other factors when selecting a headboard. Important elements to keep in mind include bed size, the headboard height, room decor, and budget.
Bed Size
When buying a headboard for an existing bed and bed frame, it is important to know the exact size and measurements of the bed. This is because most headboards are made to fit specific standard bed sizes. For instance, a headboard designed to attach to a queen size bed is not compatible with a twin size bed frame. Before shopping, take note of the height and width of the existing bed or bed frame to ensure a matching fit.
Headboard Size and Height
The size and height of the headboard also contribute to its overall aesthetic appeal in a room, so make sure to determine its ideal dimensions. To do this, measure from the top of the mattress up to the desired height. Keep in mind that the height and size of the headboard must still be proportional to the bed, since a headboard that is too tall sometimes becomes unstable or wobbly. Be sure to ask the seller if there are any abnormalities in the size of the headboard.
Ceiling Height
Aside from measuring the bed, take note of the height of the bedroom ceiling. This is helpful in determining the appropriate height for the headboard in order to create aesthetic balance in the room. A high ceiling accommodates a taller headboard while a shorter headboard is best for a low or gabled ceiling.
Colour and Room Decor
Having a motif or design concept for the bedroom makes it easier to select a headboard. Some materials and designs work better with particular themes. For example, a wooden headboard fits a classic, country-style room, while a sleek, metal headboard complements an urban and minimalist theme. The choice of colour for the headboard largely depends on the bedroom design. A rule of thumb when selecting colours is that pastels or lighter hues give the appearance of more space, while darker tones make the room look smaller. Depending on personal taste, the headboard is an accent piece which stands out in the room, or it matches the other fixtures and design elements like wardrobe, carpet, and curtains.
Budget
Headboards vary in price depending on the size, material, and design. Headboards which feature an elaborate handcrafted design are a great accent piece, but these sometimes also command a hefty price. For those on a budget, they should remember that there are less expensive alternatives which feature polished and sleek designs. The budget should be weighed and kept in mind through the shopping and buying process. If buyers are purchasing more than one item from the seller, the seller might be inclined to provide a discount, but that is a detail to work out with the seller rather than assume it will happen.
Purchasing a Headboard on eBay
While a headboard is purchased at local furniture stores, items are often limited to particular sizes or materials, giving customers fewer options. An alternative which provides a wider selection is shopping for a headboard online, particularly at eBay. Aside from budget-friendly prices, eBay also allows users the convenience to shop from home and the option to have their items delivered directly.
It is easy to shop for a headboard on eBay. Start by typing "headboard" into the search box on the homepage. You can also add other keywords to make your search more specific like "upholstered headboard" or "king headboard". After clicking the search button, you are directed to a results page displaying all available items related to your search terms.
You can also select filters on the sidebar to narrow the listings further. When you are all set to buy an item, just click on it to learn more about buying options.
Conclusion
Whether you are shopping for a headboard for the first time or getting a new one for a bedroom redesign, it is good to know what options are available. Headboards come in a variety of materials such as metal, wood, and leather, amongst others. Headboard options also include wall-mounted, padded, or with a bookcase or shelves. Faux options exist which have the look of suede or leather, but are synthetics which retail at a fraction of the price.
Furthermore, there are numerous options when it comes to design and colours. However, individuals cannot just select a particular headboard because they feel like it. Other factors such as bed size, ceiling height, room decor, personal preference, and most importantly, budget need to be considered throughout the buying process. While many brick and mortar stores carry a selection of headboards, shopping on eBay provides customers with more options at affordable prices. Whatever the design or style, well-informed buyers enjoy a pleasant shopping experience and take home a headboard they will love for years to come.