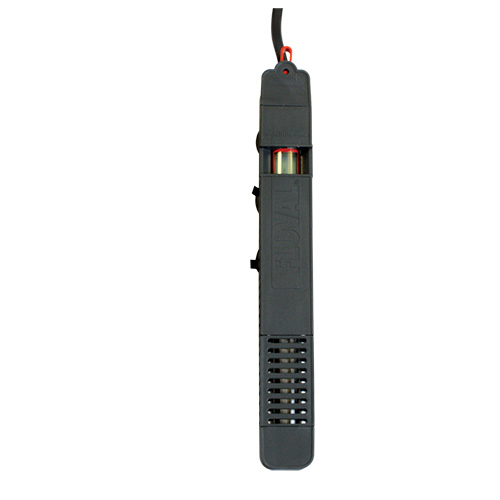 Comfort for Your Fish
It goes without saying that the temperature of your aquarium is hugely important. If the temperature is right, your fish will be comfortable and healthy; however, if the water temperature is too low, it will have a detrimental impact on their health.
Unlike warm-blooded creatures, fish are unable to produce their own body heat; therefore, they must rely on the temperature of the water in the aquarium to maintain their body temperature.
This eBay guide has been produced to give aquarists, amateur and experienced, all the information they could need about aquarium heaters; including the different types and sizes available, as well as where to place a heater in your tank.
Aquarium Heater Types
The decision as to which aquarium heater you should choose for your tank isn't a difficult one; however, it is important that you know the differences between the varieties of heater. Quite simply, there are four types of aquarium heater:
immersion heaters
submersible heaters
substrate heaters
filter heaters
The following information details how each type of aquarium heater works, and what each type of heater is best used for:
Immersion Aquarium Heater
Also known as hang-on heaters, these are the least expensive type of heater. The biggest drawback to using a hang-on heater is that the control must remain above the water line; however, the fact that they are not costly makes them appealing to anyone who is on a tight budget, and they're worth keeping as a backup heater for emergencies.
Submersible Aquarium Heater
More expensive that immersion heaters, submersible heaters can be fully submerged in the aquarium, and can be more readily concealed compared to the hang-on type. Setting the temperature on a submersible heater is easy; however, if it was to become broken, it is not that easy to repair, as the tube is sealed allowing the heater to be completely submerged. Only in recent times have submersible aquarium heaters started being manufactured from materials other than glass, which are unbreakable. Although their price tag is higher than those made of glass, it's worth it to avoid an accident.
Substrate Aquarium Heaters
This type of aquarium heater is most popular amongst plant enthusiasts, as they promote plant growth. These consist of heating cables which are installed below the substrate. Substrate heaters have the obvious advantage of being aesthetically pleasing, mainly due to the lack of hardware that is in the aquarium. These are the fishy version of under floor heating.
Filter Aquarium Heaters
This type of aquarium heater consists of a heating block which is made to fit in the filter, heating the water as it passes through. The main benefit of using a filter heater is that no equipment is placed in the tank, which also means that it cannot be broken by boisterous fish.
Once you've made a decision as to which type of aquarium heater you're going to opt for, you need to calculate the wattage required to keep your aquarium at the optimum temperature, so that your fish can remain happy and healthy.
Although aquariums, or aquaria if you prefer, come in many shapes and sizes, the majority of aquariums fall into certain standard sizes. This makes choosing a heater size easier than you imagine.
Here are few useful pointers to bear in mind when it comes to aquarium heaters:
An important piece of advice: keep a spare aquarium heater to hand, as your heater will invariably fail at the worst possible time, such as in the dead of winter, or when your local pet shop is closed. Your fish do not have time for eBay or any other source to deliver. The spare heater you keep doesn't have to be top-of-the-range; however, it needs to do the job, which means it needs to heat the water until you replace it. Search eBay for aquarium heater auctions, and you might find yourself a bargain backup.
If you own a tank that is 50 gallons or larger, you should consider purchasing two smaller heaters rather than just one large heater. The reason being, the heat that they produce will be more evenly distributed. If you have two smaller heaters, they can be placed at either end of the tank, and if one was to fail, you always have the other to keep the water in the aquarium warm until you find a replacement.
If you have fish, such as Betta, which are kept in a small tank but require tropical heat, you may wish consider purchasing an aquarium mini heater.
Heating Your Aquarium – The Challenges
No matter what precautions you take and how careful you are, heater breakage, one of the most common challenges for aquarists, can happen at any time. If you have large or active fish in your aquarium, it is a good idea to buy an aquarium heater guard for use with glass heaters.
In the winter months, if your aquarium heater fails, you have to act fast in order to keep your fish warm or the outcome may be disastrous. One way to do this is by firstly making a note of your aquarium's initial water temperature. When it drops, fill a plastic container or zip lock bag with hot tap water, seal it, and place it in the tank. You can also wrap towels and blankets around your aquarium to retain as much heat as possible.
Cooling
In the summer months, the opposite problem can occur, so you have to keep a close eye on the water temperature of your aquarium in case it rises too high. If this happens, you can keep your fish cool by: keeping aquarium lights turned off, making sure the room in which the aquarium is located does not receive direct sunlight, remove the hood and lid from the aquarium, place a fan blowing directly across the water, or float icepacks in the water.
Where to Place Your Aquarium Heater
You've chosen an aquarium heater, but now you're wondering where to place it. Do you place it in the middle or on the side of your aquarium? Is it even important? The answer is simple. The best place to locate your aquarium heater is near the water flow. For example, near the outlet or inlet from the filter or stream of a power head. By placing your heater in one of these places, the flowing water will be heated more quickly, and will evenly be dispensed throughout the tank.
Why Choose eBay for Aquarium Heaters?
EBay is a popular place for users to purchase aquarium heaters, mainly due to the different types available, and low prices not found elsewhere.
How to Search for Aquarium Heaters on eBay

Now that you've found out the different types of

aquarium heaters

, as well as where to place a heater in your tank, you can now begin your search on eBay. To start your search, go to the

All Categories

link on the homepage of eBay. Click

Pet Supplies

, and then select

Fish

which appears on the left-hand side of the page.
Keyword Search
Search eBay listing titles for specific words. For example, if you want to find an internal aquarium filter, type the keywords "internal aquarium filter" (without quotation marks) into the Search box. Click, "Search title and description" to expand your results. Visit eBay's Search Tips page for more tips on searching with keywords.
If you can't find exactly what you want, try browsing eBay Stores or tell the eBay Community what you're looking for by creating a post on Want It Now, or save a search on My eBay and eBay will email you when a matching item becomes available.
Buy Aquarium Heaters on eBay with Confidence
Make sure that you know exactly what you're buying and understand how eBay and PayPal protect you.
Know Your Item
Read the details in the item listing carefully.
Remember to add delivery costs to your final price. If you're buying a high value item, check that the seller will insure it until it is delivered to you.
If you want more information, click the "Ask seller a question" button on the seller's profile or the "Ask a question" link at the bottom of the item listing page.
Always complete your transaction on eBay (with a bid, Buy it Now or Best Offer) otherwise you will not be covered by eBay Buyer Protection.
Never pay for your eBay item using an instant cash wire transfer service like Western Union or MoneyGram. These are not safe ways of paying someone you do not know.
Know Your Seller
Research your seller so that you feel safe and positive about every transaction.
What is the seller's Feedback rating?
How many transactions have they completed?
How many positive responses do they have?
What do buyers say in their Feedback?
Are they positive about the seller?
Most top eBay sellers operate like retail shops and have a returns policy.
Do they offer a money-back guarantee?
What are their terms and conditions?
Buyer Protection
In the very unlikely event that you do not receive your item or it is not as described, eBay Buyer Protection covers your purchase price plus original delivery cost.