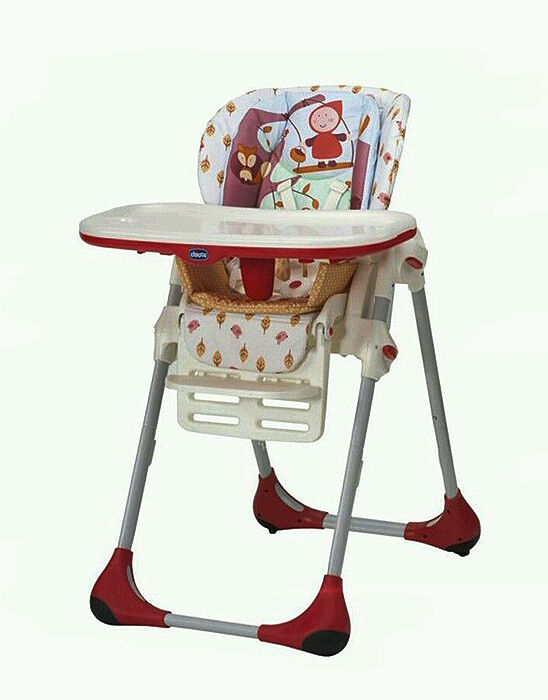 Whether it is just a few minutes spent at the start of a busy morning, or a feast that took hours to make, family meals bring everyone together. Babies can be part of the action too with a high chair that allows them to sit at the table and be a part of the fun. While parents soon discover that babies like to play with their food more than actually eating, their little ones are keen observers.
Just watching everyone else helps teach the baby good table manners that they build on through their toddler and early childhood years. High chairs are an important part of a baby's development, and they are the most popular seating option when it comes to feeding. Buyers can find high chairs in baby stores and through online websites like eBay. Choose the right high chair based on its style, safety, and ease of use to get the best results possible.
The Right Time
High chairs can be used once the baby is able to sit upright starting at about four or five months of age. Therefore, it is not a purchase that new parents need to buy right away when they find out they are expecting. There are plenty of other items that the baby needs right away the moment he or she gets home from the delivery room. Put a little stretch on a tight budget by waiting a couple of months instead of trying to buy a cotbed, car seat, stroller, and high chair all at once.
While babies are able to use a high chair once they can sit up, paediatricians do not recommend giving them solid food when they are this young. Babies do not have enough teeth to properly chew food, and trying to feed food too early leads to childhood obesity. At around six months of age babies are old enough to start eating soft rice cereal, but wait until they are at least nine months to start giving them solid food. However, young babies can sit in the high chair and play with their toys while mum and dad sit down to eat dinner.
Safety
As with all baby gear, safety is a prime concern for all parents or guardians. Every year there are thousands of infants rushed to the ER room because of high chair accidents. Parents who take the time to purchase the right high chair can avoid being part of this statistic by understanding a few safety basics. First, the base of the chair needs to be sturdy. This means the foot of the legs should be wider than the chair itself. Older babies and toddlers can get rambunctious in their high chair, and if the base is not strong enough the entire contraption can tip over. Parents who are buying a collapsible model need to always ensure that the high chair is locked into the open position when the baby is using it.
Second, never depend on the tray as a restraint system. Toddlers can climb over the tray while younger babies can slide underneath. Chairs with waist and crotch belts are needed as well. Do not just rely on the waist belt to hold the infant in the seat either. Babies have been strangled by sliding under the seat and getting caught in the waist belt. The crotch belt helps avoid this while keeping young infants in place. Parents who are especially concerned about safety can opt to buy a five-point harness cover for their high chair.
Cleanliness
Babies are not dainty eaters and parents can be sure that whatever is for dinner is eventually going to end up all over their child, the high chair, and possibly the wall and floor. Keep this in mind when examining stylish high chairs with ruffled covers. They may look adorable, but cleaning in between all those ruffles daily gets tiring. Plastic and wood are usually the preferred materials when it comes to high chairs.
Choosing Between Wood and Plastic
Both of these materials have their advantages and disadvantages. Their surfaces are easy to clean with disinfecting wipes, and they do not hold germs. Plastic chairs are lightweight, and most of them also come with a padded plastic cover that helps keep the baby comfortable. Parents who do not like plastic, or that want a chair that matches the rest of their kitchen furniture, typically turn to wood models as a viable option. Wooden chairs are a little heavier, and they do not offer some of the convertible options found in certain plastic models.
Conversion
Today's high chairs are able to last longer than a couple of years. Convertible models stretch out the life of a high chair by growing with the child. Models with reclining backs and removable seats, start out their life as upright infant cradles for early floor-feeding sessions. Later, they are attached to the foot-posts in order to work as a high chair during infancy. Once a baby becomes a toddler, the bottom part of the seat can be removed for a booster seat. Finally, when children are able to sit at the table without needing a boost, they can transform into adult chairs. This means that instead of having to buy three or four different items, parents only need to purchase one convertible high chair.
Trays
A basic high chair uses a removable tray, a flat piece of plastic or wood that attaches to the front of the chair. Most have a raised edge in the hope that the baby's dinner stays on the tray and not on the floor. However, high-end models usually go all-out when it comes to tray design. Buyers can find trays with cup holders that help keep the cup on the tray, and not spilled on the ground. There are also models with toys built into the tray that help keep young infants entertained. Some brands even come with a secondary tray in case the first one gets damaged or needs to be cleaned.
Testing
It is a good idea to always test out a high chair before deciding it is the right model. Most baby stores have high chairs already set up and on display. Parents can visit these stores and practise using the chair. However, avoid high retail fees by opting to purchase the actual chair via an online website like eBay instead. Start out by testing the tray. The best models have a one-handed tray design that are easily attached and removed from the chair. However, sometimes this is easier said than done. A simple test involves attaching and removing the tray to see how easy it is.
If space is tight in the kitchen, many parents opt for collapsible models. These are high chairs whose legs fold up for easy storage. Test how easy it is to manipulate the chair from its storage position to its standing one. The legs need to be able to lock into place securely as this presents a safety hazard. Chairs that have difficult locking mechanisms can be dangerous. Parents need to check the sturdiness of any model, collapsible or not. Shake the chair a few times in the store and judge how sturdy it feels. If it seems unusually top heavy or the legs seem to bend, then this probably is not a good chair for a strong toddler.
Buying High Chairs on eBay
New parents and old hands alike love the convenience of shopping for their baby gear on eBay. It allows them to explore all the different models of high chairs without ever having to leave their house. Furthermore, eBay also has a massive selection of used high chairs for sale at exceptionally low prices. It is possible to buy a used high-end model that costs a small fortune brand new for only a fraction of the cost.
Finding High Chairs on eBay
New users can quickly discover all the potential that eBay has to offer by typing 'high chair' into the search engine and browsing through the extensive list of results. If you want to narrow down your search, try focusing on the features of the chair. For example, if buying one with a cushion is important, then search for a 'cushioned high chair'. If you also have your heart set on a particular brand, you can search that way by typing in terms like 'Chicco high chair' or 'Fisher Price high chair'. Narrowing down the results as much as possible allows you to focus only on listings that appeal most to you.
Conclusion
High chairs are a wonderful way to get the baby involved with family meals. Little ones can be patiently fed by mum or dad, while older babies can start exploring hand and eye coordination by trying to feed themselves. When buying a high chair, there are several factors to consider. First and foremost, parents must always make the sure the model they choose is safe for their child to use during the early years.
They need to also consider how easy the high chair is to clean, and if they want to go the convertible high chair route. It is best to test out different high chairs on display in a store to see how easy they are to use, but smart shoppers know they can save a bundle by going back home and making their purchase through eBay. The right high chair allows parents to relax during family meals.