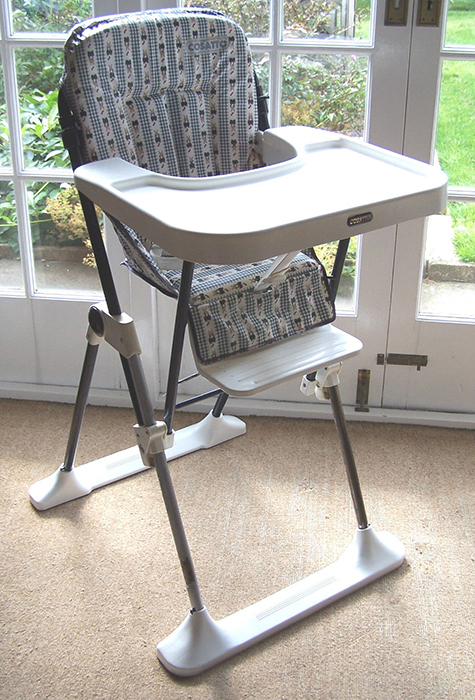 Parents often find that the meticulous process of preparing bottles and feeding an infant makes for a long stretch of days and nights. While it may seem like an eternity, infants eventually become toddlers capable of sitting up on their own, consuming solid food, and feeding themselves. When the time arrives, a high chair becomes a valuable commodity. This one piece of furniture benefits everyone, because the parents can eat with few disruptions while the child feeds him or herself. Even more noteworthy is the opportunity for the entire family to sit and enjoy a meal at the table together.
High chairs are available in a wide array of styles, at a broad range of prices. They come with several features, which typically affect critical aspects, such as durability and safety. With so many factors to consider, choosing the right chair for a toddler can be intimidating. Buyers should understand the most important elements to take into account to simplify the task of purchasing a high chair.
Types of High Chairs
A high chair for a toddler is characterised by its ability to convert into a chair that is suitable for eating right at the table. This process is typically made possible by detaching the connected tray and adjusting the height of the chair. These toddler-friendly characteristics can be found across the many types of high chairs.
Basic High Chairs
These simple models work well in many situations. They are usually comprised of plastic seats on top of plastic or steel tubed legs with seat belts attached for safety purposes.
Pros

Cons

Considerations

Lightweight

Easy to store

Lack comfort

Fewer extra features

These models are held to the same safety regulations as pricier models, but may not be as comfortable or aesthetically pleasing.
Basic high chairs have all the standard safety features necessary, but the lack of extras keeps the prices lower on these models. Basic high chairs are great for consumers on a budget.
Mid-Level High Chairs
High chairs in the mid-level range typically come with all the basics, as well as extra perks. Additional features may include padded seats, detachable trays, and customisable height adjustment.
Pros

Cons

Considerations

More features and capabilities

Better durability

Greater flexibility

Larger than basic models

Difficult to store

Challenging to keep clean

Consumers looking for something that is easy to store and clean may find the rich functionality of mid-range high chairs to be a bit much.
This price range typically has the largest selection of high chairs with the greatest number of options. Consumers can choose from a variety of colours and styles, and can select features to suit individual taste preferences.
High-End High Chairs
High-end models are often characterised by their sleek and stylish appearance. Many of these high chairs fall into the "designer" category, and may actually have simpler designs and fewer features.
Pros

Cons

Considerations

Durable

Limited features

Expensive

Buyers should keep in mind that despite being more expensive, high-end high chairs are not necessarily better quality than basic and mid-range models.
Popular high end models include ones with Scandinavian or Danish influences, such as natural wood tones and simplistic styling. Designer high chairs are made from quality materials and are built with longevity in mind.
Popular High Chair Features
When it comes to buying a high chair for a toddler, safety and comfort are two areas that should not be overlooked. A child that is comfortable will be happier and more cooperative at the table. A secure restraint keeps the child safe. When shopping for a high chair, buyers should also consider other features, such as adjustable seats, trays, and wheels, as well as the ability to store the chair when not in use.
Restraint System
The harness, crotch straps, buckles, and other components of a restraint system are important safety features that every high chair needs. Falls are the most common injuries suffered by small children, and unfortunately, they regularly involve high chairs. A proper restraint system can prevent an active toddler from standing, climbing, or falling out of their high chair.
Adjustable Seat
An adjustable seat can be moved up and down in a range of heights. This is a nice luxury to have because, at the right height, it allows the chair to be easily pushed up to the dinner table. Some products have numbered height positions, a feature that simplifies the adjustment process while helping to assure proper positioning.
Tray
Choosing a high chair with the right tray can be tricky. The average parent wants something that is easy enough for them to remove, yet not so simple that their child can easily do the same. Cleaning is another factor that comes into play, since some trays are more difficult to clean than others.
Wheels
Wheels are extremely convenient. They come in handy for parents who often need to roll the high chair from one room to another. With that said, consumers should look for wheels that can be locked, to prevent the high chair from rolling around once the child is seated.
Storage-Friendliness
Some high chairs fold to make storage more convenient. This feature is handy, but it can also cause a safety hazard should the chair start to fold while a toddler is sitting down or being placed inside. Safety-conscience parents are encouraged to seek out built-in locking mechanisms that prevent the chair from folding accidentally.
High Chair Brands
High chairs are manufactured and distributed by several companies. Buyers should become familiar with some of the major high chair manufacturers, to make shopping for a brand-name high chair easier.
Babydan
Babydan is a Danish company that designs, manufactures, and sells a variety of safety equipment for children up to age 5. In business since 1947, their primary focus is to create a safe environment for children. Babydan high chairs are known for their unique designs and safety features.
Chicco
A worldwide seller and manufacturer of juvenile products, Chicco manufacturers high chairs, car seats, toys, and strollers. Chicco has been around for over 50 years, and is the largest baby brand in Europe.
Cosatto
Headquartered in Lancashire, England, Cosatto has been making quality nursery equipment for over 40 years. Bright, iconic patterns and modern styling are the hallmark of their high chairs and other baby accessories.
Fisher-Price
New York-based Fisher-Price is one of the most well known makers of children's toys and furniture. Fisher-Price high chairs offer tremendous diversity in terms of styles, features, and price.
Mamas & Papas
Mamas & Papas began making baby accessories in 1981. Their company mission is to create attractive products that bring simplicity and assurance to the daily lives of parents. With over 50 stores around the UK, Mamas & Papas is fast becoming a top selling brand.
Stokke
Established in 1932, Stokke is a Norwegian furniture manufacturer. Since 2006, their focus has been exclusively children's furniture and equipment. Their products are designed to be functional and long-lasting, with convertible designs that grow with the child.
Recognising the Importance of Certification
ASTM International develops standards for a number of international products, including several popular baby products. Consumers shopping for a high chair should seriously consider choosing an item tested by this respected global organisation. Products bearing the JPMA seal of approval have been proven to conform to the quality and safety standards published by ASTM. While this certification is an assurance of sorts, it is not a guarantee. Buyers can still be comforted in knowing that high chairs made by popular brands such as Baby Trend, Evenflo, and Safety 1st are JPMA certified.
Buying High Chairs on eBay
Traditionally, heading out to the nearest baby store has been the most logical way to shop for high chairs. In the internet era, however, more and more consumers are shifting towards shopping online. While it is still possible to find a nice selection at a local retail store, for many consumers, the convenience of shopping online is tough to beat. It is these type of perks that have attracted consumers to web destinations such as eBay.
Immediate access to a huge selection of products is just one reason eBay is a great place to buy a high chair. It also simplifies shopping by making searching for items a user-friendly process. In fact, if you already have a good idea of what you're looking for, finding it on eBay is a piece of cake.
Searching for High Chairs on eBay
eBay has a large number of listings in a broad range of categories and sub-categories to streamline the search process. Simply enter what you want into a search box on any page of the site (e.g. "high chairs"), and eBay will return a page of results containing listings relevant to your keywords. Then you can explore the listings, or refine your search even further by using the Advanced search function. This feature is pretty handy, since it lets you filter through listings by price, buying format, seller location, and other criteria.
Conclusion
Buying a high chair for a toddler is no simple matter. At this point your child is too big to cradle in your arms and spoon feed, yet too small to comfortably sit in a normal-sized chair like older children. The market has changed. Once a big, clunky contraption that stuck out like a sore thumb in the dining room, the high chair has evolved into a visually impressive, feature-rich piece of technology available in materials ranging from sleek metals to natural woods. Choices that include swivel chairs, adjustable heights, convertible designs, and high-tech fabrics are a few examples of decisions a parent is confronted with when searching for a high chair. Throw in the huge pool of brands, and the decision quickly becomes overwhelming.
On the bright side, there is a formula that can eliminate a lot of the hassles people deal with when selecting nursery equipment. Figure out what's best for your toddler, learn what goes into buying a high chair, and know where to find it. Before you know it, your little tike will be sitting comfortably and stylishly while enjoying meals with the rest of the family.