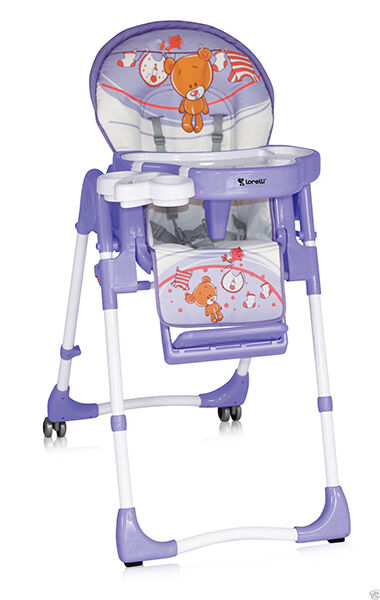 Having a baby is a great joy and responsibility for any parent. Since babies cannot use regular furniture like adults do, parents need to buy special items for their babies such as high chairs . A high chair is essential when there is a baby in the house because it allows the baby to sit safely together with the family at the dining table so that the whole family can enjoy meals together. Baby high chairs are available in a wide range of designs, colours, and may also come with extra features such as trays.
Although there are many other baby items that a family should have in their home, babies do spend quite a lot of time eating and need their high chairs many times during a day. Therefore, choosing the right high chair is important. Among the things parents should consider when buying a high chair on eBay are the safety and the size of the chair. Since eBay has a wide selection of high chairs and the search system of the website is a simple one, buyers looking for high chairs on eBay can enjoy their online shopping experience.
Why Buy a High Chair
A high chair is necessary to help babies and toddlers reach the dining table and join the rest of the family at meal time. However, a high chair is not really needed until babies start eating solid foods, which is usually after they are six months old. Parents can still purchase a high chair earlier than that as a handy place for their babies to sit on while they are fed. Plus, it is easier to keep watch on a baby in a high chair since the chair is elevated. Using a high chair is also a good way for the baby to join and interact with the rest of the family at the dining table.
Types of Baby High Chairs
Baby high chairs come in many styles including the standard high chair, the portable high chair, and the booster seat. Each style not only looks different but also has slightly different functions. When buying a high chair on eBay, parents should select the type of chair that they need by considering the features of the main styles of high chairs, as summarised by the table below.
Type of High Chair

Description

Standard high chair

Has a tray as the baby's table

Can be used when the baby is able to sit up

Portable high chair (hook-on high chair)

Clips onto the dining table or chair

Useful when travelling or when trying to save space

European-style high chair

Usually does not have trays so it can be pulled up to the dining table

Suitable for toddlers

May have an adjustable seat and footrest

Suitable for toddlers between 18 and 24 months old who have outgrown their high chair

Provides elevation to reach the dining table

Has a harness for safety
When buying a high chair, parents should choose one that is suitable for their child's age. Standard and portable high chairs are better suited for younger babies than other chairs, as they provide lift and are more secure. On the other hand, the booster seat and the European-style high chair are more suitable for toddlers, and are usually of adjustable height to accommodate the child's growth.
Other Considerations When Choosing a High Chair
Besides choosing the type of high chair for their baby, parents should also consider a few other factors such as the chair's safety, adjustability, and comfort. Safety is a vital factor to consider when buying a high chair. Parents should inspect the chair carefully before buying to ensure that there are no removable pieces that a baby might accidentally ingest, and that the chair is sturdy enough. They should also look out for sharp edges as they can not only be uncomfortable for a baby, but also dangerous.
A chair with adjustable seat and footrest positions is very handy to have as it gives the high chair a few extra months of usefulness before it has to be replaced. When buying an adjustable high chair, it is important for parents to consider the size of their baby so the lifespan of the chair can be maximised. Buying a chair of the right size enables the baby to sit comfortably and safely.
One factor that parents do not often think about is whether the high chair is easy to clean or not. Buying an easy to clean high chair can save parents a lot of time and effort. Parents should look for hidden crevices and gaps where food can get stuck in, and should also determine whether they can remove and clean the tray. Also, cushions increase the comfort of the chair, but they should be removable and machine washable because they get stained easily.
Searching for a High Chair on eBay
When buying a high chair on eBay, parents can employ a number of ways to make their search easier and more specific. Besides that, eBay also has a variety of features to help buyers when they shop. The most notable features on eBay are the search function, category filters, feedback score, and eBay shops.
Searching for a High Chair on eBay
To search for a high chair on eBay, buyers can just use the search bar on the home page. By typing in 'high chair' into the search bar, buyers can then view the various baby high chairs that eBay has to offer. When looking through the list of high chairs, buyers can further customise their search by selecting the features that they want in the high chair or even the brand of the chair. For example, just by selecting the 'removable tray' feature, buyers are presented with only high chairs that have removable trays. Besides the brand of the high chair and its features, buyers can also select the condition of the chair and the location of the seller.
Seller Feedback Score
The seller feedback score is a very helpful feature for buyers because it can assist them on their decision making when buying a high chair. A feedback score represents the seller's reliability and the quality of his or her products assessed by the eBay buyers. Buyers should remember that they can rate a seller as long as they have made a purchase from the seller. By doing this, buyers can help future customers on their purchases.
eBay Shops
Besides searching for a high chair by typing in keywords, buyers can also browse through various eBay shops that sell baby products. When buying a high chair from a particular seller, they can also visit the seller's eBay shop and look at other items by clicking on the link provided on the product page. Besides that, parents can save the seller on their account for whenever they want to buy more products for their babies. A good eBay shop often has a wide variety of baby products and offers excellent service and support for customers, so it may be a good idea for parents to save a seller they liked for easy future access to that seller's products.
Buying a High Chair on eBay
Buying a high chair on eBay is a simple process. All you need to do to search for one is to type in your keywords into the search bar on the eBay home page. You can type in 'high chair ' or use more specific keywords such as 'Fisher Price high chair ' if you are looking for a specific brand. When browsing through the various high chairs, you can look at the image of the chair and its price.
After selecting the chair that you like, you will be directed to the product page where you can view more information on the high chair including the postage fee, estimated delivery time, and also the seller's feedback score. Make sure you look at all the necessary details before you purchase the chair. If you have any questions regarding the item, you should contact the seller. If you have determined that you are satisfied with the product, you can purchase it.
Conclusion
To get the right high chair for their baby, parents must consider a few things so their child can use the chair safely and comfortably. The common types of baby high chairs are the standard, portable, and European style. Parents can also choose chair harnesses and booster seats as accessories for the high chair. Other factors to consider are the size of the chair, its safety, comfort, adjustability, and ease of cleaning. These factors are extremely important as a high chair that is unsuitable can not only be uncomfortable for the baby but also unsafe to use.
When buying a high chair on eBay, parents can use the various features on the website to help them search for the right chair for their baby, such as the search function and the category filters to refine a search. eBay is a good place to purchase a high chair because it has a wide selection of products for baby feeding. Moreover, the website's useful features such as eBay shops or seller feedback score simplify the search for the right high chair for one's needs and preferences.