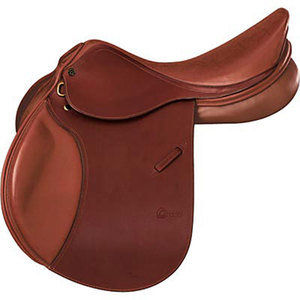 Buying a high-quality leather saddle is a huge financial decision, after the purchase of your horse, it is probably the most expensive piece of equipment you will buy; you have to get it right.
First of all, ask around your friends who already have saddles, see who likes what, what their comments are about fit of the saddle on the horse and comfort for the rider.
Next, go to your local saddle shop and ask to see their professional saddle fitter - or Master Saddler - as he or she is called. If there isn't one attached to that particular shop, they will know of one whom they could recommend you to.
Speak to the Master Saddler, ask his advice, ask if there is any particular brand of saddle he particularly recommends for your type of horse. Get him to come and see your horse with a selection of saddles he currently has in stock, they may not be the particular ones that your friends have spoken about, but at least you could see how they fit. Listen to the saddler's advice; he or she is the professional.
eBay usually has a good range of pre-owned saddles that are for sale at a vastly reduced price compared to a new one. Saddles last a long time, and a well looked after second-hand saddle is definitely one to be snapped up. It's a good way of acquiring a really high quality saddle for less.
All horses are different shapes, some have high withers, some have dips behind their withers; others seem to have no withers as their shoulder goes straight across, as in a cob. He will be able to see this and recommend a certain make of saddle that will suit your horse.
Remember, you are under no obligation to buy a saddle from the saddler. What you are trying to do is work out what type and size of saddle best suits you and your horse.
All saddles come in different widths, with different trees, to accommodate horse's shapes. These are as follows:
Saddle size
As with all saddles, when you stand at the horse's tail and look straight at the back of the saddle, you should be able to see daylight between the saddle and your horse's spine, the saddle should sit comfortably on either side of the spine, too narrow and it will pinch the nerves that run along either side of the spine, too wide and the saddle will sit too flat and even maybe touch the spine itself. At the front, as with all saddles, you should be able to fit your hand, held in a vertical position, between the top of the horse's wither and the underside of the pommel.
Then your height and length of leg has to be taken into consideration;
ladies usually need a 15 and half inch or 16 inch or 16 and a half inch seat
men need a 17 or 17 and a half inch.
This measurement is taken from the silver stud on the front side of the pommel, to the centre back of the cantle.
Also, most important, is the fit of the saddle flap; you should be able to pass your hand easily under the flap in a smooth sideways movement. This means there is enough room for the horse's shoulder to move. There is no point in having a saddle that restricts the movement of the shoulder. It would also be very uncomfortable for the horse. The saddle should not tip forwards or backwards when sitting on the horse's back and you gently push down on either the pommel or cantle, it should stay straight and balanced.
Next you need to have a sit on the saddle to see how it feels for you. Place a clean tea towel on your horse's back, needless to say, you will have groomed your horse well beforehand, so he is as clean as possible, and put the saddle on. Trying a new, unused saddle or even a second hand one, is best done either in an indoor school, or on a perfect sunny day outside, as the Master Saddler is not going to want any marks or damage to occur to the saddle.
Some Master Saddlers can be difficult about you actually sitting on, and riding in the saddle, but if done carefully, no damage should occur, and quite frankly, how on earth can you see if you like it or not without actually riding in it. Like an expensive pair of shoes, you have to see if it's comfortable for you, once you have decided it's as suitable as possible for your horse.
If your Master Saddler doesn't actually stock the brand of saddle you have set your heart on, he will be able to ring the appropriate makers and get one for you to try. They may even send one of their own sales people out with a selection. High quality saddles are very expensive, as you will know, and the manufacturers do not let them out of their sight.
Guide to caring for a quality leather saddle
If you are thinking about buying a really high quality leather of saddle, it worth bearing in mind that it takes time to look after them. This guide lets you know what is involved.
| | |
| --- | --- |
| 1 | Strip the saddle down, taking off the numnah (saddle blanket), stirrup leathers, martingale or any other attachment. |
| 2 | With a damp but not wet sponge wipe over the whole area of the saddle. Take care to clean the bottom side of the saddle and under the saddle flap. |
| 3 | Clean well into the stirrup bar; be sure there is no build-up of old soap in that area. |
| 4 | Be careful not use any household soap or detergents in the water as these can seriously erode the leather. |
| 5 | Do not make the saddle too wet. If there are areas that are very damp, leave the saddle for a while or rub it down with a dry towel. |
| 6 | Take the saddle soap and dip the soap (not the sponge) into the water. |
| 7 | Use the second and dry sponge to work in the saddle soap. If the second sponge is made wet, the saddle soap tends to get too lathery or frothy. It will then not sink into the leather in the right way. |
| 8 | Once the second sponge is well soaped, sponge down the saddle in all areas with the saddle soap. You cannot really over-soap a saddle; the leather will soak it all in providing there isn't too much water in the soap. The saddle should start to show a lustre. This is not a shine but more of a healthy gloss, very like good, healthy skin. |
| 9 | With a towel, give the stirrup bars and any other metal work a good polish. Towel the stirrup irons, having soaked them in the bucket of warm water. |
| 10 | Clean the stirrup leathers, martingales and any other leather tack in the same way as the saddle. |
| 11 | Having cleaned and soaped the saddle thoroughly, the stirrup leathers, breastplate or other accessory can be re-fitted to the saddle. |
| 12 | A tidy finish to the job and good way of storing the saddle with stirrups attached is to pull the stirrups right up the leathers to the stirrup bars and push the spare stirrup leather back through the stirrup. Like this the stirrups do not dangle. This makes the tack much easier to store tidily or carry. |
How to buy High Quality Leather saddles on eBay
You can find saddles quickly and easily on eBay. While you shop, don't forget Saddles, Other Tack, Grooming & Health, Bridles, Supplements & Treats and Food. Click the Sporting Goods portal and click Equestrian.
Categories: The Categories list on the left side of each page will help you narrow down your listings by item type. You'll find links for Books & Magazines, Driving, DVDs, Horse Wear & Equipment, Prints & Art, Rider Clothing & Accessories, Stable Accessories, Trophies and Videos. As you refine your search you'll be able to narrow down your choice by subcategory.
Product Finder: Use the Saddle Finder to quickly narrow down item listings by brand, model and condition. (new or used)
Keyword search: Search eBay listing titles for specific words. For example, if you want to find a new saddle, type the keywords "equestrian saddle new" (without quotation marks) into the Search box. Click "Search title and description" to expand your results. Visit eBay's Search Tips page for more tips on searching with keywords.
If you can't find exactly what you want, try browsing eBay Stores or tell the eBay Community what you're looking for by creating a post on Want It Now, or save a search on My eBay and eBay will email you when a matching item becomes available.
Buy High Quality Leather saddles with Confidence
Make sure that you know exactly what you're buying and understand how eBay and PayPal protect you.
Know your item
Read the details in the item listing carefully.
Remember to add delivery costs to your final price. If you're buying a high value item, check that the seller will insure it until it is delivered to you.
If you want more information, click the "Ask seller a question" button on the seller's profile or the "Ask a question" link at the bottom of the item listing page.
Always complete your transaction on eBay (with a bid, Buy it Now or Best Offer) otherwise you will not be covered by eBay Buyer Protection.
Never pay for your eBay item using an instant cash wire transfer service like Western Union or Moneygram. These are not safe ways of paying someone you do not know.
Know your seller
Research your seller so that you feel safe and positive about every transaction.
What is the seller's Feedback rating?
How many transactions have they completed?
How many positive responses do they have?
What do buyers say in their Feedback?
Are they positive about the seller?
Most top eBay sellers operate like retail shops and have a returns policy.
Do they offer a money-back guarantee?
What are their terms and conditions?
Buyer protection
In the very unlikely event that you do not receive your item or it is not as described, eBay Buyer Protection your purchase price plus original delivery cost.
Conclusion
You now have all the information that you need to be able to find exactly the right high quality leather saddle on eBay. You should make certain that you double check your seller's returns policy. Even pre-owned saddles are relatively expensive.
In order to give the rider control and so as not to cause the horse discomfort, the saddle really must fit well.