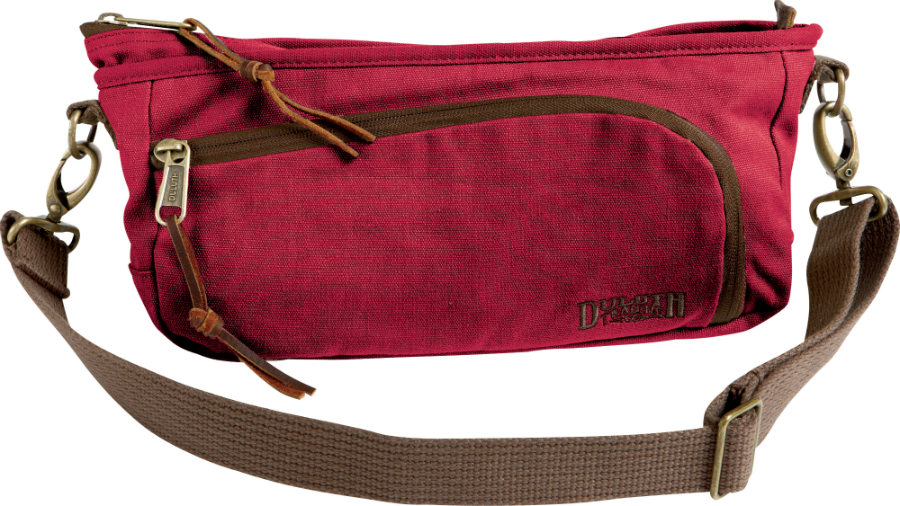 A hip bag is an accessory that can keep one's hands free while still containing all the necessities. There are many ways to buy a hip bag and many types of hip bags available for purchase. In order to buy a hip bag, one needs to first decide which type of hip bag she would like. Deciding how to buy a hip bag starts with deciding what a woman wants in a hip bag. A woman purchasing a hip bag must also consider the different ways to wear a hip bag to decide which is right for her. Some people may decide to buy one that hangs low on the waist, while others want a hip bag that is a bit more secure. Most of the secure hip bags sit close to the body and are less likely to be stolen or be the mark for a pick pocket. Hip bags can be purchased from accessories shops, department stores, or on the online auction website, eBay. Some initial research must be done on the uses of hip bags, the way hip bags are worn, and the materials from which hip bags are made.
Deciding on the Use of Hip Bags
There are many different uses for hip bags. A hip bag comes in a variety of sizes that can be used in many different situations. It can be a convenient place to put a variety of items. Deciding upon the use of a hip bag is integral to purchasing one.
Hip Bags for Travel
The most common use for a hip bag is as a travel bag. One of the uses of a hip bag is to store items that need to be kept close or that are in use often. Many people place travel documents, passports, identification, and other documentation in their hip bag. This keeps the items safe and the person's hands free for things like luggage. It is also subject to either falling off, or being taken by thieves. This is a concern when travelling in a strange area where passports and identification are difficult to replace.
Hip Bags for Exercise
Women also use hip bags for a convenient way to carry items while exercising. This, again, keeps a woman's hands free for moving around while keeping the items in the bag from coming out. Using a hip bag while working out also gives women a place to put items, such as iPods and Walkmans. Another good use of the hip bag is to hold small sports drinks to rehydrate while doing physical exercise. A hip bag allows a woman to do both leg and arm exercises without having to worry about holding anything that they may need.
Hip Bags as a Fashion Accessory
The hip bag can be used to highlight almost any fashion. Almost anyone can complement an outfit with either a low-slung hip bag or a hip bag that matches their wardrobe. The versatile beige or black hip bag can accent a skirt, shorts, or even a pair of jeans. This use of a hip bag is good for taking ID and credit cards to clubs where money and other small items may become lost in the darkened environment.
Hip Bags for Bike or Motorcycle Riding
The hip bag, when used by cyclists, often allows women to carry items that need to be easily accessible while on a bike. It keeps the user from having to fumble around for things like keys, water, or other objects while riding. This goes for motorcyclists, as well as traditional pedal bike riders. These hip bags often connect directly to the belt loops for added safety and security both on and off the bike. These work best when high wind prevents a person from carrying a backpack or a purse.
These are the reasons why people may decide to buy a hip bag. Knowing what the hip bag is for is integral to how, and from where, to purchase a hip bag. The hip bags on the market today are used for many more purposes. These are just some of the basic uses for them. A hip bag may be used in place of a purse or backpack. In most situations, they can be used to carry quite a few of the objects needed.
Hip Bag Carry Styles
A woman can carry a hip bag in several different ways. Deciding upon how an individual prefers to carry a hip bag is the next step in purchasing the perfect hip bag. After deciding upon the purpose of a particular hip bag, a carry style must be chosen.
Most women carry them slung across their hips as if they are carrying a purse. This hip bag sometimes hangs down to sit low on the hip. It looks almost like it is a satchel without the strap that goes around the shoulder. These types of hip bags generally have a buckle or clasp that keeps it securely anchored to the hip. This way of carrying a hip bag is good for those who wish to carry the bag in a club or as a fashion accessory.
Another hip bag carrying style is through the belt loops, which secures the hip bag like a belt. These are the safest hip bags if a person is in an area known for theft. Unless the clasp breaks, it is very difficult to remove this type of hip bag from the body. These types of hip bags normally use a plastic or metal buckle. A woman wears this type of hip bag either on the side of her hip, on the front of the body, or on the back of the body.
Wearing a hip bag does not mean that a person has to wear it directly on the beltline. They can also wear it slung low against the leg. This is a stylish way to wear it. Although this way offers little protection in the case of theft, it can be used as a fashion accessory, rather than as a simple functional hip bag. This particular type of hip bag can carry light books and often looks like a purse.
Materials Used to Make Hip Bags
Many materials can be used to construct a hip bag. These versatile bags also come in just about any colour. Sometimes the material used to make a hip bag is selected because the bag serves a particular purpose, other times the material is aesthetic, rather than functional.
Leather
The most common material used to make a hip bag is leather. Just like purses, the leather is sturdy and unlikely to tear because of the weight placed inside of it. Leather is popular for travel hip bags and hip bags that are meant to be used as a satchel. These bags can also be used in sports to keep the hands free while biking or jogging. The leather can also be waterproofed to keep objects dry when it is raining.
Cloth
Another common material used to make a hip bag is cloth. The cloth bags are usually meant for lighter objects, such as wallets and cash. The cloth hip bag also comes in a wider variety of colours than leather bags. The flexibility of cloth allows a person to put more unusual objects in it because it conforms to shape better than the leather bags do. The fastenings on these bags are normally tied or have a plastic clasp.
Canvas
Some companies make hip bags out of canvas. Much like leather bags, these are extremely durable. Women use canvas hip bags to carry books, papers, or other documents that they need on hand quickly. There are also bags made from knitted fabrics. These bags do not hold small objects as well as the other materials. A pen or a corner of a book can poke through the knitted fabric.
Comparing Materials
Each of these materials have their benefits and drawbacks. When purchasing a hip bag, one has to check to make sure that the bag suits the purpose for which it is intended. The clasps and zippers close completely if they do not have the ability to lock. The same concept applies to those who wish to use the bag for sports, such as jogging or biking. Cloth, canvas, and knit bags can all be used as accessories or as purses. Some companies make cloth hip bags out of hemp that many consider environmentally-friendly. The cloth bags are often marketed as "green". These are for the more environmentally conscious buyers.
The higher-end bags come with a designer label. These tend to be more expensive than the off-brand hip bags but carry the name and brand reputation. These bags are generally made better than those that are off-brand. Some of them are made by designers like Coach, Gucci, and Prada. Just about every bag designer now carries some sort of hip bag.
How to Buy Hip Bags on eBay
eBay is a large online auction house. They carry a wide range of both new and used hip bags. If you type the search terms for the hip bag that you want into the search bar, all of the listings for hip bags that match your criteria are populated. From there you can browse the listings to find out what is available and even purchase the bag that you want. eBay lists both off-brand and name brand hip bags. One can also search by material, such as searching for a cloth hip bag, hemp hip bag, or leather hip bag. Another search would be for a brand name, such as a Coach hip bag.
On eBay, one can see the seller's previous feedback. This is important because a person can find out how reputable the seller is. Buying from the Internet can be tricky business if you are unsure from whom to purchase. Not only does eBay provide feedback, they also provide a star rating for each of their sellers. The higher the star rating, the more likely that seller is going to be reputable. eBay even has a listing for their top sellers. This listing is for sellers that have consistently provided great customer service, products, and practices. They also comply with eBay's policies and procedures. Purchasing from an eBay seller that has a high, or top seller, rating means purchasing from a seller that can be trusted.
Conclusion
The hip bag has come a long way since the 1980s, which is when it first became popular. To buy a hip bag, one must first decide how they want to use the hip bag, how they wish to wear the hip bag, and from which material they want the bag to be made. Once these things are decided, then a person can go about finding the correct hip bag. These four things can make the difference between a high fashion, functional hip bag, and one that does not fulfill its purpose. The average person wants both functionality and fashion. Some hip bags lean more towards function and others lean more towards fashion. They can be used for anything from jogging, to a night on the town. While browsing for hip bags on eBay, a woman can check out all of the different types and styles, then make an informed decision on the hip bag that works for her needs.