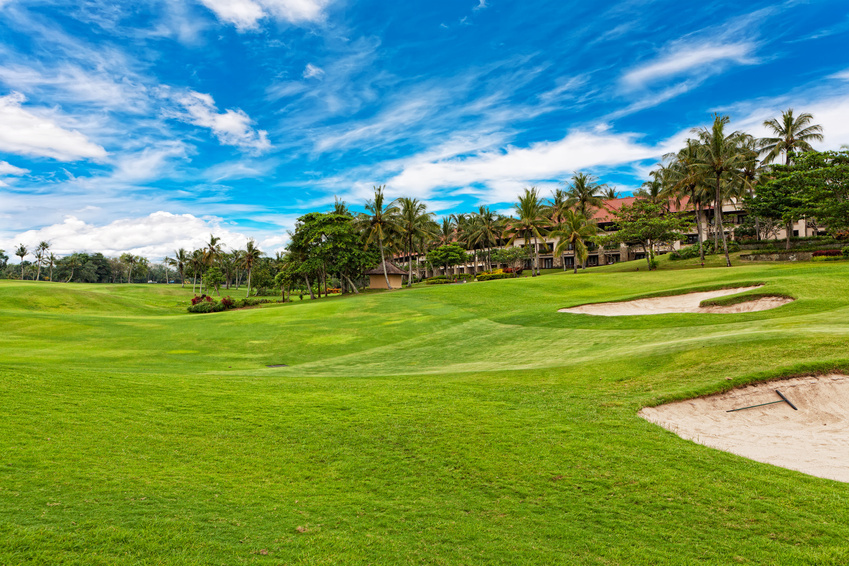 Taking a holiday on a golf course can be a great way to spend some quality time with the family, enjoy some adult recreation, or just plain relax. Golf courses have a variety of different options to choose from and much depends on the individuals going on the holiday. Family oriented holidays may necessitate a different type of planning than does a weekend holiday amongst competitive friends. There are many different types of lodging options and packages available, so it is important to consider the main priorities of the holiday when making plans. Golf courses are serene, tranquil and relaxing places that have a wide appeal to many, so making reservations also becomes important during popular travel times.
There are a few different options available for travellers that are seeking a holiday on a golf course. These options include package deals, where travellers can stay at the golf course and play the course for one price. Alternatively, travellers can buy individual components of the holiday and find a variety of accommodation options. Hotels are also available near many golf courses. Holidays on a golf course can be enjoyable for the whole family, or for a group of friends, so it is important for travellers to plan accordingly based on the participants involved.
Package Deals
Arguably, the most popular choice for buying a holiday on a golf course is a package deal. A package deal includes at least two of the necessary items for the holiday. Some packages might include lodging, golf, travel, food, and other golf course amenities. These are all purchased for one price, usually at a discount which increases with more people attending.
Package deals are especially appealing for families when daycare or child oriented activities are included. Having a quick reference list to easily keep track of these components can also be a valuable tool to potential holiday golfers. Such components include lodging, dining, golf, day care, transportation, and spa options.
Package deals are also a good option in more remote areas where finding adequate substitutes is not practical. Some golf courses are not in areas with dining or lodging options other than the course itself, so package deals are the only feasible option. Also, since greens fees can become significant, sometimes it makes financial sense to include them with other holiday essentials. Package deals are well suited to either holidays with friends, or holidays with family. They allow competitive types of people to get a lot of golf in, while offering families the option to be very near the course and it's activities at the same time.
Types of Accommodations
Should travellers decide they have unique needs or can find a better deal outside of the package deal, there are a variety of different types of accommodations to choose from. Bed and breakfasts may be an appealing option to some travellers. Cottages may also be available, as short term rentals by the owners of these holiday homes. Apartments may also be available in a similar manner. Of course, these types of accommodations mean travellers also have to supply their own food, transportation, and greens fees. This fact makes it important that one take these costs into account.
Bed and Breakfast
Bed and breakfast type accommodations are typically small lodging businesses that offer breakfast, but typically not other meals. Bed and breakfasts can be a cosy option for some travellers as they are usually supplied a room in a home, with all the necessary comforts. Travellers are afforded use of a bathroom and the intimate setting offers guests the feeling of being in someone's home, instead of the sterile environment of a hotel. Bed and breakfasts are usually owned and operated by the owners of the home. Bed and breakfasts may also be more flexible in terms of their pet policy as opposed to larger corporate lodging establishments.
Caravan
For budget conscious travellers, and those with minimal needs, a caravan is a good option for a golf holiday. A caravan is a drivable or towable mobile home, so they can be brought into proximity of the golf course. A place to park it needs to be found, and additional costs can be incurred due to the limitations on a caravan. Hot meals and showers can be difficult to find on a caravan but they are an inexpensive option that might appeal to some more than others. These are not usually a great choice for family oriented golf holidays because the caravan is a small space that is best used as a sleeping area.
Cottages, Houses, and Bungalows
Perhaps the most flexible option is to look at rental companies, or individual property owners, who rent their home for short term stays. These cottages, houses, and bungalows may be located very close to the golf course and can be very unique. They come in many different sizes, locations, and with many amenities. Families may appreciate a more comfortable home if they intend to spend some time there. Another great aspect about cottages, houses, and bungalows is that some owners, especially those with homes well-suited to pets are pet friendly, allowing the family pet to join in the fun of a holiday trip as well.
Apartments and Flats
Flats and apartments may also be rented by property management companies or individual owners. Apartments and flats are widely available in many different sizes and areas. Flats can be a good choice especially if they are located in an area that has alternative activities, such as in an urban area. Of course, this requires travellers to be responsible for their own food and transportation. A nice advantage of apartments and flats is that they are rented in a central location allowing travellers to play different golf courses in a certain area.
Timeshares
Timeshares are an interesting option as well, especially for families that are interested in having an annual holiday on a golf course. Timeshares allow renters to book their stay for specific time of year, possibly to have access to the lodging or certain golf courses. They are usually a bit longer, between one and two weeks, and are often found on golf courses. These are in high demand during holidays and tournament times, so ensuring reservations should be a priority for travellers interested in timeshares. Timeshares are a great way to designate some great holiday time every year for families or friends.
Hotels
Hotels are another option for a holiday on a golf course. Hotels are widely available and can usually be found in close proximity to a golf course. Hotels are in very high demand during holiday and tournament time, so any plans that include a hotel should be sure to make appropriate reservations. Some hotels are potentially small, and not well suited to larger groups of people staying there for longer periods of time. Hotels may also include dining, and be able to offer discounts on golf courses in the nearby area.
How to Buy a Holiday on a Golf Course on eBay
Buying a holiday on a golf course is easy and secure when travellers use eBay. The best place to start searching for the perfect golf course holiday is to do a basic keyword search by entering simple search terms into the search box found on any page of eBay's website. This directs the traveller to the broadest results, which can then be filtered, sorted, and organised in a variety of ways that allows for the shopper to narrow down their focus to only relevant results. Alternatively, eBay offers shoppers easy to navigate categories which can also direct buyers to the broadest possible results.
Once the results are displayed, the shopper can sort the results by pertinent factors such as price, time left at auction, and buying format. In addition, the results can be filtered by relevant categories such as type of accommodation, package deals, etc. Finally, shoppers have to ensure that the dates they intend to take the golf holiday are available. Also, travellers need to make any necessary plans which might include travel, dining, golf equipment, etc. Holidays on a golf course are a great way to spend some quality time in the outdoors getting exercise with close friends and family.
Conclusion
Holidays on a golf course can be a great experience, as long as the proper planning is done prior to the trip. Planners should appropriate forethought and consider who the attendees of the holiday are, as well as what types of activities make the most sense. In addition, planners need to consider any other accommodations that they need to provide in accordance with availabilities. Package deals relieve a lot of the pressure of planning by including many of the necessary components into one 'umbrella' price. Package deals also typically allow for maximum time spent on the golf course, but be sure to ask nonetheless.
Conversely, many other options for the perfect golf holiday also exist that are much more customisable than other arrangements. Flats, hotels, caravans, cottages, houses, bungalows, and timeshares are all also available. These types of accommodations require additional planning for travel, dining, and other considerations. These types of arrangements are also much more flexible than are package deals and can be tailored to the specific needs of each individual holiday. Timeshares are also an interesting idea for travellers seeking to make a golf holiday an annual event. No matter type of golf holiday a traveller is seeking, eBay makes it easy to find.