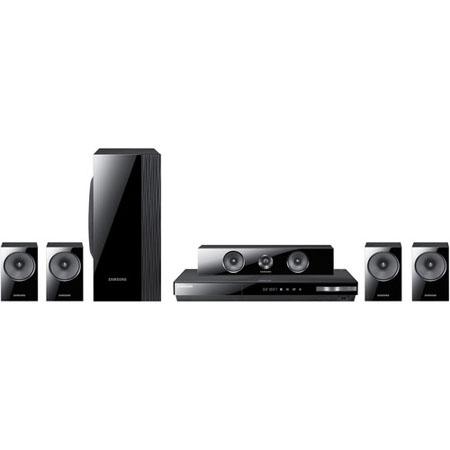 A home theatre system is a great addition to any movie lover's home. What it does is enhance the sounds of the movie by adding extra speakers that are placed in several locations throughout the room, to create the feel of the viewer being completely surrounded by the movie, which can make a consumer feel like he or she is actually inside the movie. With the addition of a subwoofer to provide thumping bass, small surround sound speakers that go strategically around the room to enhance the experience, and a centrally located speaker that has high quality sound output, the entire movie viewing experience can go from plain to fantastic.
Everyone in the family can enjoy the experience that a surround sound system can bring to a home's living room or game area. Surround sound systems and home theatre systems can also be used to enhance video game play and music, too. There are many ways to enjoy using a home theatre system, and there are a few common types of systems that a consumer may want to consider before going on a search for the perfect home theatre system.
Factors to Consider Before Buying a Home Theatre System
Before buying a home theatre system, the buyer should consider the room where the home theatre system will be placed. Is the room very large? Or is it very small? Does the buyer need a larger, more elaborate system that includes four surround sound speakers, or merely a simpler system that has two surround sound speakers that will work better in a smaller space?
Is there a High Definition television being used that needs optimisation? What other equipment will be used in conjunction with the home theatre system? These are a few of the questions a buyer should ask before venturing into the world of home theatre systems. The more features a system has, the more expensive it will be, but a good home theatre system can be seen as an investment in home entertainment, and can provide many years of enjoyment for the entire family.
Selecting the Right Home Theatre System
For starters, the best way to ensure ease when putting together a home theatre system is to buy one that's all packaged together. Putting together different components that might be different brands or optimised for different systems can be very time consuming, difficult, and expensive. Buying a system that already has all the equipment that's needed is really the best way to go. Once the buyer has committed to that decision, the only thing left to do is figure out which type of system he or she prefers or needs to enhance the home movie watching experience.
For systems that don't come with all the necessary hookups and cables, consumers should only purchase high quality cables, surge protectors,, and other necessary equipment to accompany the home theatre system. The easiest way to hook up the system is for the consumer to follow the directions carefully to ensure the home theatre system is put together correctly so everything will work once it's all plugged in and ready to go. Using the best equipment will ensure there aren't any issues later, and a surge protector can help in the event of an electrical emergency or other situation that arises where there could be damage to the system.
Comparing the Types of Home Theatre Systems
There are a few different common types of home theatre systems, and once the buyer knows what he or she is looking for, selecting the right system for the home will be simple and fun. There are some popular brands of home theatre systems, such as Sony home theatre systems,, and Philips, and there are a couple of different ways to set up a home theatre system to create an awesome experience that feels like viewers are inside a movie, depending on how big the space is and what the buyer's budget is like.
2.1 Channel Home Theatre Systems
The channel number refers to the number of speakers that will be used to create the surround sound experience, so a 2.1 channel home theatre system will work with two speakers as well as the main, central speaker and of course the addition of a subwoofer to further amplify sound and enhance the home theatre system experience for viewers.
A 2.1 channel system might be a good option for a smaller area, since there are fewer speakers needed. However, this won't be the same as the all-encompassing experience that a 5.1 channel system will offer the viewer. But, it's a good, affordable alternative for consumers that still want surround sound but desire it in a less impactful way and on a smaller scale. It's still surround sound quality, but it's a more minimal arrangement.
5.1 Channel Home Theatre Systems
There's a good reason why the 5.1 channel home theatre system is the most popular; most movies, games, and Blu-Rays are specially optimised for 5.1 channel capability, and become further enhanced by this type of system. A 5.1 channel system is for a true movie lover, because it creates the effect of surrounding the viewer with sound more than the 2.1 one will. It also may be more costly, but well worth it for a movie lover.
The extra two speakers plus the subwoofer creates an intense and exciting movie watching experience that is almost three-dimensional, and will bring the best out of most movies and Blu-Rays. If the budget allows, a 5.1 channel home theatre system is really the way to go for the best performance in a home theatre system.
Home Theatre Systems that Include a Television/DVD/Blu-Ray
There are some home theatre systems that already come with a television set or a DVD player or Blu-Ray player. This can be convenient for consumers that don't want to take the time or mess with the hassle of putting together a home theatre system that adds on to their existing television and other equipment; everything is already ready to be hooked up and watched. For consumers that need to replace all of their equipment, this might be a more affordable option than buying home theatre equipment separately from the television and DVD or Blu-Ray player.
A home theatre system TV is an all in one alternative to standard home theatre equipment, and the speakers are usually built into the television itself. Newer versions of this equipment allow the viewer to also plug in an iPod or radio and listen to music through the speakers, as well. This option can even be purchased in wall mounting set, so it could be a great solution to the space problem in a home as well as offer superior surround sound quality to discerning buyers.
How to Buy The Right Home Theatre System on eBay
If you're looking for a home theatre system to purchase on eBay,, you can do a general search for home theatre system and see the options that are available for purchase. The search can then be made more specific by selecting the configuration, such as a 5.1 channel home theatre system, or perhaps a favourite brand, such as a Panasonic home theatre system.. Purchase a fabulous home theatre system that will enhance your movie watching experience from a merchant that's qualified as a Top-Rated Seller and has lots of great feedback from many satisfied buyers.
When you're buying a home theatre system, communicate with the seller to ensure you know what you're getting with the system, and ask if anything extra can be bundled with the purchase, such as cables, surge protectors, or DVD movies. This is a great way to save on shipping by purchasing more than one item from the same seller. A local seller could also alleviate shipping costs and hassle for both of you by allowing a personalised pick up, which is a fun and cost effective way to do business on eBay.
Conclusion
For buyers that love going to the movies but can't afford to do it all the time, a home theatre system is a great device. It allows viewers to enjoy movie calibre sound quality while experiencing the thrills that go along with surround sound speakers and High Definition viewing. Buyers can consider a home theatre system a sound investment, because the system will provide many years of enjoyment and make movie watching a lot more fun than it is with simply a regular sound system and television entertainment centre. Turn any room into a theatre with high quality sound with the right home theatre system.
A home theatre system isn't as complicated as some people might think; following the instructions to hook it up, testing it out, and making sure all of the equipment is right isn't that difficult when following the guidebook that comes with the system. Installing the system and rearranging the speakers to the viewer's liking are part of the fun of creating a home theatre environment. Take any movie room, living room, or playroom to the next level with a home theatre system that can be used for movies, games, or to play music with the most optimal and crisp sound quality available.