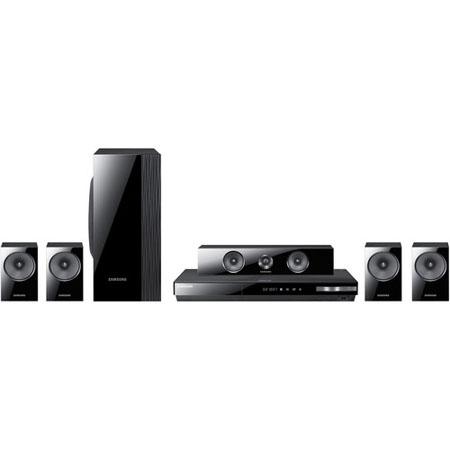 Home theatre systems are popular setups in many homes, an are installed for the purpose of providing cinema quality video and audio playback. They often include TV and video equipment with special audio systems incorporated, such as surround sound. The aim of recreating the feeling of being in a movie theatre can be fulfilled by placing a movie screen across a wall, by using projectors and speakers with surround sound, and by adding special accessories such as upholstered seats and couches to the room.
The video display unit intended for a standard home theatre system should be of at least 40 inches. For the audio part, the number of speakers involved in the surround sound system should be at least five, but this may vary according to the user's preferences. Buyers who are interested in purchasing a home theatre system on eBay should learn more about the characteristics of these devices in order to be able to make an informed choice.
Essential Characteristics to Look for in a Home Theatre System
Home theatre systems allow a better viewing experience than traditional television screens. TV screens are usually square in shape and do not provide the realism one can experience in a movie theatre. Home theatre systems are designed in a way that makes it possible to enjoy a similar viewing experience in the comfort of one's home.
Home theatre settings may include a very simple setup with a DVD player,, a stereo system, and a larger, specially designed TV. Another option is to use an entire room for this purpose. One can choose to have a special room professionally wired and use several projectors and multiple speakers in conjunction with a projection screen. This kind of setup may provide the ultimate home theatre experience, but usually buyers need to order professional installers to design the entire movie viewing room for the best results.
Home theatre setups involve considerable wiring. This is necessary to connect multiple speakers placed at various locations, projectors, and other equipment pieces. On the other hand, wireless home theatre systems may alleviate the difficulties of implementing cable networks. Although wireless systems are more expensive, they can provide buyers with a hassle-free experience.
Choosing and Installing the Components of a Home Theatre System
Buyers should study well the issue of space before purchasing a home theatre system on eBay. If one only has a small area available for this purpose, all components of the home theatre should be adapted. In this case, buyers do not need to invest in large items such as a giant screen for example.
The size and location of the room may affect the way one enjoys their home theatre experience. For example, buyers should make sure their room is big enough to install a big screen TV, surround speakers, and furniture for the entire family and friends be comfortable when watching a movie together. If possible, buyers should choose a room that is relatively quiet and secluded. If the home theatre is located near the bedroom or the children's room, users may not be able to enjoy their movies late at night for example.
The next thing to do is make a list of the components needed for the home theatre system. Buyers can opt for an all-in-one system, or choose to buy different components separately. These may include a receiver, TV or monitor, amplifier, DVD recorder/VCR, RCA cables, and more. The chart below illustrates the main characteristics buyers should look for in each of the components of a home theatre system.
Type of Component

Characteristics and Installation Tips

TV

options include: large rear projection TV, flat screen LCD, plasma TV;

HDTV format with high quality 780p and 1080p resolution;

standard aspect ratio for high-definition television is 16:9;

wide-screen TVs are highly recommended

Home Theatre Receiver

provides energy to the speakers;

controls inputs (CD player, DVD player, audio, deck, and more);

can be connected via: speaker cable, S-video ports, RCA cable, USB ports, HDMI optical ports, and other auxiliary interfaces and ports;

processes digital home cinema sound to create a surround sound environment

Surround Sound Speakers

surround sound formats available: Dolby Digital,, Dolby Pro Logic II,, THX Surround EX, DTS, and DTS;

options include 5.1 or 7.1 formats; 5.1 system:: two separate channels to speakers (front left, front right), one speaker centre channel, and two rear speakers; 7.1 system: identical, plus a set of rear speakers

Front Right and Left Front Speakers

important for obtaining crystal clear sound;

fed individually;

more powerful than other speakers

Centre Channel Speaker

important for the quality of dialogues;

should be placed above or below the TV;

magnetically shielded to avoid interference;

Surround Sound Speakers

placed in the line of sight at ear level;

allow users to immerse into the soundtrack of a movie;

sometimes referred to as rear speakers

Subwoofer

important for the overall sound;

allows viewers to feel percussion, deep bass, and explosion sounds;

omni-directional
In addition to a TV, home theatre receiver, and surround speakers, buyers need components to play media files in order to enjoy their home theatre system. These components typically include DVD players, HD DVD players,, and CD players.
Playing Different Media Types With a Home Theatre System
One of the most popular media to watch movies with a home theatre system is the DVD. Today, there are three formats of DVDs, the standard DVD, HD DVD, and Blu-Ray.. While Blu-Ray and HD DVD are rather new actors on the scene, they have the advantage of playing movies with a much higher quality and high definition than regular DVDs.
Buyers should pay attention to things such as the region of their DVD collection, because this may vary from one producer to another, especially when it comes to purchasing a DVD player from international sellers on eBay. DVDs sold in the UK are labelled 'Region 2', which means that buyers should opt for a DVD player that can play this kind of format. Alternatively, one can also opt for a region-free DVD player, which can play any type of DVDs, regardless of where they have been sold.
Users who would like to listen to their favourite CD collection, but also and listen to digital tracks, such as MP3 and WMA, can opt for a CD player that reads the new formats as well. These are available from several manufacturers and have become quite popular. For true music connoisseurs, there is always the possibility to listen to old vinyl albums with new decks that can be connected to numerous home theatre players.
Buying a Home Theatre System on eBay
Choosing the best home theatre system for you is a big decision and a big investment. It is a good idea to do some research before making such purchase. The more you know about home theatre systems, the more likely you are to make a good decision on the model that would work best for you and your family. Comparing several types of home theatre systems is one of the best ways to shop for such devices. eBay is a good place to start your search for a new or used home theatre system, mostly because this is where you can find a large number of models from a variety of brands.
Finding the right home theatre system on eBay should not be too difficult, as all you need to do is type the words "home theatre system&" into eBay's search system and then browse through the results you get. As sometimes users can get thousands of results, it may be a good idea to refine them by style, technical specifications, price, brand, and anything else that you think it is useful. This way, you can find a home theatre system on eBay very quickly.
When shopping for a home theatre system on eBay, you should pay attention to the product description of the item you intend to buy. Remember to check out things such as dimensions besides the technical characteristics, in order to be certain the home theatre system fits well into your home.
Conclusion
When shopping for home theatre systems on eBay,, buyers should consider a few factors before making a purchase, especially when it comes to an expensive item. Users should ensure, for example, that the new home theatre system is equipped to include all the components from an existent DVD player, CD player, games console, and even computer. The best home theatre system is the one that gives buyers the most pleasure. It is also a system that not only provides high quality images and sound to one's home entertainment, but also a system buyers can afford according to their budget.
Shopping for home theatre systems on eBay is one of the easiest ways to find the perfect video and audio equipment for one's specific needs. The website offers a good selection of home theatre systems coupled with an intuitive search system that can make shopping for the right equipment a truly enjoyable experience.