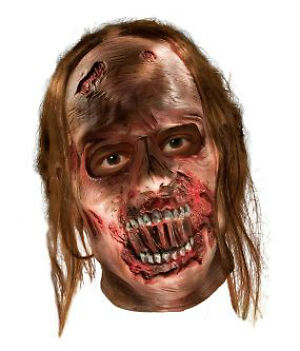 Horror masks commonly appear around Halloween, when people get into the spirit of celebrating the event by dressing up as ghoulish characters and creatures. But one does not have to limit a good quality horror mask to Halloween. Horror masks are a clever idea for costume parties, select events, and general practical joke fun. This guide is designed to offer useful information for individuals looking to buy horror masks. It provides guidance on choosing a particular character and deciding on a budget. Additionally, it offers information on the different types of masks available, from inexpensive plastic masks suitable for young children, to realistic-looking latex masks worthy of a good horror movie set.
Finding a horror mask for sale can be easy when one knows where to look. One can find horror masks varying quality and prices in almost any good costume store. Buyers can also head online to find scary horror masks to complete their costumes. eBay has a wide selection of horror masks for sale to suit any buyer's taste and style.
Why Buy a Horror Mask
Horror masks are a fun choice of costume for Halloween, fancy dress costume parties, and any selected events and celebrations. They are a vital part of any costume and can be worn with matching outfits or with regular clothes. Horror masks can be simple, covering only the face, or they can be full masks that cover the back of the head, extending down over the neck.
Decide on a Budget
Before heading out to buy any type of horror mask, it is important that buyers identify how much they can spend on the masks. Horror masks vary significantly in price, and price is closely reflective of the quality of the mask. An inexpensive horror mask offers less realism and is usually made from plastic. Plastic horror masks are ideal for young children and for those who are not looking for lifelike masks to complete their costumes. A less expensive mask offers little durability and is likely to only cover the front of the face.
A good quality, realistic looking horror mask is usually made from flexible rubber that moulds onto the face, blending in around the wearer's eyes, nose, and mouth. Many of these more expensive rubber horror masks also cover the back of the head and can extend down over the neck. They often have realistic looking hair, scars, and even teeth.
A buyer should consider the rest of the costume when it comes to setting a budget for the mask. Those who are looking for a complete costume, which may include clothing, hand coverings, shoes, hat, wig, and accessories, should factor this into the budget. The buyer who only wants a horror mask can use the entire budget into buying one of good quality.
Choose a Character
Horror masks can be categorised into several groups, including zombies, movie characters, witches and ghouls, animals, medieval and gothic, as well as vampires.
Zombie and Ghoul Horror Masks
Zombie horror masks usually feature white or pale grey flesh, rotting teeth, and blood stained eyes. Realistic zombie masks cover the head and feature matted and decayed hair and scalp. The benefit of a zombie horror mask is that it does not require any special costume or accessories. Old clothes that are torn or stained, with fake blood splatters can complete any zombie look with the right mask.
Ghoul horror masks are similar to zombie masks, except that they tend to look more misshapen and devilish. With skull-looking features, bloody, rotting teeth, and evil eyes, a ghoul horror mask can look very frightening.
Movie Character Horror Masks
Many popular horror movie masks are available. The more common movie character horror masks include Freddy Krueger masks, Jason Voorhees masks, Slipknot character masks, and Saw character masks. When choosing a character mask, be sure to factor in other costume requirements. Most movie characters also have very memorable outfits and accessories. Those who want to get into the character might want to have all the added extras to complement a movie character horror mask.
Witch Horror Masks
Witch horror masks often feature long, matted hair, large noses, and greenish, wrinkled skin. The benefit of a witch horror mask is that buyers can save on having to buy any other costume extras. A simple black outfit or cape completes the outfit.
Animal Horror Masks
Probably the most common type of animal horror mask is the werewolf horror mask. This mask usually features wild fur, nasty, dog-like teeth, and evil eyes. For those choosing a werewolf mask, they should take into consideration the remainder of the costume. A good werewolf costume can include an entire outfit, complete with clawed hands. The "Saw" pig mask is another popular choice of animal horror mask. The benefit of this type of mask is that the wearer can wear everyday clothing with the mask. Simply wear a hooded top to complete the horror effect.
Medieval and Gothic Horror Masks
Medieval horror masks can include evil jesters, dungeon torturers, and skeleton masks. Gothic horror masks can include the popular Hannibal Lecter face mask and the grim reaper horror mask. This category of horror masks creates a very frightening look when paired with realistic costumes.
Vampire Masks
Choose a vampire horror mask with possessed eyes, bloody fangs, and deathly-looking flesh for a realistic horror look. Choose a black cape and wild haired wig to complete the costume. Vampire horror masks are ideal for Halloween as well as any fancy dress costume party.
Realistic Horror Masks
For those buyers looking for a realistic horror mask, they may need to be prepared to spend a little more. Any good quality horror mask that offers a frighteningly realistic look is made of some type of flexible rubber. Latex horror masks are used by movie studios and professional costume designers because they can be made to look lifelike. They stretch to fit the wearer's face, blending naturally around the wearer's eyes, nose, and mouth. Latex masks have natural-looking skin, hair, bloody wounds, scars, scabs, and boils.
Silicon horror masks are comfortable to wear, are flexible, and move with the wearer's facial movements. They are very lifelike and can get expensive. A good quality silicon horror mask generally costs several hundred dollars.
Find a Realistic Horror Mask That Fits
When looking for a realistic horror mask, one needs to get a mask that fits properly. The best way to measure one's face for a horror mask is to measure the vertical circumference around the front of the head, from under the chin to over the top of the head. The following table provides a guideline for measuring for an accurately-fitted horror mask. Measurements provided are in centimetres.
| Mask Size | Measurement in Centimetres |
| --- | --- |
| Small | less than 58 |
| Medium | 58-65 |
| Large | 65-72 |
| X-Large | more than 72 |
Buyers should always remember that, to create a realistic horror look, they need to buy a mask that fits correctly. A snugly fitted mask can move with the wearer's face and create natural mask facial movements. Choosing a flexible rubber horror mask enables the wearer to buy a tight-fitting mask that can offer a more realistic look.
Find a Horror Mask on eBay
Potential buyers who want to purchase horror masks can search online at eBay for the desired masks. The auction website offers simple search methods, secure payment options, and items from sellers all over the world. eBay also offers buyers the benefit of community resources, where buyers and sellers can meet, chat, share information, ask questions, and offer tips and advice.
Simple Search Methods
To find horror masks on eBay, simply type "horror masks" into the search bar on eBay's home page to get long list of items for sale on the website. Buyers can sort the results by price, condition, or by best match. For those looking for a specific type of horror mask such as a zombie mask, a Jason Voorhees mask, or a "Scream" horror mask, they simply need to type the specific phrase into the search bar.
When searching for a horror mask, buyers who want to buy from reputable sellers can look for the Top-rated seller badge. Sellers who have been awarded this badge have proven to consistently provide a top-quality buying experience for their customers. They receive excellent buyer feedback, ship items quickly, and provide excellent customer satisfaction.
Conclusion
Whether it is an inexpensive Freddie Krueger mask and hat for a child's Halloween party or a frighteningly realistic Leatherface mask from "Texas Chainsaw Massacre", buyers have a wide range of choices when it comes to character options for horror masks. This product category can vary significantly in price, and buyers should have a good idea about the budget before heading out to buy their horror masks. Realistic horror masks that have everyone marvelling at their quality are usually made from various types of rubber. Less expensive horror masks that do not offer quite as much realism are usually made from rigid plastic materials.
Buyers looking to purchase any type of horror mask can go online to eBay to find realistic masks to complete their horror costumes. eBay features many horror masks for sale from sellers all over the world. Buyers can search through the appropriate listings until they find the desired horror masks at competitive prices.