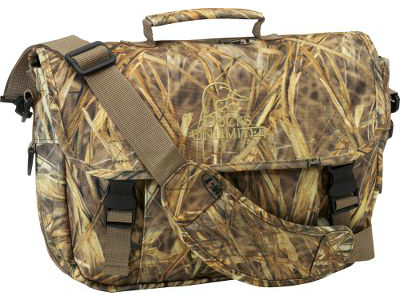 The definition of hunting bags is a broad one and covers a number of different bags to help the hunter with different tasks. As a general rule, a hunting bag will have to be strong and have good straps and buckles that will take a decent weight and be comfortable on the shoulder when carrying the bag.
The materials generally used are canvas, nylon and leather although plastic and hessian are also used in different situations.
Pigeon/Decoy Sacks
The biggest bags in the market which are probably decoy sacks. These are sometimes called pigeon bags and are generally made of good strong cordura nylon fabric. This is rip-proof and waterproof.
They are generally about 22" high and about 12" in diameter with a drawstring and toggle at the top and a reinforced bottom to stop any damp coming in from underneath. They can come with an inbuilt bucket seat and outer mounting system for hide poles. The most important element apart from the strength and quality of the bag is the carrying strap, which should be good and broad so it is comfortable on the shoulder. Be careful not to buy cheaper cotton versions as they rip easily and don't keep the rain out.
They are designed to carry all the equipment needed by a pigeon shooter or wildfowler including camouflage net, decoys and cartridges. They are useful particularly if the shooter has to walk a good distance to set up a hide.
Bags that are designed for specific elements are also available. There are pigeon rucksacks, which have less capacity, but are more comfortable to carry. Long Hide Pole bags and bags specifically designed for pigeon magnets and rotaries are also available. These do not include things like bucket seats but are well designed for:
storing equipment when it is not being used
carrying in the field.
Waterproofing is particularly important for the wildfowler so avoid the canvas bag in this sport. When wet the can vas gets very heavy. A good waterproof cordura is probably the best option.
Game Bags
The classic English style game bag is the Brady. Made with canvas and generally a brown colour the game bag comes in a number of different sizes and styles. It is advisable to select a bigger bag with a broad carrying strap as the smaller game bags tend to be too shallow and allow game to fall out if they get too full.
A net on the front is useful so that the game is aired while walking along and doesn't suffer in quality. It is also a good place to carry food and drink where it is kept away from the game inside. Good game bags have a washable plastic interior so they are easily cleaned after use.
Bigger and simpler game bags, made of cordura or nylon, are also available and are useful when carrying a lot of game.
When selecting a game bag be careful to choose on volume, which is more difficult than it sounds. So many manufacturers make the bags far too small. If a bag has good quality straps and buckles and allows for a substantial weight of game to be carried then it will be a really useful piece of kit.
Cartridge Bags
Designed solely for carrying shotgun ammunition, cartridge bags are usually made of leather or canvas. The design should allow the shooter to easily fill the bag but equally easily take cartridges out. It should be robust and have a flap that can be opened and give access to the cartridges without them falling out.
There are many different sizes of bag that can carry different numbers of cartridges but the most common size carries about 100 cartridges of 12 gauge.
Smaller bags are useful to load into from another bigger bag for carrying purposes.
Buckles and straps should be of the best possible quality as they do have to sustain quite a lot of hardship and a bag with a broken strap is extremely hard to carry when full. The strap is often a broad canvas strap which sits comfortably on the shoulder. Some cartridge bags have a 'stable belt' strap, which is a strong but light material.
Prices of cartridge bags vary enormously but the cheapest canvas bags generally cost around £40 and the highest quality can be as much as £500.
Brady is again a good supplier of canvas cartridge bags and the major gunsmiths such as Purdey, Holland & Holland, William Evans and Churchill all have ranges of cartridge bags.
Roe Sacks
The bag designed for carrying deer, often called a 'roe sack', is an especially useful addition to the deerstalker's kit list. Generally a form of canvas rucksack it has two wide shoulder straps and is big enough to hold a good, sized roe buck. It is very useful for transporting deer when on foot and a deer is shot but the hunter wishes to carry on and try for a second.
Leaving a carcass is problematic particularly in areas where there may be public rights of way. The deer is simply dropped into the sack with its head and legs sticking out of the top. This distributes the weight well and means it can be carried for a good distance. Furthermore the hands of the hunter are left free to use binoculars and rifle if required.
Again, be sure that the straps and buckles are of good quality. Also make sure that the sack has a detachable plastic liner which means it can easily be washed. The pockets on the outside of the rucksack can carry spare ammunition, knives and butchering accessories. The top of the bag should have a drawstring so it can be tied tight around the deer and prevent it from moving about.
The roe sack is only suitable for deer up to the size of an adult roebuck anything larger must be transported in a different way. Harkila, Napier and Garlands all produce well finished and well designed roe sacks that range from £60- £100 depending upon specification.
A good hunting bag, whatever its role must be; weatherproof, washable and strong enough to not be torn by thorns and fencing. It must be designed to carry the right amount of equipment or game and it must be as light as possible. Most importantly of all the straps, buckles and stitching should be strong and of good quality. Spending too little on any bag can be a false economy.
How to buy a Hunting Bag on eBay
Now that you've worked out which Hunting Bag you want, find them quickly on eBay. While you shop, don't forget Pellets, Bags, Rifle Scopes, Hunting Decoys, Belts. To start shopping, go to the Sports and Leisure category. Click the Sporting Goods portal and click Hunting.
Categories: The Categories list on the left side of each page will help you narrow down your listings by item type. You'll find links for Accessories, Cartridge Bags, Catapults, Clay Pigeon, Shooting, Clothing, DVDs, Falconry, Footwear, Gun Cabinets, Night Vision, Shooting Sticks, Sights & Scopes, Sunglasses, Targets, Trophies andOther Hunting. As you refine your search you'll be able to narrow down your choice by subcategory.
Product Finder: Use the Hunting products Finder to quickly narrow down item listings by type of product, brand, model and condition (new or used).
Keyword search: Search eBay listing titles for specific words. For example, if you want to find new hunting bag, type the keywords "new hunting bag" (without quotation marks) into the Search box. Click "Search title and description" to expand your results. Visit eBay's Search Tips page for more tips on searching with keywords.
If you can't find exactly what you want, try browsing eBay Stores or tell the eBay Community what you're looking for by creating a post on Want It Now, or save a search on My eBay and eBay will email you when a matching item becomes available.
Buy Hunting Bags with Confidence
Make sure that you know exactly what you're buying and understand how eBay and PayPal protect you.
Know your item
Read the details in the item listing carefully.
Remember to add delivery costs to your final price. If you're buying a high value item, check that the seller will insure it until it is delivered to you.
If you want more information, click the "Ask seller a question" button on the seller's profile or the "Ask a question" link at the bottom of the item listing page.
Always complete your transaction on eBay (with a bid, Buy it Now or Best Offer) otherwise you will not be covered by eBay Buyer Protection.
Know your seller
Research your seller so that you feel safe and positive about every transaction.
What is the seller's Feedback rating?
How many transactions have they completed?
How many positive responses do they have?
What do buyers say in their Feedback?
Are they positive about the seller?
Most top eBay sellers operate like retail shops and have a returns policy.
Do they offer a money-back guarantee?
What are their terms and conditions?
Buyer protection
In the very unlikely event that you do not receive your item or it is not as described, eBay Buyer Protection your purchase price plus original delivery cost.
Conclusion
There is a large variety of hunting bags available on eBay. The key to making sure you purchase the right one is to consider carefully what you'll be using it for. If you only hunt deer then a roe bag will be the best option for you, whereas if your prey is more eclectic then a more general game bag will suit. Whatever you're looking for you can easily find it on eBay using the search function or the filters.