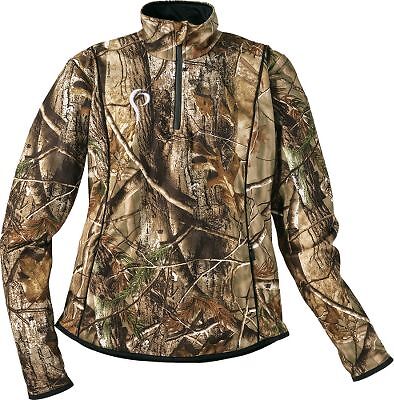 Hunting wear tends to follow very classic trends, and is emulated in many high end and high street fashion outlets. The jacket itself has a very recognisable style, and there is a lot of choice available, making them affordable to most people – even those on a budget. eBay has many women's hunting jackets on offer, and it is easy to make a great purchase using eBay.
This guide aims to present and explain the main products available that fit the description of a women's hunting jacket and the purposes that they are suitable for.
Types of Women's Hunting Jackets
Different hunts require different clothing, but most are designed to be warm, as the wearer will usually be outside for hours in all weather conditions. Most are discrete in appearance and noise to help the hunter stay out of sight, as well as being durable. They are practical items that usually have pockets and compartments designed specifically for their use, for example, map pockets and hand warming pockets.
Deer Hunting
Some hunting clubs wear traditional, formal jackets, while others wear more casual clothes, and have casual members. For these hunts a warm, dull coloured hunting jacket is suitable.
Game Shooting
Camouflage and dull coloured clothing, that is warm and waterproof is a good choice for wildfowling and informal, or lone hunts. However, for driven hunts more formal wear has to be worn, and this will usually be specified and conformed to by all on the shoot.
Clay Pigeon Shooting
As many people shoot clay pigeons for a day out or corporate event it is acceptable to wear casual clothes, as long as they are warm, comfortable and not too bulky. However, many people do wear hunting jackets with integrated shoulder patches.
Fox Hunting
Different hunting clubs require different attire, specifying particular colours and fabrics to be worn; these can also alter with the seasons and for different people within the hunt. It is important to try to adhere to this when buying new hunting clothes, so it is best to contact the club's secretary before making a purchase. It is also traditional for some clubs to wear tweed jackets during the initial meeting and then change to a hunting coat or show coat afterwards.
| Jacket | Description |
| --- | --- |
| Inner Jacket | Inner jackets can be worn underneath a hunting jacket; they are warm without adding too much bulk, as this is important, because bulky layers can make shooting difficult. Some inner jackets are heated for extra warmth. |
| Tweed Jacket | Many shooting and hunting clubs wear tweed traditionally as their hunting and meeting wear. It is usually waterproof, warm and hard wearing. Tweed is also popular in the fashion world. |
| Wool Jackets | Usually made in dark colours, such as black and navy; they are similar to tweed in comfort, warmth and durability, and they fit the approved hunting clothing of many clubs. |
| Quilted Jacket | Quilted jackets are lightweight, warm and durable, and they allow good movement. |
| Waxed Jacket | A durable, waterproof choice, and very heavy duty. Some come with quilted linings for extra warmth. |
| Leather Jackets | Waterproof, hardwearing, durable and comfortable; leather is also warm and will soften over time. |
| Camouflage Jacket | Modern camouflage jackets are usually waterproof; they come in different designs. Not suitable for formal hunts, but a popular choice for informal outside hunts and activities. |
| Waterproof Jackets | Breathable, waterproof jackets have been specially designed to be worn over other hunting clothing and to be noiseless so it wont affect the hunt. |
Vintage Jackets
Vintage tweed,, waxed and leather hunting jackets are commonly bought for both hunting and fashion purposes.
Hunting Jacket Buttons
It is traditional, and still present in some hunting clubs for different hunt members to wear different numbers of buttons on the front of their hunting jacket, as a sign of importance.
3 buttons are worn for normal hunt subscribers
4 buttons are worn by the 'Master'
5 buttons are worn by the huntsmen and whippers-in (hunt staff)
Hunting Jackets in Fashion
Many different types and styles of hunting jackets are also very popular with non-hunters, with a range of high street brands creating similar looking items, with elbow and shoulder patches. While they may look like a great hunting jacket it is likely that they will not be as good as a jacket that is designed for hunting purposes.
Many tweed, waxed and quilted hunting jackets are also purchased purely for fashion, with the owner never intending to use them for hunting. Either way, these jackets are, and for centuries have been, a firm staple of British clothing.
Hunting Jacket Care
Waxed Jackets
Do no dry clean; it can damage the fabric and the waterproofing.
To wash use a sponge and cold, clean water, do not machine wash or use soap.
Waterproofing wax is a low cost way to keep a waxed jacket waterproof and in good condition; it is easy to re-wax a jacket at home, using the care label and instructions provided.
Tweed Jackets
The wool content for tweed jackets vary, so always read the label before cleaning.
If washing they should be dried flat, so the wool does not lose its shape.
Tweed jackets should either be stored flat, or on a wide shouldered, padded hanger, due to the weight of the garment it can pull itself out of shape.
Quilted Jackets
Most quilted jackets can be machine washed on a cool cycle, be sure to check the care label before washing.
Leather Jackets
Clean leather jackets with a damp cloth to remove dirt.
Leather cleaning and conditioning products can help stop the leather from cracking and staining.
Store the jacket on a wide, padded hanger to stop it stretching out of shape.
Always read the care label before cleaning.
Common Jacket Colours
Most hunting jackets are dull, dark colours, for traditional reasons and to be less visible while hunting. The most common colours are:
Black
Navy
Dark Brown
Dark Green
Camouflage
Dark Grey
However, as fashion starts to take over there also are many different colours available.
How to Buy a Women's Hunting Jacket on eBay
There are lots of jackets to choose from on eBay, both new and used, and for different situations and purposes.
New Hunting Jackets for Women
An easy way to find hunting jackets is to search for 'women's hunting jacket' from the eBay home page. By doing so, you will get a long list of results of all the products that relate to this search term. Using the links on the left of the screen can then narrow the search down. Here you can select the condition, categories, price, location and delivery options.
Hunting jackets can be found in the 'Sporting Goods' and the 'Clothes, Shoes & Accessories' categories. Another way to find hunting jackets is to shop by category, select the Sporting Goods category and then 'Hunting'. Here there are lots of hunting subcategories to choose from, including 'Clothing'. From here you can search for hunting jackets, or women's hunting jackets to refine the search.
New jackets should come with the original care labels and be in perfect condition, unless otherwise stated.
Used Hunting Jackets for Women
Used hunting jackets, if they have been looked after properly should be a fine, low cost alternative to buying a new jacket. However used jackets will come in different conditions so here are a few things to keep in mind:
Does the jacket still have its original care labels, if not you should be able to contact the manufacturer to find out the care information.
How has the jacket been cared for? Has it been re-waxed, dry cleaned etc?
Are there any visible stains, scuffs or marks? These should be shown in photographs. If unsure ask the seller to send you better photographs of the garment.
Read the product description carefully, as it may give advice and other information about the product you didn't already know.
As with buying any product on eBay, asking the seller a question about their item it quick and easy. At the bottom of the product page is the 'ask a question' function, where it also possible to see if other people have asked something about the product. It is also simple to contact the seller using their contact details, which is also at the bottom of the listing.
It is important to check the seller's feedback before committing to a purchase. Seller information is at the top right of the listing, you can see the feedback they have received and star ratings for a number of criteria, such as: If the item was as it was described, the communication with the seller, the dispatch time and the postage and packaging chargers.
Conclusion
Whether you want to buy a brand new, traditional, tweed hunting jacket to fit in with your hunt, or a waterproof cover up for winter shooting, eBay has lots of great products on offer, and at great prices. The eBay shopping experience is easy, enjoyable and there is a great range of products available.
This guide has shown the many different types of women's hunting jackets, how to care for the products in the long term, and the different ways they can be bought on eBay. Many hunting jackets are seen as investment pieces, most are made to a very high quality and are a great item to own.