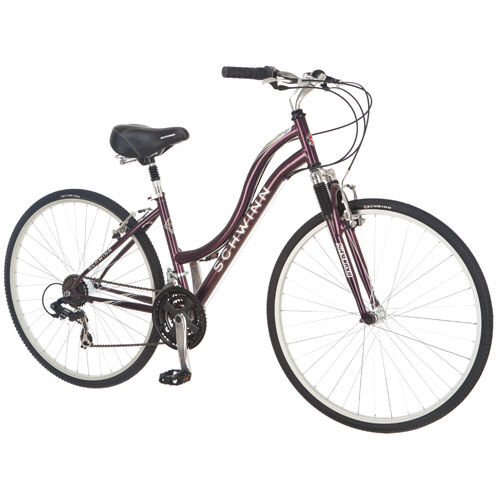 In recent years, more and more cyclists have made the change from traditional bike models such as mountain or road bikes and have chosen to invest in a hybrid bike, which may be able to offer them improved performance on a variety of different surfaces and provides the cyclist with a better all-round riding experience as a whole.
This eBay guide will provide information on how a hybrid bike is different to other readily available models, which kind of rider may benefit from owning a hybrid and how to find a suitable bike on eBay.
What is a Hybrid Bike?
A hybrid bike, as the name may suggest, is a type of bike, which has been developed to encompass all of the positive features from other more traditional forms of bicycle to enable cyclists to achieve the maximum performance from their bike across a large number of different terrains.
One of the best things about hybrids is that cyclists will often find bikes which have been specifically tailored to a certain purpose, such as a hybrid touring bike, which borrows features from touring, mountain and road bikes to offer touring cyclists sturdy, lightweight bicycles that are capable of carrying a large quantity of items.
There are a number of variants on the hybrid theme, the table below outlines the most common of these as well as listing their advantages and disadvantages:
Bike

Advantages

Disadvantages

Mountain bike style seat position to allow for maximum comfort for the rider
Great for commuters or for those who cycle around town

Not as accomplished as an off-road bike when compared to other models

Often fitted with slick style road tyres, which can lose traction in wet conditions

Fitted with road tyres and a lightweight frame for high speed cycling
Good for use around town or as a touring bike
Many models lack the mudguards or storage attachments which are common on other hybrids
Slick tyres can lose traction in wet conditions
Perfect for touring cyclists as most come with storage racks and a have a comfortable rider position
Both lightweight and durable
Most models will not be able to match the performance levels of speed hybrids
Other models are advised unless you are a touring cyclist
How Much Do Hybrid Bikes Cost
There are hybrid bikes available that will match the budget requirements of almost all cyclists.
Beginner or casual riders would be strongly advised to look at bikes at the lower end of the price spectrum, around £200, to begin with and move up to more advanced models after they are sure that a hybrid bike is suited to their needs.
Regular, more experienced cyclists are likely to be looking to upgrade to a more expensive model, which can provide them with better performance. Buyers looking for a top of the range model will expect to pay as much as £2000 if they are serious about their cycling.
Anyone looking for a bargain on a hybrid bike will be interested to know that eBay have dozens of used hybrids listed on their site at any one time. There are often a fair number of models available for under £100, meaning that there really are hybrid bikes out there that will be perfect even for shoppers on the tightest of budgets.
What to Think About Before Buying a Hybrid Bike
The purchase of any vehicle is something that should never be rushed into and hybrid bikes are no exception to this rule. There are a number of different conditions that a cyclist must bear in mind before beginning their search for the perfect hybrid bicycle. Below are some questions that should be answered before purchasing a hybrid bike, to ensure that they are completely satisfied with their purchase in the long run.
What will the Bike Be used for?
Hybrid bicycles are often tailored to a specific group of users and able to cater to their needs effectively. It's important for any rider to have a good idea of what kind of cycling they partake in most and which type of hybrid they need to purchase as a result. For example, someone who mostly uses their bicycle as a mode of transport for commuting to work is unlikely to be satisfied with a hybrid bike which has been designed for off road or downhill use as it will not deliver the kind of performance required for cycling on busy, city roads.
Will the bike's specifications be satisfactory
Whilst beginner cyclists are likely to be happy with a more affordable model, an experienced cyclist may find that they are disappointed if they make finding the lowest price point the most important factor in finding a new hybrid bike. More often than not, the quality of a bike is going to be reflected in its price.
Beginners or those who are looking for a bike which will serve them well when used on a monthly, rather than a daily basis are unlikely to notice the small flaws which are present in bikes are the lower end of the price spectrum, the same can't be said for expert cyclists, who are likely to become annoyed by these issues. It's certainly worth considering a more expensive bike for any serious rider.
How Easily Available Are Spares for the Bike?
Although hybrid bicycles have many advantages over more traditional bike designs, they are still less common that standard mountain, road or touring bikes. This means that it is likely to be more difficult to track down parts for a hybrid bike should it require repairing.
A good idea is to use eBay to search for spare parts, which will give a cyclist an accurate impression of the amount of suitable spares that are available for the bike that they are considering buying. It is well worth remembering that eBay is one of the best resources on the web for any cyclist who is looking for spare bike parts.
eBay's easy to use search categories mean that users are able to search a variety of parts to keep their bicycles in perfect working order. Buyers can search through the thousands of bike parts that are listed on eBay by part name, manufacturer or for which type of bike they're made for in order to make finding spare parts quick and simple.
How to Find a Hybrid Bike on eBay
Cyclists are often surprised by how easy it is to find great deals on both new and used hybrid bicycles on eBay, again due to the intuitive search functions.
When browsing hybrid bikes, users are able to search by frame size, frame material, manufacturer, gender, wheel size and even colour.
Search categories allow buyers to narrow down their options until they can find the perfect hybrid bike for them, which they know they will be completely satisfied with.
There is also the option to filter searches to include only new or only used bikes. This is specifically quite useful for cyclists who are looking to find a bargain by shopping for used hybrid bikes.
Used bicycles are the type of item than can often offer great value for money as good quality bikes are likely to have retained their performance levels and will be available for a much lower price than a new model would cost.
Buying high-end second hand bikes is a good idea for cyclists who are shopping on a budget as usually only experienced riders invest in expensive bikes and even by the time they come to sell them, the vast majority will have been kept in perfect working order meaning a lucky buyer can often find top quality bicycles on eBay at fantastic prices.
Conclusion
Remember, buying a great value, hybrid bike on eBay is easy, just remember the simple tips outlined in this guide.
There are many different types of bike which come under the category of hybrid bike, all of which serve a special purpose and are set up to ensure that the rider is as comfortable as possible and achieve the best performance they can whilst carrying out this specific activity.
Buying a hybrid bike that has been specially developed to handle tough off road or downhill conditions that has heavily grooved tyres and a mountain bike-style setup will not be as appropriate for commuting to work as a hybrid that has been designed specifically for road use.
It's strongly advised that buyers tailor their budget to their experience level, to find a bike, which they are well suited to.
Buyers should consider what they will use their hybrid bike for, specifically where they will be cycling and will they be able to find parts easily should their bike become damaged.
Finally, it is worth remembering that hybrid bikes can be found simply by using eBay and searching through the hundreds of models that are listed on the site every day.