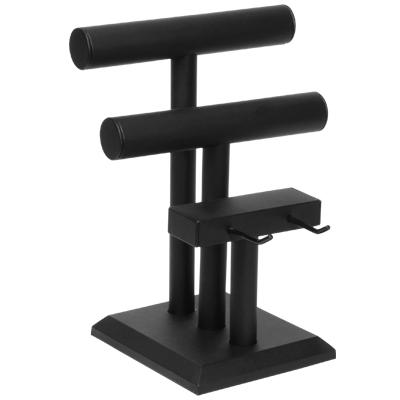 Jewellery can be among a person's most treasured possessions. Whether it is a family heirloom, commemorative piece for a marriage anniversary, or simply an attractive and favoured item, fine jewellery can be displayed when it is not worn. A high number of jewellery displays are available for rings, bracelets, necklaces, earrings, and watches, and buyers can select products to suit their individual needs. In addition to item-specific displays, buyers can also find stands and racks to accommodate multiple types of jewellery at once. Begin shopping by deciding on the number and types of pieces to be displayed, and refine choices by the design of the unit.
Buyers should also consider the materials of a display, as they can affect the appearance of the jewellery. Plastic and velvet are the most common, though leather, metal, and other materials can also be found. In some cases, displays may even include a built-in mirror.
Jewellery displays can be purchased from jewellery stores, department stores, and online retailers. Marketplaces like eBay have listings from both private and commercial sellers, and are a convenient way to shop from a broad selection of items. Learn more about the types of displays available, and choose products that present and store jewellery in an attractive manner.
Choose Jewellery Displays
The first thing to consider while shopping for jewellery displays is the number and type of jewellery pieces it can contain. Item-specific displays are available, as are multi-purpose units meant to hold several types of jewellery at once. Once the general product has been chosen, choices can be refined by materials and design.
Type of Jewellery
Products designed for specific types of jewellery like rings, necklaces, and earrings can vary in their design. In many cases, buyers can choose from two or more distinct types of displays for a single type of jewellery. Learn about the many types of holders available for each item to choose the best products.
Rings
There are two primary types of ring holders. The first is a rack setup with horizontal bars built with a tiered design. Rings can be slipped onto the bars for easy storage and display. This is an economical choice, as many rings can be displayed at once within a relatively small area. These units are meant to be functional more than decorative.
The second type of display for rings is a mannequin-like hand. These products may be purchased as the hand only, or in a full forearm model, as well. These displays are designed to rest on a flat surface with the hand extending upward. The shape and positioning of the hands and fingers can vary, though the fingers are always outstretched enough for rings to be placed on them. This option is typically meant to hold fewer items than a rack, and is ideal for showing the best rings in a collection.
Necklaces
Necklace displays can also be found in two primary designs. The first is a stand with arms or hooks. These can be used to hang a high number of necklaces, though they necessarily cause the jewellery to hang straight. This means they are not the best choice for showing off a favourite necklace.
The second option is a bust. These are typically black or white, and are frequently covered with velvet to enhance their appearance. In some cases, busts are designed with notches or ridges along the shoulder line to allow placement of multiple necklaces. Even with this option, however, busts are not suitable for storing more than a select few necklaces, and are often meant to hold a single, valuable item. Choose busts to display the finest pieces in a necklace collection.
Bracelets and Watches
Displays for bracelets are most commonly found in a rack form, similar to the ones used for rings. They may be tiered with multiple bars, or they may have a single t-bar design. These products can also be used for watches, though specialised watch cases are also available. Watch cases are designed to clasp shut and securely hold several watches at once.
Earrings
Earring displays are some of the most diverse products available. Hook and hoop earrings can be placed on a display stand with multiple bars, while post earrings can be set into cards or racks with small holes punched into them. Many multi-purpose displays can accommodate all types of earrings.
Multi-Function
In addition to item-specific displays, buyers can also find a high number of multi-purpose stands and racks. These can accommodate all types of jewellery at once, and are a convenient way to store and display frequently used jewellery in a single place. Stands are often created with metal, and designed in the likeness of trees, flowers, animals, and other forms. Some stands and racks have a rotating base that allows users to easily store and access jewellery from all sides.
Cases
Cases can be used to store many pieces of jewellery, and are an excellent option for owners with a need for storage. Although these products do not necessarily show off pieces as well as other options, they can still be attractive items. Look for cases with glass built into a hinged lid. This allows the jewellery to be displayed even with lid down. For an added aesthetic touch, look for leather cases.
Design and Materials
A quality display can improve the appearance and attractiveness of the jewellery it holds, so it is worth considering materials and design. Owners with ornate jewellery may wish to choose decorative stands and cases, while buyers who prefer more modern pieces should consider displays that do not interfere or detract from the jewellery.
The two primary materials used on displays are plastic and velvet. Plastic is generally inexpensive and can last for many years without any noticeable signs of wear, though it is also lightweight and generally less attractive than other options. Velvet can provide a softer, more luxurious appearance to a jewellery stand, though it can wear down over time and require replacement. Buyers can also find leather displays, and some products, especially necklace busts, are designed with mirrors. These are commonly angled to allow the owner to view herself while trying the necklace on.
How to Buy Jewellery Displays on eBay
Jewellery displays of all kinds can be purchased from sellers on eBay. Searches can be conducted on the site by entering keywords into the search field, or by clicking on category links. Both of these options are available from the homepage, and can also be accessed in search results pages. To begin a general search, try entering keywords. For example, to see ring displays, enter "jewellery display ring" into the field. A high number of listings can be viewed from this search, and though these items can be browsed as they appear, it is often useful to refine them further. To do this, look for category links. These can be used to shop by item type, price, and item condition.
Once you have located the types of jewellery displays you aref interested in, take a moment to research individual item listings. Click on the name or photo of an item in search results to see its full listing. Read the description of the item provided by the seller, and be clear on the materials, size, and condition of the display. In addition to the list price of the item, be sure to check for shipping charges. Note the forms of payment accepted by the seller, and be prepared to pay for your purchase as soon as possible.
Clicking on the name of a seller in an item listing brings up a full profile. There, you can view information about the seller's previous eBay experiences, including comments and ratings left by other buyers. Investigate these profiles to find reliable eBay users.
Conclusion
Jewellery displays are produced for earrings, necklaces, rings, and other items. They can accommodate a specific type of jewellery, or they may be multi-purpose units capable of storing and displaying a variety of pieces. In some cases, buyers can choose from two or more display styles for a single piece of jewellery. For example, necklaces can be hung from a necklace stand that holds many pieces at once, or presented on a display bust. Busts generally only hold a few pieces, but are an ideal way to show off a cherished necklace.
The design and materials used in a display can have a large effect on its appearance. Plastic and velvet are the most common materials, though buyers can also find leather and metal items. Some displays have a built-in mirror, which makes them convenient for trying on jewellery with an outfit. Consider storage cases, as well. These units are designed with multiple compartments, and can hold a high number of items. Cases with glass tops even allow owners to display their jewellery while it is safely stored.
Jewellery displays can be purchased from jewellery stores, department stores, and online sellers like those on eBay. Shopping online can be an easy way to browse a wide selection of products. Consider all sellers to find the best prices and products, and review item details and images before purchasing online. Whether for storage or display, a quality jewellery stand or case can be purchased to suit the needs of any buyer.