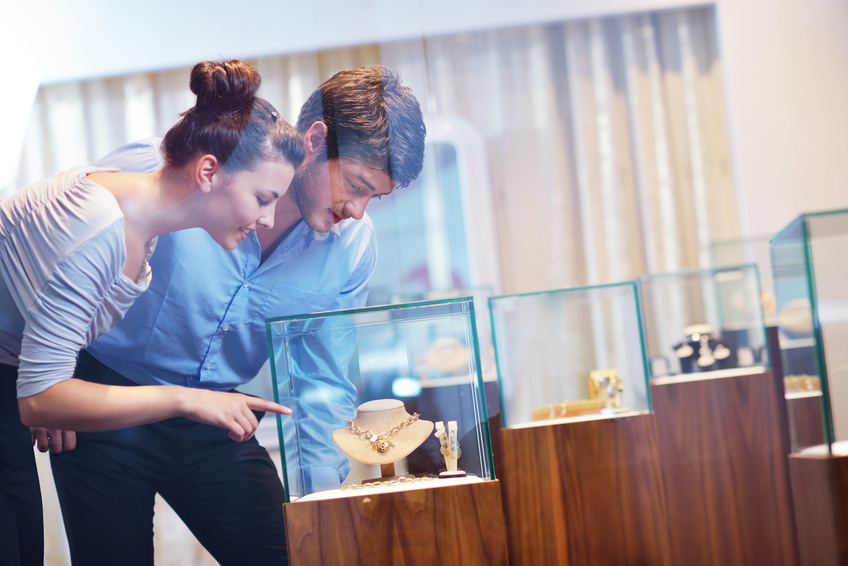 The only way to sell jewellery or show off an impressive collection is by putting each piece out on display. However, simply setting them out on a countertop or shelf would be dangerous since people can easily walk off with them. Jewellery display cases give owners a way to safely line up each piece in a box or cabinet for everyone to see without having direct access. A display case also makes jewellery look more appealing and desirable.
Jewellery Display Cabinets

Those with a vast amount of items can invest in a jewellery display cabinet. A single, large cabinet conserve space because it shows off all the pieces together instead of in individual boxes throughout the store. Display cabinets vary in size from countertop options to freestanding ones. Some even rotate so that owners can utilise all sides instead of just the front. The versatility of display cabinets also makes it easier to organise products. Some come with blank shelves for owners to arrange any kind of piece on, while other display cases have various kinds of compartments to hold particular items like watches, rings, or necklaces.
Jewellery Display Boxes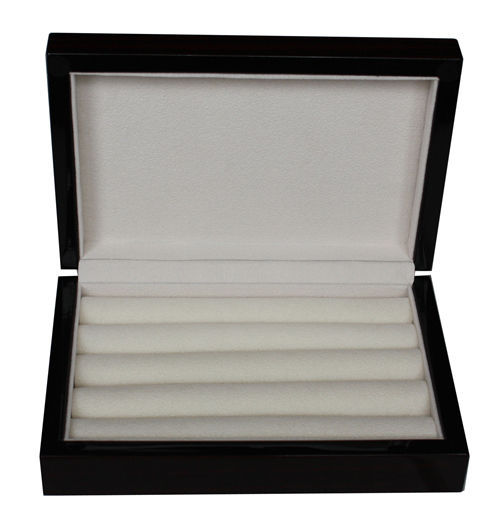 Rather than grouping everything together, owners can also keep their pieces separate in jewellery display boxes. They range in size, but most are large enough to hold around 18 watches. Look for one specific to the kind of jewellery because the black backdrop comes with holders that present and prevent each piece from sliding around. For example, a ring display case features slots in which you can push them into.
Types of Jewellery Display Case Locks
Shop owners may have the need to lock up all of their merchandise at night for protection. This is especially important for valuable jewellery, such as diamond rings. Look for a display case with a sturdy construction as well as a key or combination locking system. The former proves easier to use, but there is always the risk of losing a key and the hassle of getting copies made. Combination locks require no keys, but the owner has to remember the code as well as learn how to change the code when needed.
Jewellery Display Case Finishes
Display cases typically feature a white or black background, but the exterior materials vary from wood, to laminate, to glass. For a custom, traditional look go with wooden jewellery display cases. They come in all materials from oak to mahogany and can really class up the shop. Glass jewellery display cases, on the other hand, look great and go with any decor. For more contemporary shops, consider black glass cases or black laminate cases.