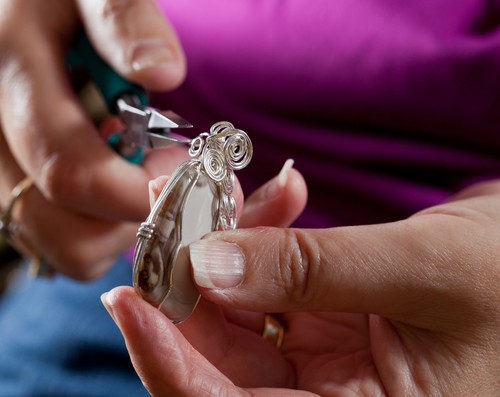 For crafters who want to tackle the art of making jewellery, it can be confusing to know where to start. The perfect solution for beginning jewellery makers is to simply purchase jewellery making kits, which include all of the necessary items needed to create particular types of jewellery. They are also more cost effective since all of the items do not have to be purchased separately.
Jewellery making kits vary in style depending on what type of jewellery the consumers are creating. Some kits are focused on beaded necklace making, and others include supplies for bracelets or earrings. Consumers should select the appropriate type of kit to create the jewellery they desire.
Some jewellery making kits simply include findings, which is a term that means the various clamps, pins, clasps, and crimps that are involved in creating and securing a piece of handmade jewellery. Consumers have a lot of options when it comes to selecting the appropriate jewellery making kits; all they need to know is exactly what type of items they are creating, and what tools and accessories are needed to make those items. There is a range of kits for all types of jewellery available on eBay.
Purchase by Kit Type
Some kits are geared specifically toward creating a certain type of jewellery, such as necklaces or beaded bracelets. For consumers who want to try out jewellery making and are not sure where to start, a kit that makes a specific type of jewellery is a great option.
Necklace and Bracelet Kit
A kit specifically tailored to create handmade necklaces and bracelets comes with materials that are meant just for creating these items. A bracelet making kit includes items such as jewellery cording or wire, findings, beads, split rings and other findings, and even sometimes tools used for jewellery making, such as pliers.
Consumers can browse kits and select a kit based on what type of creations they can make with the kit, and what comes with the kit. Kits to create necklaces and bracelets generally offer a variety of types of beads so consumers can create customised necklaces or bracelets of their choice, while some kits help create one specific type of item such as beaded name bracelets or a Shamballa friendship bracelets.
Earring Kit
Buyers interested in making handmade earrings should purchase an earring kit. This includes earring hooks, wires, beads, and other findings which are used to make earrings. More specific kits come with the necessary items to make a pair of earrings, such as beaded earrings of a certain colour or crystal earrings. While some earring making kits provide only the items to make one pair of earrings, others may offer consumers many more options to create customised earrings.
Bead Kit
A bead kit is a jewellery making kit that comes with many types of beads, and may or may not include any findings. For more experienced jewellery makers who already have findings or know what findings to purchase separately, this is a fun way to mix and match various types and colours of beads to create one-of-a-kind bracelets, necklaces, and earrings.
Bead kits are also a lot of fun for children who are learning to make their own jewellery. Bead kits may come with beads that are all in the same style and colour range, or offer many different types of beads for various projects.
Findings Kit
A findings kit offers consumers all of the small tools and items needed to create many different types of jewellery. Some findings that consumers might see in a findings kit include headpins, eyepins, crimps, clasps, wires, jump rings, earring wires, and spacer beads. Some findings kits go a step further and offer the consumers special tools needed to make jewellery, such as various types of pliers, cutters, and wires or cording.
Jewelled Hair Accessory Kit
With hair jewellery becoming increasingly popular, there are kits available to help consumers make beaded and jewelled headbands and barrettes. These kits contain materials to make hair jewellery such as tiaras, wire headbands, clasps, crystals, and beads to decorate the items. Beads can be strung onto these items or glued on with beading glue. The kits may or may not include everything needed to make jewelled hair accessories.
Purchase by Materials
Another way consumers can purchase jewellery making kits is to shop by the materials of the items in the kits. For buyers who know specifically what type of jewellery material they want to make items from, this is an easy way to find the perfect kit for their personal preferences.
Glass
Buyers can select jewellery making kits that includes glass beads to make sparkling, shiny necklaces and bracelets. Glass beads come in a variety of colours, shapes, and styles, and can be mixed and matched to make a customised piece of jewellery that is one of a kind. Glass beads are also used to make earrings, wine charm rings, earrings, and keychains. These are the most common and popular type of bead used in jewellery making.
Silver
For consumers interested in the way silver jewellery looks, using silver findings and beads adds style to any look. Match homemade jewellery to existing silver jewellery by purchasing a silver jewellery making kit.. These vary when it comes to what they contain, and buyers still need to determine exactly what type of pieces they are creating before selecting the right jewellery making kit.
Gold
Most consumers are either partial to gold or silver jewellery, so for consumers who enjoy the way gold looks, a gold jewellery making kit with gold findings and spacer beads may be the best option. Gold findings, jump rings, clasps, headpins, and wires create gold themed jewellery which looks elegant and lovely.
Purchase by Kit Style
Another way to buy a jewellery making kit is to select a kit by style. There are a few options when it comes to a jewellery themed kit. This is a great option for beginning jewellery makers or crafters who are not really sure what type of jewellery they want to make, and they need a few more options instead of specific kits.
Starter Kit
Jewellery making starter kits are great for consumers who want to attempt jewellery making but have never done it before. Starter kits offer a bit of everything, including findings, beads, clasps, pliers, and enough items to get started when it comes to jewellery making. Kids also enjoy creating beaded jewellery and starter kits are a good way to get older children involved in the art of jewellery making.
Some starter kits come with instructions and patterns so consumers can easily learn how to use the findings and tools to create great pieces of jewellery. Deluxe starter kits include wire, cording, many types and styles of beads, and even charms to add to handmade jewellery. Kits vary, so buyers should select the kit that contains all of the items they would like to use to get started making jewellery.
Colour Themed Kit
Another option for a kit style is to purchase a kit by colour. If buyers want to make jewellery in their favourite colours, shopping by colour ensures that they get beads and cording in the exact colours they select.
Picking a green themed kit most likely includes all green beads, charms, and crystals, while a black themed kit may come with black cording for necklaces and bracelets, black beads or crystals, and other beads that complement black, such as silver, white, or clear.
A Guide to Jewellery and Matching Kits
There are several different ways to create specific types of jewellery. Buyers should purchase kits that match what type of items they want to create to produce the best results and to avoid having to purchase additional items.
Finished Product

Type of Kit to Purchase

Additional Items Needed

Necklaces

Starter kit

Necklace kit

Beading kit

Findings, such as clasps

Spacer beads

Charms

Beaded bracelets/necklaces

Beading kit

Starter kit

Specific kit to create a necklace or bracelet

Findings

Cording/wire

Charms

Hair Jewellery

Tiara or headband kit

Barrette kit

Wire

Pliers

Glue gun

Other embellishments desired for hair jewellery, such as crystals

Earrings

Earring making kit

Pliers

Findings

Beads

Earring wires

Glass jewellery

Glass bead kit

Findings based on what type of jewellery is being created
Making jewellery does not have to be difficult. Kits that are specifically created to help consumers make certain types of jewellery contain the necessary basics to get started. Once buyers feel confident about their jewellery making abilities, they can purchase findings or beads separately to design handmade creations.
How to Buy a Jewellery Making Kit on eBay
There are a wide variety of options when it comes to buying a jewellery making kit on eBay.. Whether you are a beginner who has never picked up a finding before, or you have been creating handmade jewellery for years, there are kits for every type of crafter. Using eBay's user-friendly search engine, navigate to "jewellery making kits" and select the one that best suits your preferences from the options that are given, whether you are looking for a box full of findings or a kit full of pink themed items.
If you know what you are looking for, do a more specific keyword search from any internal page to bring up more relevant results, such as "jewellery making starter kit", or "earring making kit". Select the best kit to suit your needs from these options, and compare kits by what they include, the prices, and the overall versatility of the kits. Purchase quality jewellery making kits from a merchant who is a Top-rated seller on eBay, ensuring that you have a smooth and hassle-free transaction.
Conclusion
There is nothing more satisfying than crafting something handmade; everyone can appreciate a homemade item. Handmade jewellery is always unique and personal to the crafter who made it. Buyers can begin a new hobby or enjoy an old one by purchasing jewellery making kits on eBay to create necklaces, bracelets, hair jewellery, earrings, or even keychains. Young women enjoy making beaded friendship bracelets, and jewellery making is the perfect craft for kids who like making things they can wear or give to friends.
Creating jewellery handmade is a cost-effective and fun hobby for consumers. Many retailers sell glass bracelets and necklaces for high prices, but making them at home saves buyers a lot of money, and it is fun as well. Consumers can make inexpensive handmade pieces to give as party favours or gifts. Crafting jewellery may seem intimidating, but for buyers who have all of the necessary tools, it is a hassle-free way to enjoy a creative hobby that produces beautiful results.