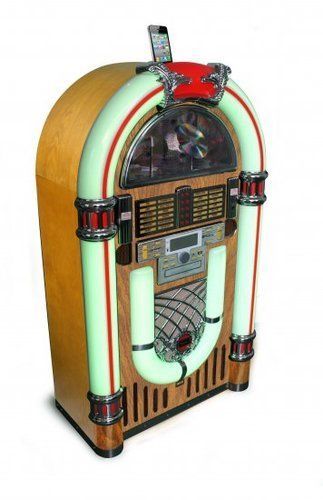 Their appearance is legendary and their style is unwavering; the jukebox is without question an iconic music player. The once basic piece of equipment that ran off pennies has now become a multi-faceted media player. Vinyl record jukeboxes are considered classic in design and execution, but as music formats have evolved, so has the need for new jukebox variations.
Even though most people are still content with the classic vinyl sound that a jukebox offers, you can't argue against the fact that a built in CD player has its uses. This guide is here to detail all types of jukeboxes with in-built CD players, and how to go about getting the best deal for them on eBay, the world's leading online marketplace.
Standalone CD Jukebox
The CD based jukebox originated in the 1980's and has remained popular since. Their rise to fame was unprecedented and had a lot to do with the high sales of CD singles. There is a large catalogue of CDs available for purchase, meaning that standalone CD jukeboxes are simply limitless. They provide excellent sound without any sacrifices being made to the retro jukebox style. Some features include:
* Comes complete with the iconic dome top.
* Easy to clean and requires little maintenance.
* Visually impressive and uses a modern solid glass front.
* Allows for lengthy song queuing.
* Standalone CD jukeboxes can hold up to 200 discs at any one time.
Vinyl Jukebox with CD Player Built-In
When thinking of a jukebox, the first thing that springs to mind is the classic vinyl models of the 1950's and 1960's. It is obvious that in terms of style they're classic, but sometimes shoppers won't want to limit themselves to vinyl records. They will want to hear their favourite songs with better sound and CD is the best way to do this. If this is the case they no longer need to sacrifice style, as they can opt for a vinyl jukebox that comes with a CD player built-in.
* Doesn't sacrifice the classic vintage jukebox style.
* Allows users to have the best of both worlds by playing both records and CDs via the same unit.
* Most units store up to 50 records and 100 CDs.
* Best suited to home use.
Digital Jukebox with CD Player Built-In
The 21st century has seen the popularity of portable music technology grow and its evolution has been simply astounding. iPods and MP3 players have become popular across the world, and jukebox makers have not missed a trick when it comes to adopting such technology.
Digital jukeboxes run off a hard disk drive (HDD) that songs are stored on. HDDs range in size from 40gb to 2tb and can store thousands of tracks. With this technology it is possible to fit an entire music library into a digital jukebox. It pays dividends to find a digital jukebox with a built-in CD player for a multitude of reasons, such as:
* Allows for CDs to be used and tested before being ripped to the jukebox's HDD.
* Some units allow straight ripping from CD to jukebox in order to save time.
* Will play a variety of file formats including MP3, AAC, OGG, M4A and FLAC.
* Often features touchscreen technology that makes song selection easier.
* Allows for interchanging between CD and HHD effortlessly, meaning that track queuing can be done from both at the same time.
Accessories
When shopping for a jukebox with built in CD capabilities, it is important to think about future add-ons. There are a variety of accessories available that can further the jukebox experience, such as:
| | |
| --- | --- |
| Remote Control | Perfect for CD and digital jukeboxes. They allow for the unit to be controlled at long range. This is a convenient feature especially in bar, restaurant or café environments. |
| Speakers | The premier peripheral and it is important to make sure you have a high quality set. Shopping for speakers is an independent process, but it's important to purchase a reliable and high quality pair. |
| Base | Jukeboxes sometimes don't meet the required height. In such instances a base is needed. Jukebox bases feature their own lighting system, which means they can integrate into a room's décor seamlessly. |
| Auxiliary Ports | An auxiliary port allows for independent music devices to be played through a jukebox. Installing one is a sound investment and insures that the jukebox remains future proof. |
Brands
The popularity of jukeboxes has never wavered and their classic design is a staple of Americana. Their cultural relevance means companies are still producing them and regularly releasing new models. This means there are a lot of brands out there competing for your business. The following are considered the top names in the jukebox world:
* Wurlitzer
* Rock-ola
* AMI
* Seeburg
* NSM
Don't rush into a decision and take the time to explore what these brands have to offer.
Buying Used
Owning a jukebox used to be something of a novelty, and one that was exclusive to those in the entertainment industry. However, as time has gone on, the product has become available to all, even those who are operating on a budget.
Even though buying new is the preferred choice, buying used can be a more financially pleasing option. Shoppers need to remember that buying used is an entirely different process, and that they must remain cautious. Talk to the seller and ask questions in order to make sure you get a jukebox that has plenty of life left in it.
* How old is the jukebox?
* When was it last used, and how regularly?
* Is it still under manufacturer's warranty?
* Has it suffered any cosmetic damage? If so, what?
* Has it been subjected to any repairs?
* What is the condition of the CD laser?
How to Purchase a Jukebox with a CD Player Built-In on eBay
There are a variety of jukeboxes available to purchase, but none deliver the level of sound quality that a CD player jukebox can. Even if you still can't let go of your vinyl collection, or strive to own something that's future proof, a CD player can be a valuable added extra. When looking to buy a jukebox, retro or otherwise, eBay should always be your first port of call.
* In order to browse what jukeboxes are available, log on to eBay's homepage and select Collectables.
* From there, click on Jukeboxes and then Machines, this will display all live jukebox auctions and allow shoppers to openly browse.
* If shoppers have a specific brand of jukebox in mind they can use the keyword search to narrow down their results.
* The advanced search tool can also play a pivotal part in locating a jukebox of interest.
eBay Shops
There are no limits to the way in which people can listen to music; it just so happens that a jukebox is the most style conscious way. They were anywhere and everywhere in the 1980s and much of this stock is now appearing online. One avenue that sellers are taking advantage of is the eBay shops format. These miniature shops deal in specialist markets and present great offers to shoppers. To find what eBay shops are open for business, click the eBay shops link at the bottom of the homepage.
Delivery
There is no way around it: jukeboxes are large, bulky and heavy items. This can make shipping them a nightmare. In most cases a jukebox can only be sent via an insured courier pallet service and these services can be expensive. Another method of obtaining a jukebox is to collect it in your own time, if such a service is offered, it will be listed as 'collection only' on the item listing. Always discuss possible delivery options with the seller prior to purchase, in order to ensure that you're getting the best possible deal.
Completing a Transaction
* When shoppers have found what they're after they'll need to follow through with a purchase.
* In order to do this they will need to do one of the following on an item listing.
o Place a Bid
o Make a Best Offer
o Buy it Now
* Once an auction has finished the winning bidder will need to complete the checkout process.
* Doing this with PayPal will mean that the order is covered by the Buyer Protection Programme.
Conclusion
There is no denying the historical importance of the CD jukebox and the role it played in popularising CD singles in the 1980's. They were beautifully constructed machines that added a visual element to music that has yet to be replicated. Now shoppers are afforded the luxury of being able to own these pieces of music history, and use them in their very own home.
Despite its age, the jukebox remains at the forefront of music entertainment, and is perfect for those who are looking to add a retro touch to their home. A simple online search will throw up various retailers who claim to be the number one in jukebox sales. However, only one can stake claim to that title. eBay is the leading online market place and will undoubtedly have the exact jukebox you require at an affordable price.