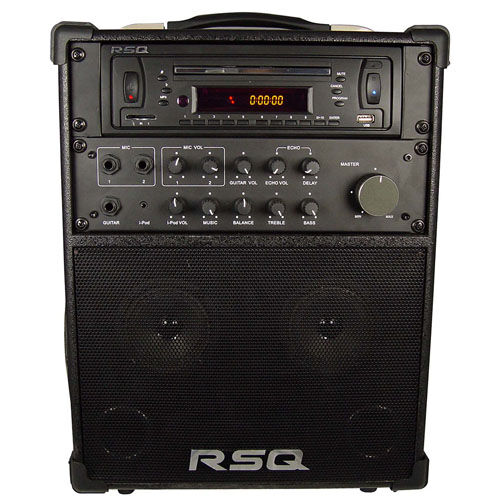 Singing has long been an enjoyable activity for people because it is a fun way to express emotions, celebrate, and bond with others. While in the previous centuries singing was mostly accompanied by live music, today most people sing accompanied by a karaoke machine. Karaoke, translated from Japanese, means 'empty orchestra', and a karaoke machine is the 'orchestra'. If the buyer is a person who often hosts parties at home, just loves singing as a hobby, or has a bar or a pub where they want to organise karaoke nights, then a karaoke machine is a good investment. Thankfully, karaoke machines are no longer as expensive as they were before the 1980s, when they were only available at public venues such as karaoke bars. However, the price of karaoke machines varies greatly, depending on how professional the machine is, its brand, features, and purpose.
When buying a karaoke machine, one needs to have a basic understanding of what a karaoke machine is, what their different types are, and how to choose such a device. The buyer should also know where to purchase a karaoke machine, including from eBay.
What is a Karaoke Machine?
A karaoke machine is a device that plays karaoke DVDs, and is able to change the pitch of the DVDs as selected by the user. They are usually connected to karaoke microphones and karaoke amplifiers, which make the experience interactive and enjoyable. In the beginning, home karaoke machines played cassettes instead of DVDs, but the concept is the same. The karaoke DVDs played by today's karaoke machines play the music, adjust it according to the selected pitch, and display a video with the lyrics of the song on the television screen or monitor that they are connected to. Karaoke machines hold multiple DVDs so that the songs can be changed swiftly without long pauses. While the overall function of karaoke machines is the same, there are various kinds of karaoke machines available on the market.
Types of Karaoke Machines
There are generally four types of karaoke machines, each suitable for different users. They are the microphone karaoke machine, the all-in-one or complete karaoke machine, the pocket or MP3 karaoke machine, and the CD or DVD karaoke machine.
Microphone Karaoke Machine
This type of karaoke machine is simply a microphone that has the karaoke songs built into it. When in use, this microphone is connected to a stereo system and television set that displays the lyrics of the song. If the song choices in the microphone are not enough for the buyer, most microphones allow the insertion of cartridges that have more songs in them. If the buyer does not own a television set, some microphones have a small display screen built in to allow the singer to see the lyrics of the song.
All-In-One Karaoke Machine
This is a complete karaoke machine that comes with a screen, microphone, speakers, hard drive to play songs, and musical cartridges. These are premium karaoke machines that are suitable to be purchased if the buyer is a karaoke enthusiast. These machines require no additional components such as televisions, stereo systems, or projectors. When purchasing karaoke machines of this type, the buyer does not have to ensure that the karaoke machine is compatible with other equipment they may already own, simplifying the shopping process.
Pocket/MP3 Karaoke Machine
The buyer can think of these machines as the iPods of the karaoke machine world. These machines consists of little devices with screens that store many karaoke tracks, and display the lyrics (usually in AVI video form) on the screen. However, if the buyer wishes, they can also connect the machine to an external television screen using AV connectors. Some MP3 karaoke machines do not have screens, and have to be connected to a television screen if the singer wants to see the lyrics. Pocket or MP3 karaoke machines are convenient because they require no CDs or cartridges, and, instead, the tracks can be downloaded in MP3 format.
CD/DVD Karaoke Machine
This is the most commonly found karaoke machine, and it is just a CD or DVD player that plays multiple karaoke discs. It operates almost exactly like a regular DVD player, with the exception that it plays karaoke format discs. This kind of karaoke machine is plugged into a television set so that the singer can view the lyrics, and can be connected to an amplifier to produce better quality sound. Most machines of this type allow the user to easily change the pitch, bass, and other sound details.
How to Choose a Karaoke Machine
For a buyer looking to purchase a karaoke machine, there are several things that need to be considered. These include the type of karaoke machine, the features required on the karaoke machine, and also the budget of the buyer for such a machine.
Types of Karaoke Machines
By knowing the features of each type of karaoke machine, the buyer can decide which type of karaoke machine best suits their needs. If the machine is meant for individual use only, a pocket karaoke machine or microphone karaoke machine with a display might suffice. If the karaoke machine is to be used for events, or if the buyer is a die-hard karaoke enthusiast, then an all-in-one or CD/DVD karaoke machine may be more suitable than a pocket karaoke machine. If the buyer already has other karaoke equipment in place, they should ensure that the type of karaoke machine they choose is compatible with the existing equipment.
Features of Karaoke Machines
Not all karaoke machines of the same type have the same features, and these different features are another aspect the buyer can take into consideration. Examples of features on karaoke machines include built-in music, MP3 support, large internal memory size, USB storage, and compatibility with different kinds of accessory components (television, speakers, microphone, etc.). Higher-end karaoke machine models usually have better features than budget brands, though some lower-end machines also have good capabilities.
Budget for Karaoke Machines
Karaoke machines can be cheaply priced or very expensive, depending on their type, brand, features, and so on. If the buyer is on a restricted budget, then they can consider simple microphone or pocket karaoke machines, or lower-end CD/DVD machines. For buyers who do not mind spending more, an all-in-one karaoke system can be taken into consideration.
Karaoke machines can be purchased from some music equipment shops, electrical equipment shops, or selected supermarkets. They can also be purchased online from sites like eBay. For buyers who opt for used karaoke machines, garage sales, used item stores, newspaper ads, and flea markets are all good places to start searching for karaoke machines.
Purchasing a Karaoke Machine on eBay
Purchasing a karaoke machine on eBay is an easy task since the website has a large selection of machines that you can choose from. To search for a karaoke machine that suits you, all you need to do is to type what you want into the search bar which is located on the eBay home page. You can simply search "karaoke machine", or, to make your search more specific, you can use other keywords such as "home theatre karaoke". You are then presented with a list of all related products which you can look through. Be sure to read the product description and also the price of the karaoke machine. Some items are auctioned items, and are sold at a very low starting price. If you are looking for an affordable karaoke system, do look out for those on auction.
By selecting the machine that you like, you can then go to the product page. On this page, you can view all details about the machine including the full item description, price, postage fee, and return policy. Make sure that you read all the details and are truly satisfied with the product before you buy it. If you have any questions you would like to ask the seller, you can contact the seller directly.
Conclusion
Karaoke machines are one of the must-have entertainment devices at any informal social gathering, because singing is a way humankind has used for centuries to celebrate. A karaoke machine is essentially a machine that plays karaoke tracks. There are four main types of karaoke machines: the microphone karaoke machine, pocket or MP3 karaoke machine, all-in-one karaoke machine, and the CD/DVD karaoke machine. All these types have their own features, which have been discussed in this guide.
When looking for a karaoke machine, the buyer has to consider the type of machine that is needed, the features they want on that machine, and also their budget for such a device. By carefully considering these aspects, the buyer can confidently buy the right karaoke machine. One can buy a new or used karaoke machine from local or online stores. One of the best places where one can shop for a karaoke machine is eBay, because it is a convenient site to shop on right from home.