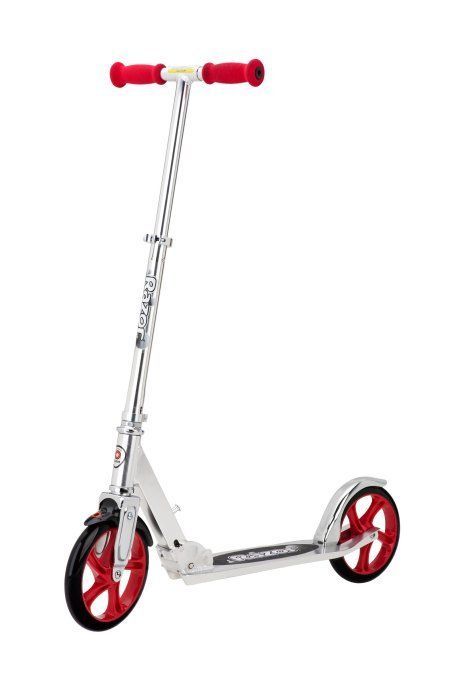 A kid's scooter is a great way to encourage your child to put down their console and get some exercise outside in the fresh air. Kid's Scooters (also called push scooters) available to buy online through eBay have come a long way since many of us were kids and now offer an exciting, convenient and healthy form of alternative transport. Pushing a scooter is much easier to learn than riding a bike and can be taken up by children of all ages, even the very young.
An additional benefit to buying a scooter for your child is the convenience of the speed at which it enables the child to travel when out and about with parents.
Older children enjoy the freedom that a scooter gives them, and parents appreciate the convenience. A scooter is less cumbersome than a bike, and comes in a variety of styles and sizes which you can browse on eBay. It can be easily transported - either in the boot of a car, or taken on public transport.
Riding scooters has endured for decades as a fun pursuit because it offers a simple pleasure that can be enjoyed by children of all ages, as well as adults. Many schools now offer scooter racks in the same way that they provide bike racks as riding a scooter to school or college is growing in popularity.
Number of Scooter Wheels
Over the years there have been many varieties of scooters manufactured by companies looking to update the simple scooter design for each new generation of children. The easiest way to categorise the different styles is by the number of wheels.
Two Wheel Scooters
This is the most familiar and basic scooter design, and the one which offer the greatest variety of colours, models and designs. Two wheel scooters feature one wheel at the back and front, similar to a bicycle design. This style of scooter requires balance and coordination to operate and is best suited to older children with experience riding scooters, tricycles or bikes.
Micro Scooters
Micro scooters feature three wheels, but differ from the typical three-wheel scooter design in placing the two wheels at the front, rather than the back. Very young children, even from the age of 18 months, can ride a scooter far more safely with two wheels at the front. Young riders will benefit from easy grip 'O' shaped handlebars rather than traditional bicycle style handlebars. Smooth spinning wheels with thick solid rubber gives a suspension effect to cushion the bumps makes the scooter ride safe and easy for young children riding a scooter for the first time.
Three Wheel Scooters
A typical three wheel scooter has one wheel at the front, and two at the back. It is ideal for younger children still learning to navigate on wheels, who may not yet be ready for a two-wheeled model. It may also come with a seat that can be adjusted for the length of the child's legs, allowing the rider to use the scooter in a seated position. The seat is an adjustable add-on that can easily be removed for greater pushing speed. together with the 'O' shaped handhold which can usually be replaced with a more grown-up T-bar. An extensive selection of these accessories are available to browse and purchase on eBay.
Four wheel scooters
Four-wheel scooters are a recent addition to the market. Also called wave board scooters. Scooters with four wheels offer small children more stability and older children a platform on which to perform freestyle stunts.
Kids' Scooter Safety
As with all sporting equipment for children precautions are necessary to ensure all safety features are fully functional. Although the temptation is to jump on and push away as hard as possible, a few simple precautions may save a lot of tears and anxiety. Before the young scooter rider races down the garden path, make sure to:
* Check that the brake works
* Check that the steering rod is fully engaged
* Check that the bolts are all screwed tight
Checking is a job for an adult and should not be left to an older child to supervise.
Kids' Scooter Safety Equipment
Accidents will happen, but to minimise the risk of injury in the event of an accident, protective equipment should be worn. All protective items are available in a wide range at affordable prices on eBay.
| | |
| --- | --- |
| | Very young children do not know how to protect themselves in the event of an accident and hitting the pavement even at relatively slow speeds can result in a head injury. The simple answer is for the child to wear a safety helmet, similar to helmets worn by skateboarders. The helmet may also be worn when the child rides a tricycle or bike. |
| | Black nylon shaped pads with Velcro straps, wrist guards, elbow pads and knee pads are ideal for protecting impact points when a child is riding a scooter, a bike or is roller skating. |
| Children's walking shoes | It can be tempting for children to jump on a scooter wearing flip flops or plastic sandals. Good rubber soled shoes will help to ensure that the child will not slip over especially when jumping on and off the scooter. Good soles will also protect feet from getting scraped along the ground. |
Riding a Scooter on the Level
It can be tempting for a child to roll down a hill but the brake at the rear of the scooter is not designed for stopping at speed. If a child goes too fast and then presses the brake, the pad can become hot very quickly, especially if the child keeps the brake on for a long period. Scooters should always be ridden on level ground, and young children should not go any faster than an adult's brisk walking pace.
A Kids' Scooter is Not a Motorbike
Never ride a scooter on the road. Although the temptation is considerable, partly because pavements often have an uneven surface; whereas roads can feel smooth, but the hazard is not worth the risk: stick to the footpath.
Here are some basic safety rules to follow when children are riding scooters:
* Do ensure that the scooter is ridden on the pavement, but watch out for pedestrians
* Don't encourage riding on the road or anywhere where the rider will be sharing the path with motor vehicles
* Don't allow the scooter to be ridden at night or in poor visibility
* Don't let a child ride the scooter when pavements are icy or covered in snow
* Do discourage attempts to perform tricks or stunts.
* Kids' scooters are not designed to take the weight of an adult. If you wish to share the scooter experience, then there are specifically manufactured scooters for adults available at affordable prices on eBay.
* Teenagers may be old enough to handle a scooter with two riders, but young children should be discouraged from riding pillion.
Kids' Scooter Accessories
Scooters are a popular toy, and riding them is an enjoyable recreational activity. Children love to ride their scooters and often riding a scooter to a playgroup or school can help to make the early morning rush that bit easier. To make the journey even more fun, here are a few scooter accessories:
* a bell or horn can be added to the T-bar
* a water bottle holder can be attached to the steel column
* a small rucksack can be worn by the child
Scooters for Older Children
Scooters can be used by older children also, and there is a large market for them. Scooters for older kids are available in a wide variety of both colour and design, such as:
Slider Winged Kids' Scooters
The three wheeled Slider Winged Kids' Scooter has a single wheel at the front and a wheel at the end of each of two wings, providing the child with greater stability and control. The Slider Winged scooter has a braking system similar to the front brake on a bicycle and a foot rest on each of two scooter wings. The handlebar brake and the greater stability offered by the wings enable children to be adventurous in riding them.
Slider Wings offer older kids:
| | |
| --- | --- |
| Wings with Wheels | For good steering, good drifting and good speed |
| Three wheels | For greater stability than scooters with two wheels |
| A T-bar brake handle | For shorter stopping distances, similar to a bicycle |
| A hinged design | For easy carrying and storage |
Kids' Scooter Bikes
Older who want a scooter that allows more speed may opt to ride kids' scooter bikes. These types of robust scooters have larger wheels, classic bicycle handlebars with front and rear brake-systems for greater stopping power. Large wheels invariably mean greater speed which delights adventurous kids.
Electric Scooters for Kids
You can buy on eBay electric scooters that look like a classic kids' scooter but with a twist throttle and an electric motor. It takes about four hours to recharge the batteries, giving the scooter enough power to run for between six and ten miles. Electric scooters are suitable for children over the age of eight.
How to Buy a Kids' Scooter on eBay
eBay sellers offer many types and sizes of kids' scooters including:
* classic two wheel scooters,
* slider winged scooters,
* push scooter bikes,
* three wheel scooters,
* BMX scooters,
* electric scooters,
* racing folding scooters,
* stunt scooters, and
* surfboard / four wheel scooters.
All of which, when sold on eBay, can be found at competitive prices.
To buy a scooter on eBay, simply enter the kid's scooter of your choice in eBay's search box and you will be taken to a selection of scooters and sellers. For further advice on how to find products on eBay visit Tips for better searching.
If you cannot find the exact type of scooter you would like to buy, eBay gives you the option to save your search on My eBay, and you will be notified my email when the scooter that matches your search is posted for sale on eBay.
If you are using eBay for the first time, it is a good idea to take a few minutes to look through the guidelines for buying on eBay including information on how to buy with confidence in the Safety Centre.
eBay is a community of sellers and buyers without small print. Product descriptions, prices and delivery costs are all clearly laid out together with feedback from customers who have previously bought from a particular seller. For further information about privacy and protection, visit eBay Buyer Protection.
Communication is the key to success when buying on eBay and you can help to make sure that an item is right for you by sending a message to the seller asking for further information or to confirm what you can already see listed. You can also request contact information from sellers if you would like direct communication.
There is plenty of support on eBay to help you buy with confidence. Visit Buying Basics and you will find answers to common questions. If you are unsure of how to go about bidding, you can find all you need to know at All about bidding.
People often have numerous bids on the go at any one time; visit Manage your buying activity for information on how to keep track of your items. To solve any problems you may have with bidding or buying on eBay, visit resolving buying problems.
Conclusion
eBay will have the perfect scooter for your child whether you are looking for two wheels, three wheels or even four wheels. Scooters provide a fun recreational activity as well as a useful means of transportation that is simple, safe, does not take up much storage and is not expensive, especially if you buy online.