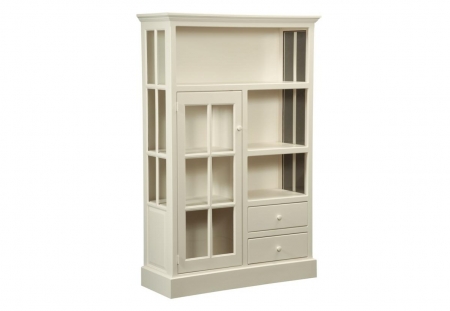 Both the look and the function of a kitchen are dominated by the kitchen cupboards. The cabinetry, drawers, and shelving do more to create the look of the room than almost any other feature, and the quality and design of kitchen storage spaces dictate the kitchen's workflow. It is very difficult to cook anything if the pots and spices are all crammed together in badly designed or broken cupboards. Whether one wants to just update the kitchen's appearance or do a major redesign, getting good cupboards should be a major consideration. Fortunately, cupboard sets, replacement hardware, and construction materials for do-it-yourself projects are all available on eBay. This guide offers an overview of the kitchen cabinetry options available, and provides tips on how to recognise quality materials. It also explains how and where to find cupboards and related materials on eBay.
When It Is Time to Get New Cupboards
Kitchen cupboards may need to be replaced when the old ones are damaged, too small, or no longer work properly. Or the look of the room may simply need an update. No matter what the reason for a change, one should not jump immediately to buying an entire kitchen's worth of cabinetry. Check first to see if the old pieces can be salvaged; for those who have the skill (or would like to learn), building cabinets can be a fun and creative exercise.
Extending the Life of Existing Cupboards
Replacing cupboards can often be even more expensive than replacing kitchen appliances. If the cupboards still function properly, if they have not sagged, warped, or started to lean, some paint and other cosmetic changes may be enough to give the room a new look. Make sure that all vertical surfaces are still vertical (use a carpenter's level or a homemade plumb bob) and that all joints are still square and not loosened. Check horizontal surfaces for signs of rot or any cracks. Notice how the cupboards are made; thin veneer over particle board cannot be sanded the way solid wood can. Decide whether to replace the handles or doors; perhaps a new coat of paint or finish will do the trick.
Minor updates can do more than change the look of a kitchen. Even just a few simple steps can deliver major functional improvements. Adding pull-out shelves, lazy Susans, or sliding spice racks make it much easier to use existing space efficiently. Install small, battery-powered LED lights to make finding the right item in a large cupboard easier.
Building or Buying New Cupboards
If the existing cupboards have been damaged, if a major redesign is necessary, or if there are no existing cupboards (as in a newly built house), then new cupboards are necessary. They can be bought pre-made or built at home as a do-it-yourself project.
Perhaps surprisingly, building and buying are not all that different. Both require making decisions about materials, finishes, and styles, and both require fitting the cupboards to the available space. The advantages of buying pre-made cupboards are that it is much less work, and the buyer needs no carpentry skills. However, the buyer is limited to available sizes and styles. On the other hand, building at home is a takes a lot more effort and carries the risk of building in a mistake; but the builder is free to choose exactly what he or she wants. The choice need not be entirely either/or, since drawer fronts and doors are available on eBay, ready to attach to home-made boxes and drawers.
Choosing New Cupboards
Once the question of whether to get new cupboards has been decided, it is time to go shopping (or to draw up designs, in the case of do-it-yourself builders). But buyers should be aware that even the best looking cupboard could quickly fall apart if badly made. It is important to know how to spot quality. The sections below explain how, and discuss some other features to look for, as well.
How to Spot Quality
To select quality cabinetry, the trick is to choose high-quality materials. For the cabinet box itself, look for furniture-grade plywood, although medium-density fibreboard (MDF) is also acceptable. Particleboard is commonly used in low-quality pieces, so buyers should avoid such items.
For doors, veneered particleboard panels are acceptable, although other types of particleboard are not. MDF, plywood, or solid wood are even better. Look for a solid wood frame. Door hinges are purely a matter of style, since most types work about equally well.
Shelving should be plywood or MDF; otherwise they could sag. Drawers should be particularly durable, because of the repeated stress of opening and closing. Look for solid wood sides, dovetail joinery, and a plywood bottom. The bottom should fit into grooves on the sides. Stapled particleboard should be avoide, since it has a bad habit of coming apart. Drawers should move on full-extension drawer guides, not on integrated side rails or undermounted double-rollers.
Choosing Cupboard Materials
As mentioned above, wooden cupboards can be made from any of several kinds of wood products. Solid wood is simple, strong, and attractive. It is easy to refinish or otherwise alter, and is generally a mark of quality, though it is sometimes expensive and can warp from changes in humidity. Choose a species of wood based on its appearance, weight, and price.
Plywood, fibreboard, and particleboard are all "engineered woods," meaning that they are made from pieces of wood glued together. Particleboard and fibreboard are made of chips or shavings, while plywood is thin sheets of wood layered together. Engineered woods do not warp from humidity alone, since the grain of each piece of wood is oriented in a different direction.
Veneer is a thin layer of wood that can be glued to an engineered wood, or to a less attractive solid wood base. Laminate, thermofoil, and melamine are all synthetic coatings that, like veneer, are used to surface engineered woods. Each material has its advantages and disadvantages, though veneer is a better indication of good quality than the other surfaces. Veneer is available in several wood types, and can be either stained or painted. Of course, doors can also be made of glass, with or without a wooden frame.
Choosing Cupboard Designs
There are two different aspects to cupboard design. First, the size and shape and placement of the cupboards determines how they will function. And second, the materials, details, and ornamentation of the cupboards determines how they look. Obviously, the two aspects are closely related, but considering them separately may be helpful.
Shape and Size
The size of the cupboards in a kitchen is dictated by two factors: the amount of stuff that needs to be stored, and the amount of available space. If replacing old cupboards, the simplest course is to measure the old cupboards and select new units with the same or similar measurements. The exact size of a cupboard on eBay may or may not be listed, but the seller's profile page will include a contact link for these types of questions.
If redesigning a kitchen or designing one for the first time, the homeowner will not be able to use original cupboards as a guide. Therefore, if the appliances are not yet in the kitchen, use tape to outline their shapes and sizes, both on the floor and against the walls. People who have difficulty visualising three-dimensional objects might want to use cardboard boxes to help estimate how much space cupboards of different sizes and shapes will occupy. The key is to determine the maximum size cupboard that fits within each area, while still leaving plenty of room for traffic and use. Graph paper is a useful tool, and can help buyers lay out a kitchen plan. Make sure that the grid on the paper forms square, not rectangular boxes, and draw separate "maps" for the floor and all four walls, to show both vertical and horizontal space.
Style
The look of kitchen cabinets depends on several factors: the colour and visual texture of the surface; the detailing of the doors and drawer fronts; whether doors and drawers close flush with each other or leave a frame of wood visible between them; decorative carvings or moulding; and the style of the handles and hinges.
Finding and Buying Cupboards on eBay
Buying through eBay is not difficult, but the sections below provide a few tips on how to search for and find the items you want. This should make eBay shopping even easier.
Finding Cupboards and Cupboard Building Materials on eBay
A simple search for "kitchen cupboards&" yields both ready-made cupboards and hardware and door and drawer fronts for do-it-yourself projects. Use the menu options to narrow your search and provide more relevant results. Be aware that the words "cupboard" and "cabinet" are nearly synonyms, so searching for either returns almost exactly the same results. Building materials such as plywood are also available, and can be found with a simple search.
Buying Cupboards on eBay with Confidence
For best results, it is a good idea to look up the seller's feedback score. This will be listed on his or her profile page, along with the details of the return policy. Sellers with a lot of positive feedback are more likely to provide a satisfactory transaction than are those who have a lot of negative feedback on their profiles. Even more important is to read through the listing very carefully before buying, so as not to buy the wrong thing by mistake. Always ask the seller to insure shipping on major purchases.
Conclusion
The quickest way to improve the look or the function of a kitchen is to change the cupboards. A change of paint or a new set of doors might be enough to give the room a whole new look, and such a "facelift" is certainly easier and less expensive than buying new cabinetry. But if new cupboards are necessary, they are easy to find on eBay. Alternatively, cupboards can be built at home; building materials for such a project are also available on eBay.
There is no wrong way to choose a kitchen cupboard, as long as it has enough storage space and fits properly within the kitchen. If you choose high quality materials, the cupboards will last a long time. Everything else is a matter of personal preference. Functional details, such as where the plates are going to go, can be worked out later, as long as there is enough room. The buyer can simply select a colour and style that make him or her smile.