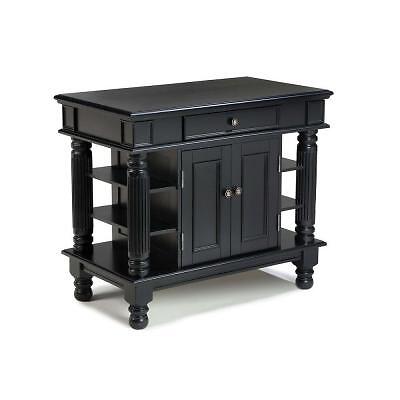 Adding a kitchen island to the room is a cost-effective way to increase the space available for work surfaces and storage or to add an extra kitchen sink or mobile breakfast table. Although most people associate kitchen islands with designer built-in kitchens, these handy islands can also be freestanding or mobile, and are available in a range of designs and materials to suit every buyer and kitchen. Before buying a kitchen island a number of factors should be taken into account.
The purpose of the island affects its design, as does the amount of space available for installation. Choose a kitchen island with the right features and level of mobility, and carefully select the best materials and style. The kitchen island chosen should complement the area in which it will be used while being as functional as possible. Kitchen islands are available from kitchen and interior design shops, kitchen installers, and online from sites like eBay.
Main Purpose of a Kitchen Island
Kitchen islands can fulfil a number of roles. They offer additional worktop space, extra shelving, cabinets, or drawers, convenient places to store pots and utensils, and can be used as bar or breakfast table. More advanced islands feature integrated sinks, cookers, or fridges. Identify the kitchen island's main purpose and make a list of extra features that would be handy, but are not essential.
Remember to factor installation costs into the final price for a built-in kitchen island. If the unit has features that require plumbing for water or gas, costs will increase as a plumber has install the unit. Freestanding or mobile units may require some assembly, but incur no installation costs.
Size and Space for a Kitchen Island
Kitchen islands are not meant only for large, open plan kitchens. They come in all shapes and sizes, and smaller units can be used to add much needed space in small kitchens. It is important to bear in mind that cabinets and drawers need space to open and that this includes the cabinets already installed in the kitchen. Shapes of kitchen islands include long, narrow designs, curves and rounded corners, and small square butcher's block units. If space is at a premium, consider buying a trolley-style kitchen island on wheels that can be moved around the kitchen. Also, choose a worktop that is low enough to allow the unit to be stored under an existing work surface and wheeled out to extend the workspace available.
The kitchen island should be positioned in such a way that the work triangle, that is the area between the cooker, sink, and fridge, is kept clear so as not to interfere with the access to appliances. Choose a well-lit area or a space where additional lighting can be installed, and remember to consider access to power outlets. A kitchen island is the perfect place to store small appliances and the ability to simply place an appliance on the worktop, plug it in, and use it makes the unit more convenient.
In addition, consider the height of the worktop required. A kitchen island that is lower than standard worktops doubles as a table, while an island with a worktop height identical to surrounding worktops allows people to work while standing. Higher kitchen islands can be used for bar style seating and can act as room dividers in open plan homes. Once the desired dimensions and perfect space for the kitchen island have been established, take rough measurements to use as a guide while shopping. Knowing the maximum size of the unit eliminates the possibility of buying an item that is impractical.
Features of a Kitchen Island
Kitchen islands come with drawers, shelves, and cabinets in a variety of combinations. If the unit will be used to store cutlery, ensure that it has adequate drawer space. If some items will be displayed in the storage area, consider opting for an island with some open shelves or choose cabinets with glass doors. Larger units with recessed cabinets allow enough space for the kitchen island to double as a seating area. Towel racks and bread boards add further functionality, and hooks along the edges can be used to hang pots. Additional features include integrated wine racks and knife holders. For more space, consider a kitchen island with an extendable worktop or a separate, storable butcher's block. Those with young children should keep in mind that some designs are not child-friendly. Glass doors, access to sharp utensils, and kitchen islands on wheels that can be pulled over should be avoided when there are young children in the house.
Portable Kitchen Islands
Portable kitchen islands can be moved to suit requirements and taken from the kitchen easily when there is a house move. Some are simply free-standing and can be picked up and moved, while others are on wheels to make relocating them easier. The latter option is especially popular in smaller kitchens and for people who prefer to sit down while preparing food.
Materials for Kitchen Islands
The material chosen for the kitchen island should complement the kitchen's current design and materials, or be identical to cabinets and worktops. Consider buying a unit made from a different material to accent the island and a specific part of the kitchen, or choose a unit in the same colour so that it can blend in with its surroundings. Materials available for worktops include stainless steel, tile, wood, laminate, and granite. Stainless steel is durable and hygienic, tile allows for decorative freedom and is easy to keep clean, and wood gives the kitchen a cosy feel. Laminate is available in a wide range of colours and is easy to match to existing cabinets, while granite is a firm favourite that never goes out of style. The worktop chosen should be a good fit for the unit's intended purpose. For example, choose a durable, heat-resistant material if the unit will be used next to the cooker, or choose something decorative if it will act as an extra eating surface.
Styles for Kitchen Islands
Kitchen islands come in a variety of styles, including traditional, retro, and contemporary. Square or rectangular wood and granite designs are more traditional, while colourful laminate or tiles create a retro or contemporary look. Consider solid wood for a farmhouse look, or a veneer that matches the cabinets already installed. The kitchen island chosen should complement its surroundings and the buyer's tastes and personality.
Buying a Kitchen Island on eBay
Finding the perfect kitchen island on eBay is easy. Simply type a phrase, for example "pine kitchen island" into the search bar, which is conveniently located on every page, to see the listings available. Choose the most appropriate category and decide which features you want in order to narrow your selection.
Before You Buy on eBay
Before you commit to buying a kitchen island on eBay, evaluate the item and the seller. Click on an individual listing to see details such as the item description and payment options. Click on the number next to the seller's username to see feedback information. eBay's seller feedback feature allows buyers to leave feedback for sellers about their products and customer service to let new buyers know what to expect from specific sellers. Look for local sellers when buying bulkier items. Some sellers allow you to collect the item that you have bought so that you can save on postage and packaging costs. If there are any questions, then contact the seller using the "Ask a question" feature.
Conclusion
A kitchen island offers the perfect solution to adding storage and workspace, fully utilising the space available in a kitchen. A number of factors should be taken into account when buying a kitchen island. The units vary from basic designs that are similar to small trolleys, to built-in islands with integrated sinks, cookers, or fridges. Remember to factor installation costs into the final price. The unit should fit into the kitchen without affecting the operation of appliances or existing cabinets, and the island's drawers and cabinets should open freely. Consider the kitchen island's ideal placement, taking into account factors such as existing lighting and power supplies.
The kitchen island chosen should have a worktop and storage space that suit the requirements of the buyer. Some have features such as knife holders and towel racks for added convenience. A portable kitchen island is perfect for a smaller space and a unit on wheels can be moved easily. Kitchen islands with extendable worktops provide even more workspace, while those with storable butcher's blocks have similar benefits.
Kitchen islands are available in a range of styles and materials, from traditional solid wood units to contemporary laminated chipboard. This makes it easy to find the right type of worktop and a look that matches or complements the rest of the kitchen. Those who are limited in their technical abilities should opt for units that do not require assembly. eBay sellers offer a wide selection of kitchen islands, and local sellers may allow buyers to collect the units to save on delivery costs.