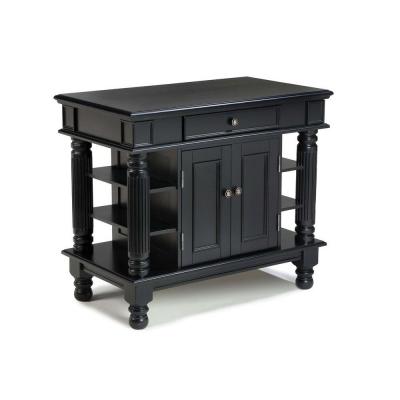 The kitchen island is an attractive, practical addition to the room. It opens up counter space, gives the home chef extra room to work in, and utilizes a part of the kitchen that would otherwise simply stand as an empty space. Though an island may not work well in every kitchen, they can be made to accommodate most areas and space requirements. There are islands designed to include a range or a sink, and those that serve as a dining space. They also typically feature drawers, cabinets, and shelves, and are generally designed to maximize the utilisation of space. When selected to function in harmony with the surrounding design, the kitchen island can serve as an attractive element of one's interior planning. Additionally, kitchen islands help to cultivate a sense of airiness within the kitchen area, and are an integral part of a modern, open-floor plan.
Kitchen Island Style
The kitchen island earned its name because it lacks any attachment to other kitchen counters; this is what differentiates it from just another block of cabinetry. It offers an ingenious opportunity for expanding small spaces. When choosing an island for one's kitchen it is important to select a style that will fit well in the room. This means selecting a style of wood or tile that matches, as well as a size and setup that fits one's needs. Islands come in a wide variety of style options including stainless steel, wood, tile, and formica-top.
Range Attachment
Some kitchen islands are used to store the range top, or top portion of the stove. They often include a cooling fan, suspended from the ceiling above the range, which provides proper ventilation. There may also be a small overhead cabinet or spice rack in the casing surrounding the fan. Typically the consumer or contractor who wants to make their island into a range will first select a plain island set, which usually features a solid wood or particle board top, that can be cut into for installation of the range. Island ranges are available in both gas and electric models. They feature many benefits, most notably the absence of backsplash, which leads to grimy, greasy buildup. Also the island range provides the cook with a full panoramic view of their surroundings. This makes it easy for the chef to mind their children or carry on a conversation with friends while cooking.
Island Sink Combination
Though it is less common than the range island, there are also some homeowners who choose to install a sink in their island. Having an island sink can come in handy, as it makes it possible for homeowners to wash dishes or clean off the night's veggies while still being able to communicate with guests or watch a show in another room. It may prevent the homeowner from feeling as shut in, as a result, and make dinner prep a more social event.
The downside to island sinks, also likely the reason for their rarity, is the fact that they require a more complicated plumbing setup than the standard kitchen sink. This is largely due to the fact that an island sink cannot be vented the same way as a regular kitchen sink.
Islands with Seats
In large kitchens, an extended island can often serve the dual purpose of providing additional seating space. Some extra-large islands are even made with a partition, with one side serving as a seating area for guests, while the other side provides extra counter room for prepping and serving. Stools and low profile chairs work well with island-style dining spaces and are also aesthetically pleasing. This is a good option for a large kitchen or one where the dining and kitchen are combined. During parties, the chairs can easily be removed to provide a long, buffet-style counter space for entertaining.
Mobile Cart Islands
Mobile cart islands are a good choice for many. Since they commonly feature wheels on the bottom that permit owners to roll them about the kitchen, rather than remaining permanently fixed, they can be altered to fit one's needs at any given time. They also do not require the level of carpentry-know-how required to install a permanent island. Of course, mobile cart islands cannot hold a sink or range and are typically not as customisable as the standard, permanently installed option. Though these carts typically feature wheels, they tend to feature wheel locks as well, making it possible to fix the location of the cart as needed. There are also small kitchen island models available that do not feature wheels, but can be moved about the kitchen, similar to a kitchen table.
Small-Space Islands
Kitchen islands are a good option for many different types of spaces, including moderately sized kitchens and small kitchens as well. Not only do they fit perfectly in spots that would otherwise go unused, they also provide great options for storage. Buyers interested in small kitchen islands should take as much advantage of drawers, shelves, and cabinet doors as possible. It is important to note that in the especially small kitchen, some islands can be overwhelming, and buyers should make sure that their new investment does not dominate the entire room.
Measuring for the Kitchen Island
Prior to purchasing a kitchen island it is important to consider the available space. In kitchens where there is no current island, the homeowner should measure the space to ensure there is still plenty of mobility following the installation of the island. Ideally there should be at least 91.44 centimeters of empty space surrounding the island on all sides, and more space is necessary if the island is meant to accommodate chairs. Therefore, when taking measurements, consumers should remember to take into account the width and length of the kitchen island. This information should always be obtained from the seller and reviewed prior to purchase. Kitchen islands come in a wide range of sizes, so it is best to precise.
Selecting Seating
Not every kitchen island accommodates seating. In some cases, adding seating to the kitchen island can create an overly-bulky appearance, detracting from some of the aesthetic benefits of the design concept. However, when used in balance, stools, as well as some low-profile chairs, work well with islands, as they provide additional space for entertaining or take the place of a dining table in small houses.
Complementary Design
It is important to select seating that properly complements the surrounding design scheme. While some kitchen islands are designed to look more traditional, others feature post-modern design schemes; the chairs should fit the design scheme regardless. The harmonious combination looks great in any kitchen and helps to tie in a central design theme.
Low Profile Chairs vs. High Profile Options
Seating for a kitchen island is often best achieved by the addition of a stool or chair that will fit smoothly beneath the edge of the counter. Without this element, the kitchen island ceases to be an island and starts to appear more like an oddly-placed kitchen table. High-profile chairs which feature a back stretching above the top of the counter rarely look well set against an island.
Careful Measurement
When ordering seating separate from the island, it is critical to take careful measurements. Make sure the chairs will fit in the desire space by measuring both the width of the seat, as well as the height. Homeowners should avoid shoving too many seats under an island, as guests need plenty of space to feel comfortable.
Finding a Kitchen Island on eBay
eBay is an excellent place to find the perfect kitchen island for your home. To begin the search, utilise the search bar atop each page on the site. From there, use keywords related to what you hope to find in the product listings. For example, you could search for "kitchen island"or if you want to find something more specific, try "marble kitchen island" or "blue kitchen island".
Get to Know the Seller
eBay shoppers can conveniently learn more about a eBay seller by making a quick visit to his or her feedback profile. From there it is possible to read reviews and ratings from previous clients, as well as obtain more information about contacting the seller with any questions or concerns.
Conclusion
Kitchen islands manage to provide the home chef with additional counter space in an area that would otherwise be empty. The addition of a kitchen island is both a common part of older remodels and a standard feature in most new homes where space is a premium.While some kitchen islands include a range-top or even a sink, many are simply an easy-to-install block of counter and storage space. They can be used to add function to a modern, open-air design style, and make a particularly attractive centerpiece when combined with complementary design elements. Stylish and functional bar stools make a great accompanying feature. When not in use, you can roll them to a corner of the room that is away from traffic, or store it in a pantry if space permits.