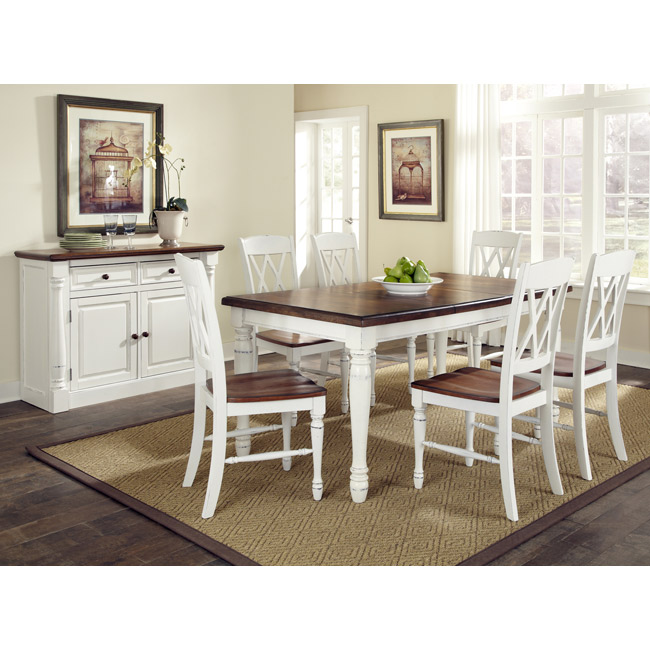 The kitchen is the centre of the home for many families. It is where people gather before they start their day, and it is where they return once the day is done to share a meal together. Therefore, the kitchen table and chairs must be able to accommodate everyone who lives in the house. Everyone from babies in high chairs to elderly grandparents and even a couple of friends who drop by unexpectedly, can enjoy a nice meal around a kitchen table.
When purchasing a kitchen table, the most noteworthy aspect is size, followed closely by style. Ideally, the kitchen table should fit either into the kitchen or breakfast nook without impeding traffic in the home. Its style should also match the rest of the kitchen décor so that everything fits together. Buyers can find kitchen tables at furniture stores, but for the greatest selection, no store can match the variety of eBay. This electronic website sells both new and used kitchen tables, sometimes for unbelievable prices.
Kitchen Table Sizes
Before buying a kitchen table it is necessary to measure the available space. After all, nobody wants to spend money on a table, only to bring it home and realise it will not fit in the breakfast nook. For homeowners who have a breakfast nook, measure from wall to wall to get the length and the width of the area. Subtract about 60 cm from each wall to account for chair space, since no one wants to sit squished between the table and the wall. The area that is left is the maximum size of the kitchen table. For homeowners with large families, sometimes the breakfast nook may too small, in which case they plan to use the table in the kitchen itself. This is perfectly acceptable as long as the table's positioning does not interfere with cooking.
Kitchen Tables and People
The table needs to be able to fit everyone who lives in the home. Ideally, it should have a little extra room in the event that a few guests stop by. However, if space is limited, homeowners can choose to buy a table with a leaf insert. Use the leaf when guests stop by, and remove it when they are gone. Also, if there is another table in the dining room that has plenty of room for guests, then there is little reason to purchase an oversized kitchen table. The chart below outlines the different table sizes according to their shape and the number of people they can sit.
| Shape | Size for 4 people (cm) | Size for 4-6 people (cm) | Size for 6-8 people (cm) |
| --- | --- | --- | --- |
| Round | 91 to 112 diameter | 112 to 137 diameter | 137 to 182 diameter |
| Oval | 91 to 122 diameter | 91 W x 142 L | 91 W x 182 L |
| Square | 91 to 122 Square | | |
| Rectangle | 91 W x 122 L | 91 W x 152 L | 91 W x 198 L |
Remember, the ultimate size of the table includes the chairs as well as the tabletop. If space is extremely limited and the area is rectangular, then try using a bench table. Benches are smaller than chairs and work best in narrow areas.
Table Styles
Kitchen tables come in many different styles, shapes and heights. Choose one that works in the kitchen. Sleek, modern kitchens can benefit from a tall, rectangular table that has little ornamentation. Country kitchens are usually intended for rustic tables with weathered finishes. Luxury kitchens with granite countertops, compliment elegant tables that would fit right at home in a dining room. Ultimately, homeowners need to choose a style that not only appeals to them, but blends in with their kitchen as well.
Table Shapes
Tables are either round, oval, square, or rectangular. Each one has its own pros and cons. Square tables place everyone at the same distance, but for smaller spaces their corners stick out. Rectangular tables are slightly more formal, and they can usually fit more people. However, they are also very large and once again their sharp corners do not perform well in smaller areas. Round tables actually have the most tablespace, but this can be both a benefit and a problem. It's great to have a small round table for family dinners, but the vast tabletop makes it difficult to use them for large get-togethers. Oval tables are a slightly more practical option for large families that require a table without sharp corners, that can fit into a narrow space.
Table Height
Height plays a big role when choosing the table as well. On average, a standard kitchen table can be anywhere from 71 cm to 76 cm off the floor. Counter top tables are higher, standing at least 91 cm high. When selecting the right height the buyer needs to account for the chairs. If the table and chairs are being purchased as a set, then the chairs typically fit under the table. If the table and chairs are bought separately, then make sure the chairs are low enough to fit under the table with room to spare. For homeowners with young children, a standard table works better than a counter top table, simply because children can climb into the chairs more easily. A small child trying to climb onto a high counter top chair, can quickly become an accident waiting to happen.
Kitchen Chairs
Some interior decorators swear that kitchen chairs need to match the table, while others feel it is perfectly acceptable to have kitchen chairs in a different style from the table. Again, homeowners need to evaluate their own sense of style when picking out chairs. Some chairs have armrests, which make them slightly safer for young children, but also prohibits the chair from sliding under the table. For a space-saving strategy, pick kitchen chairs without armrests. Another option is to choosing a kitchen chair with a padded seat, or a flat one. Remember that the padding adds extra elevation to the chair. A good strategy is to pick a chair with a flat bottom and then add a cushion later on if it becomes necessary.
New vs. Used Kitchen Tables
While most homeowners would always like to buy items brand new, for many families on a tight budget this is simply impossible. Besides, brand new does not always mean that it is the best out there. There are many exquisite antique tables and chairs, for example, that are many years old and therefore, cannot be found in any store. They can, however, be found on eBay.
Taking the Proper Precautions
Whether the customer is looking for a terrific bargain or they want a truly exceptional antique table, eBay is the place to start their search. Used tables are sometimes found in secondhand stores and thrift shops, but eBay has a far greater selection. When purchasing a used table online, always carefully examine its condition through pictures. If necessary, ask the seller for more pictures or additional information. Unless the buyer is a restoration professional, it is never a good idea to buy a table that is in poor condition.
Buying Kitchen Tables and Chairs on eBay
eBay is the place for saving money. Not only does its selection of used furniture far exceed anything found in most shops today, the prices simply cannot be beat. Even brand new kitchen tables and chairs can be found with deep discounts on eBay, due to the nature of its online marketplace. eBay combines auctions from all around the globe ensuring that customers get the widest selection possible. The benefit is passed along to the consumer in lower prices. Not many people are going to pay more for one table when there is another one just like it, being sold for less money. This is why smart shoppers have learned to check out eBay first, before visiting furniture and homeware stores, such as Laura Ashley.
Finding Kitchen Tables and Chairs on eBay
There are several ways to search for kitchen tables and chairs on eBay. Start by familiarising yourself with the search engine, which reads any terms you enter and returns auction results. If you want a set, which means you want both the table and chairs, then type "kitchen table set", or "kitchen table and chairs" into the search engine to display results. If you want more specific results, such as a set that fits six people, then type "6 piece kitchen table set" to adjust the results.
Additional limiters include table shape, and finish. By adding more terms, you can narrow down your auction results. Adding fewer terms, increases the number of the results, and this is an advantageous strategy if you simply want to browse through the available auctions. If you want to buy a table and chairs separately, then do a search for each item.
Conclusion
Buying a kitchen table and chairs is not as complicated as it sounds. The first step is to measure the available space to determine the maximum size of the table. Then the homeowner needs to decide how big he or she wants the table to be based on the number of people who eat there. While it is always a good idea to have extra room, sometimes this is simply not practical. Remember that a leaf insert can work well for temporary adjustments in small spaces. Finally, homeowners need to purchase a table based on their own sense of style, and how well it blends in with the rest of the objects in the kitchen. Style includes the shape of the table and its height. Shopping for a new or used table that meets all of these requirements on eBay, allows homeowners to view a wider selection, and save money at the same time.