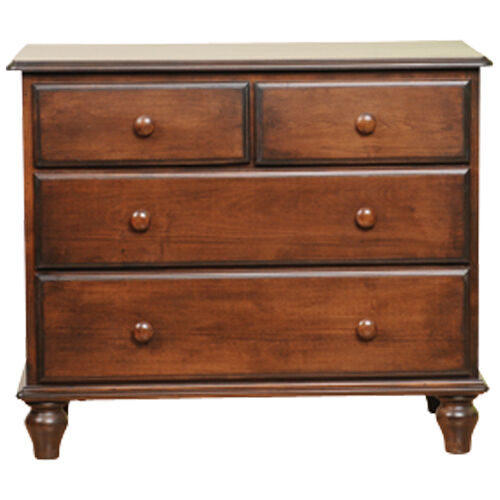 Revamping a bedroom or kitting out a newly-purchased home calls for careful consideration of the furniture that not only demarcates the space of a room, but fulfills the purpose of providing storage for clothes. All furniture sends out messages about its owner, indicating taste, interests, and even personality. A large chest of drawers makes a statement, whether in a bedroom or on a landing, whether heirloom-type pieces in rich mahogany, fanciful reproductions in striking metallic finishes, or modern minimalistic functional objects.
To acquire a large chest of drawers, the shopper can explore antique markets and flea markets, visit big out-of-town furniture outlets, small independent shops found in high streets, or major department stores that contain a bedroom furniture section. Arrangements for delivery can sometimes be disappointingly protracted. The other, very popular, solution to the chest of drawers dilemma is to shop online. The auction website, eBay, is fully geared up to this type of transaction and is a shop window for an extensive selection of large chests of drawers, both new and used. Installing a substantial chest of drawers in the home should be done only after following a few recommendations designed to make the buying process easier, including considerations about the function, location, and style of large chests of drawers.
Factors Involved When Choosing a Chest of Drawers
Not to be entered into lightly, the decision of which large chest of drawers best suits its intended destination is usually influenced by various issues, from the amount of available space to matters of personal taste.
Purpose of a Large Chest of Drawers
One basic consideration to factor into the decision about which style to purchase is the purpose of the chest. Is it to be a focal point in a carefully-assembled master bedroom or simply a serviceable occasional storage place for a little-used guest bedroom?
In the bedroom, its more natural home, the large chest of drawers again offers a surface for showing off photos in frames or for supporting a favourite lamp. If, however, the chest of drawers is intended to support a mirror, then it is imperative that the two complement one another, and that energy and thought are put into the task of pairing the chest of drawers with a mirror. For these situations, a dressing table mirror can sometimes fit the bill.
Location of a Large Chest of Drawers
Whether intended for a bedroom or some other space in the home, it is important to work out where a chest of drawers is going to fit, both in terms of the space available, and equally important, in relation to the shapes, sizes, and styles of the already-existing furniture pieces.
Type of Room
It is not unusual to find large chests of drawers on landings or even in large bathroom, not just in bedrooms. Sometimes, it is just what is needed to keep piles of clean towels, rather than let them be exposed to dust, and a big item of furniture in warm tones can help to reduce any clinical feel that a bathroom possesses. Those fortunate enough to have a dressing room may need additional drawers and be happy with a cheaper flat-pack chest of drawers, which fits neatly into a specific space.
In a bedroom, where it should look most at home, the large chest of drawers can dominate. It may, therefore, be an unsuitable choice for a cramped single bedroom, yet wholly in proportion in a spacious master bedroom.
Contextual Factors
A large chest of drawers should be a handsome addition to a room, but it only comes into its own if its surroundings are right. And except when it is part of a matching suite, with headboard, bedside table, and wardrobe, the chest of drawers looks best standing on its own with at least a little empty space on each side. Bedrooms with a chimney breast often look good with a chest of drawers in one of the alcoves.
Just as important is the relationship between the chest and other furniture. Very great differences in scale create a clash, so it is worth deciding, for instance, whether a petite dressing table should remain in the same room as the new large chest. A critical look at what is already there is needed.
Drawer Configuration
An element to consider is how the drawers are apportioned; most chests of drawers having either two half-sized top drawers, then a series of wide drawers beneath, or equal-sized wide drawers from top to bottom. In former eras, typically, those top half-sized drawers were for handkerchiefs and cravats or bow-ties. Sometimes as they descend, the drawers grow deeper, particularly in 19th century chests of drawers, the bottom one being reserved for bed linen, traditionally.
Shapes and Styles of Large Chests of Drawers
There is a limited range of distinct shapes and styles of chests of drawers. For the shopper, the major decisive factors concern the type of front, the height and width of the piece, and its vintage.
Standard Straight-Fronted Large Chests of Drawers
Standard-shaped, flat-fronted chests of drawers vary enormously and can be made from materials ranging from pine to faux leather and even crocodile skin. Some novelty versions are built to resemble steamer trunks, while others have mirrored sides and fronts.
Bow-Fronted Large Chests of Drawers
Bow-fronted chests of drawers, such as antique Louis XV chests of drawers can strike a more feminine note in a bedroom, with their ornate shape and often slimmer drawers. Others, such as Regency, Georgian, or Victorian bow-fronted pieces, can be very substantial. The wood is all important; in their customary mahogany, the deep and warm glow only sits well in a room where heavier furniture predominates, or in a room aiming for a really eclectic mix. A painted bow-fronted chest of drawers can work well if the look aimed for is, for example, shabby chic, nautical, or romantic. Playful effects can be achieved by finding a chest of drawers painted in zebra stripes or some other striking pattern, or by customising the chest once purchased.
Tall Boys
Where the other items in the room, and the available space, dictate that the chest of drawers needs to be taller than it is wide, then a tall boy can be the right choice. Offering a greater number of drawers, usually between five and nine, it can house items divided into more categories, although in smaller compartments. There are as many finishes available as are found with standard chests of drawers, and a tall boy can also have a rounded front, whether genuinely Art Deco or loosely based on that era.
Buying A Large Chest of Drawers on eBay
Online furniture purchasing is an easy, labour-saving way to go about equipping your home. In many cases, shops can offer only a limited range of chests of drawers, simply due to space constraints, and so the effort involved in travelling to them can sometimes be wasted. Equally, when what you seek is merely a chest of drawers and not a whole bedroom furniture set, disappointment can result. An ideal way to mull over all of the options, including used and new, which includes reproduction chests of drawers, is with the very widely used website, eBay.
All top-rated sellers post detailed photos which can be zoomed over, provide measurements, and describe the delivery methods available. In many cases, large furniture items are listed as "collection only". This can be a very economical method of receiving your wares, and since so many chests of drawers are listed, there is a high probability of finding one not far away. This discovery can be made all the more quickly with a search that includes your postcode, a handy facility for calculating the distance to the seller's premises.
When searching on eBay, your preferred material can be typed into the search field, as can other specifications. So, for example "pine four-drawer chest" yields a more specific set of results from which to create a shortlist, bearing in mind measurements and price. Do not forget to factor in any awkward twists and turns to be navigated to get the chest into its new home.
Conclusion
Whether aiming for an unusual or more conventional look, in search of sturdiness, sleek lines, or just basic, low-cost functionality, the shopper of a large chest of drawers faces a daunting array from which to choose. It pays to be a little fussy and to decide what to rule out. For example, someone who is keen to enjoy the grain, whorls, and knots found in real wood should avoid spending time looking at veneer, lacquered, or painted finishes. Similarly, if the quantity of drawers is a crucial point, or two half-size drawers an important requirement, then the shortlisting process is made easier.
Once the final chest of drawers has been settled upon, it is time to decide on optional elements that can help the new owner to customise their purchase. Adding feet or changing the existing ones alters the height, and can give the chest of drawers greater presence. Distressing a painted item is a good way to achieve the shabby chic look. A complete makeover can be a way of stamping the owner's personality onto the piece, particularly if purchased secondhand. Handles are the cheapest way to tart up or tone down a chest of drawers. Purchasing suitable wax for untreated wood could be the final masterstroke in enhancing the new acquisition. Finally comes the choice of which items to place on top, or whether to leave it bare to make an impressive unadorned statement.