The quest for finding the perfect leather jacket can be an exhausting one, mostly because there are so many styles to choose from. A leather bomber jacket is a safe bet when it comes to the design of a leather jacket. It often has rib knit at the cuffs, hem, and collar. By learning more about different types of bomber jackets, you can speed up the search for the perfect leather jacket.
What to Look For When Shopping for a Leather Bomber Jacket
The leather bomber jacket was a favourite garment for Air Force pilots because it provided protection from high winds and rain at high altitudes. Modern designs still offer plenty of protection against the elements, and bomber jackets have become a fashion staple. Most leather bomber jackets for men and women have a relaxed style and consist of soft and flexible leather, which allows for breathability, ease of movement, warmth, and comfort. Some of the styles come with fur collars, whereas others may feature a fur lining. When shopping for a bomber jacket for men or women, pay attention to the colour of the garment. Jackets are available in a variety of colours, with popular options including brown, red, beige, and black bomber jackets.
Leather Bomber Jacket Types and Finishes

Different styles of bomber jackets consist of different leather types. For bomber jackets, manufacturers often employ soft types of leather, such as sheep and lamb. These grains are suppler than cow leather, while being lightweight and durable at the same time. Sheep and lamb leather provide a good balance between style, comfort, and strength. For genuine leather bomber jackets, you should also choose the finish. The tanning process provides the finish, and the most popular choices include nappa, top grained leather, aniline, and suede. If you do not want to wear a jacket made from animal leather, have a look at the various types of bomber jackets made from faux leather.
Buying a Leather Bomber Jacket in the Correct Size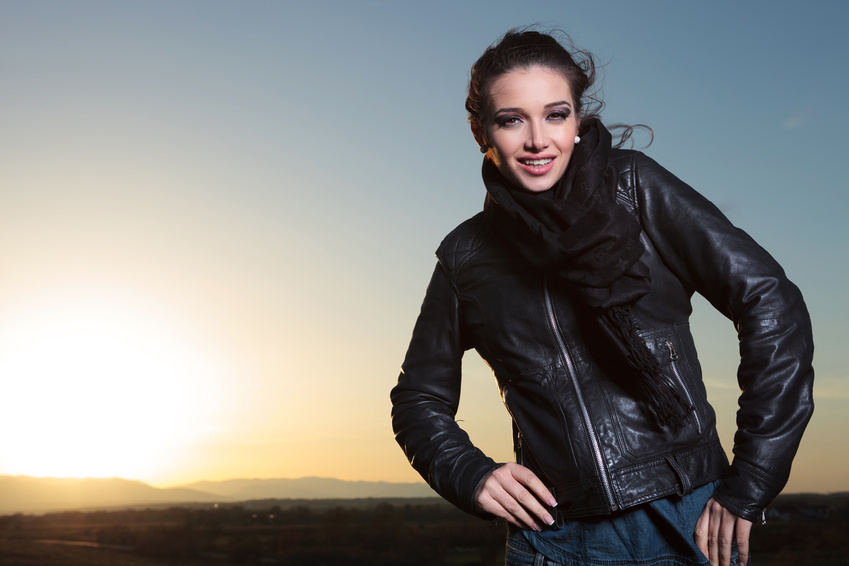 For a leather bomber jacket to look flattering, you need to purchase it in the correct size. Various styles come in various fits, so it is important to take accurate measures of your chest before making a purchase. The table below can help you find the right fit for a new bomber jacket.
| Size | Men's Size (inches) | Women's Size (inches) |
| --- | --- | --- |
| S | 36–38 | 33 |
| M | 38–40 | 35 |
| L | 40–42 | 37 |
| XL | 42–44 | 39 |
| XXL | 44–46 | 41 |
| XXXL | 46–48 | 43 |
When shopping for a bomber jacket, keep in mind that sizes may differ from one manufacturer to another. Consult the sizing information that the seller provides before making a purchase.