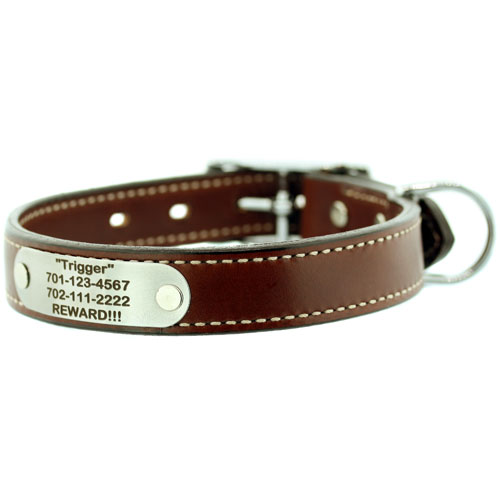 When buying a dog collar, quality is important. Particularly when the collar belongs to a powerful dog that enjoys frequent walks. A leather dog collar is an excellent choice because it is a quality material.
Leather is excellent for dog collars because it is soft and supple. This combination makes it suitable for both long and short hair dogs as well as hairless dogs. Not only that, but with the adequate care they are guaranteed to last the dog's lifetime.
eBay is a great auction site to shop for leather collars. Available in a range of different colours and patterns, there is something to suit every personality and taste. Not only that, eBay offers a safe and secure environment for shopping, which can be used in the comfort of your own home. This guide offers suggestions on how to buy a leather dog collar on eBay.
What to Look for When Buying a Leather Dog Collar
When looking to purchase a leather dog collar there are some important points to take into consideration, like:
Make sure the leather is sealed and waterproofed.
Check that the stitching is even and straight. Where possible it is best to get a leather collar that has been double stitched or has reinforced stitching.
Choose high quality grade leather.
Where possible, choose a collar that uses brass for the hardware (buckle and clasp). This is the strongest and safest finish for your dog. Other materials are available, and do offer a more affordable option, but it is worth noting that some humans and animals can be allergic to nickel or nickel plated products.
Look for collars made out of Latigo leather. This leather is made to stand the test of sweat, weather and the environment – perfect for a busy, active dog.
If buying a Used Dog Leather Collar,, look at the history of the collar. If the collar is a New Leather Dog Collar,, be sure to check if the manufacturer has tested it for strength. Knowing where the collar has come from and how well it was looked after will ensure you are able to care for it in the right way.
How to Pick the Right Width Collar for the Dog
This is very much a case of exercising common sense as well as personal choice; however, there are a few steps to follow to ensure the correct width is purchased. These include:
A heavier dog requires a wider collar for strength.
A smaller dog requires a smaller collar. Too big and they will be overwhelmed by the size.
How to Measure a Dog Collar
Whether you are buying a custom made or ready-made collar it is important to get the right fit. The collar size will correspond with the size of the dog's neck.
The easiest way to achieve this is to measure the dog's neck for size.
| | |
| --- | --- |
| Step 1 | Find a cloth tape measure |
| Step 2 | Measure around the dog's neck, just behind their ears. Make sure the tape measure is sitting high around the neck and it is a comfortable fit. Be sure not to pull too tight. |
| Step 3 | Pull the tape measure so that it goes 2 cm past the join. Record the measurement including the additionally added 2 cm. |
How to Look After a Puppy Leather Collar
Puppies grow at an extraordinarily quick rate. To begin with, an adult sized collar will be too big for a puppy, so it will be necessary for them to wear a smaller Puppy Leather Collar.. The way to look after this collar is the same as an adult collar. However, there are a few additional points to take into consideration:
It is advisable to check the collar every second week to make sure it is still the right size for the puppy.
You should be able to fit two fingers under the puppy's collar (and dog collar for that matter) at all times.
Be sure to choose a collar that is soft and not too overbearing for the dog. A bad experience for a puppy could mean troublesome behavior in later years.
How to Care For a Leather Collar
It is important to care for the collar. This will ensure it will last for many years. The best way to care for the collar is as follows:
The collar should be sealed and waterproofed. If this is not the case, do it yourself, using Leather Water Proofer substance.
When dirty, clean with a damp cloth.
Avoid getting it in contact with seawater or chlorine. Taking the collar off when the dog goes for a swim will prevent damaging it.
Leave it in a shaded area to dry when wet, and avoid contact with the direct sun when drying.
Rub Leather Conditioner into the collar occasionally.
Other Benefits of Leather Collars
Not only are leather collars a strong durable and resilient material, perfect for all sizes of dog, but they are also beautiful. Leather is a material that can be worked and designed with additional accessories to create the perfect looking collar to suit owner and dog. This includes intricate designs printed onto the collar and studded patterns. Leather can also be dyed different colours.
It is important to remember that a leather collar first and foremost has a specific function to perform and this should be the focus of the purchase rather than the aesthetic.
Second Hand Collars
Given the materials, it is possible to purchase leather collars second-hand. There are many different reasons why a collar might be put up for sale as used. This is an affordable way to purchase a top quality product, so it fits in with the desired budget. Most leather collars will last the duration of the dog's life time and still be in good condition suitable for further use.
How to Purchase a Leather Collar on eBay
eBay is an excellent choice for both new and used goods. The diverse range of goods available changes daily, which means that if the exact product isn't available one day, it will most likely appear before long. eBay is also a globally recognized and utilised website and is the leader in its field. It is a site that is known for excellent customer service, and also as a safe and secure way to sell and purchase products online.
There are a number of different ways to search for a product on the site. The most visible way is to use the large search bar function found on the top of each web page. Located next to this search bar function is the All Categories portal that allows the user to narrow the search down to the specific category that holds the item being sought. In this case is of leather dog collars, it is Pet Supplies.. These are great options for customers who have a general search term but not a specific product.
If a precise product is known, it is possible to complete an advanced search. This can be achieved by clicking on the advanced search button found to the right of the search bar. Additionally, eBay also offer 'check' boxes in the left hand panel of each page once a broad search has been undertaken. This will narrow down the results depending on the area of interest. The check boxes may be related to used/new, size or colour and filter the products appropriately.
When it comes time to purchasing a product, eBay's most common payment option is via PayPal.. PayPal are a third party company that transfers money between buyer and seller. It is a safe and secure way to make this transaction. The Buyer Protection Programme ensures that anyone using eBay is adequately protected at all times. It is also possible to pay using a credit or debit card.
Sellers have the option to sell their item in one of three ways: Bid,, Buy It Now or Best Offer..
In the case of leather dog collars, it is vital that the correct purchase is made, especially if the item is used. The way to do this is by cross-referencing the material uploaded by the seller. Most items will have a photo and description of the product available to look at. If these do not answer all your questions or match up, ask the seller additional questions before purchase.
Conclusion
Leather Dog Collars are a practical and aesthetically pleasing choice of collars for dogs. As a required piece of equipment needed to look after a dog, it is essential to get the choice right first time. Leather is a durable and supple material that can stand the test of time. By taking small and easy steps to look after the collar it is possible for it to last the entire lifetime of the dog.
With easy to use site like eBay that offers a great deal of choice, it is possible to find the right collar for you and your dog. Not only will you be happy, but also so will your dog.