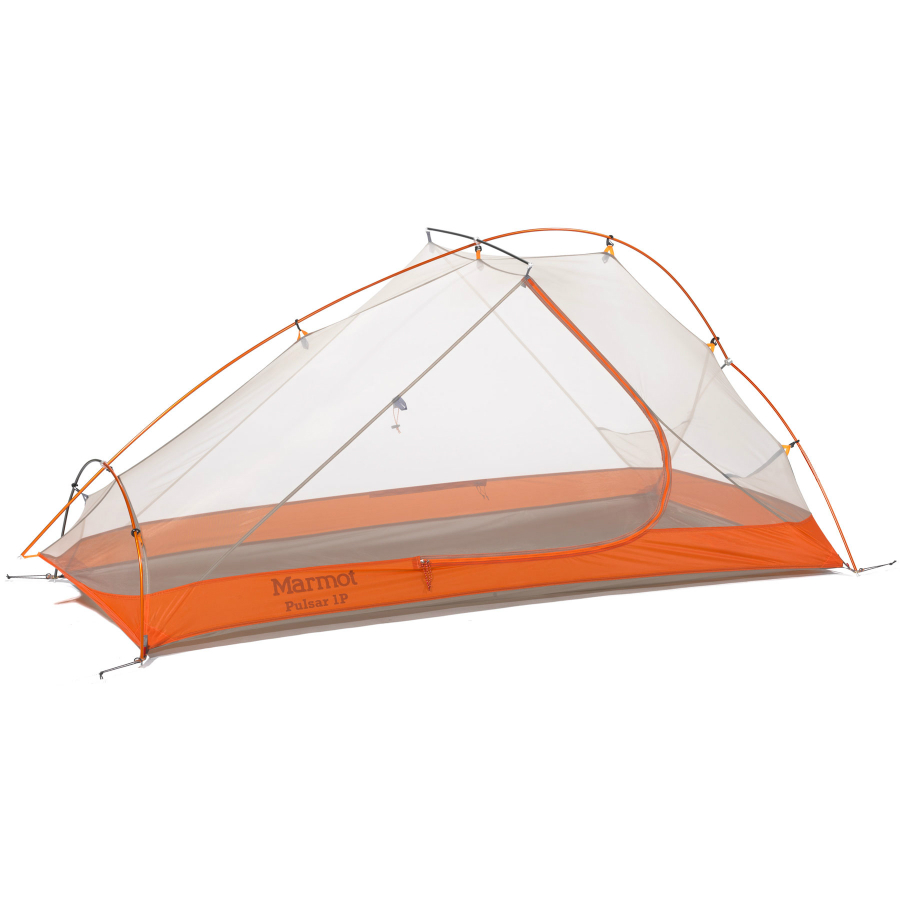 If you enjoy the outdoors and plan on hiking, cycling or canoeing for overnight trips, you are going to need a tent. By the time you factor in all the necessary gear and provisions, your pack could be approaching a daunting weight. The tent is the most important and, more often than not, the heaviest and bulkiest item in a camper's equipment.
For necessity or for convenience, a lightweight tent is a wise investment for any regular camper, and as the range available on eBay - both new and used - encompasses a variety of prices and optional features to suit your camping needs, a lightweight tent is a purchase worth looking into for anyone planning an overnight stay outdoors.
Choosing the Right Tent for the Weather
Camping with a lightweight tent is best suited to summer; lightweight tents are not usually made to withstand freezing conditions or extreme heat. A good lightweight tent will keep out the rain and wind and will reflect back your own body heat, but may not provide adequate protection from harsher conditions. If venturing into extreme weather, it is necessary to choose a tent designed to cater to the elements you expect to encounter, which may mean added weight and bulk.
Choosing the Size of Your Lightweight Tent
Single Berth Lightweight Tents
Ideal for solo bikers, cyclists, backpackers and trekkers, there are many single-man tents for sale on eBay, both new and used. The typical features of theses tents are:
Lightweight – approximately 1.5kg.
Waterproof polyester.
Taped seams for extra durability.
inner tent that is pitched first.
Designed to facilitate a quick and easy pitching process.
Dimensions
| Dimensions | Inner (cm) | Outer (cm) |
| --- | --- | --- |
| Height | 35 - 65 | 40 - 70 |
| Length | 250 approx | 270 approx |
| Width | 70 - 90 | 75 - 170 |
| | |
| --- | --- |
| Carry Bag | 13x36cm |
| Poles | Fibreglass: 6.9mm diameter / 30cm length |
Two Berth Lightweight Tent
A good choice of lightweight tent for two people may well offer the following specifications:
A cylindrical shape.
Easy to pitch
Usually manufactured in natural green colours.
An inner lining of 100cms.
Approximately 3.6kgs weight.
Made of fire retardant materials.
Dimensions
| Dimensions | Inner (cm) | Outer (cm) |
| --- | --- | --- |
| Height | 100 | 110 |
| Length | 315cm | 335 |
| Width | 130 | 145 |
| | |
| --- | --- |
| Carry Bag | 52x15cm |
| Poles | Fibreglass: 6.9mm diameter/30cm length |
Choosing the Style of Your Lightweight Tent
There are three typical styles to choose from when selecting a lightweight tent: tunnel, dome or pop-up. Geodesic tents are another common tent design, but this style is usually reserved for larger and more permanent camp set-ups.
Tunnel Tent
The simplicity of this design makes it a popular choice for campers.
Long and thin in shape.
Supported at the centre by two or more tent poles.
Less stable than other designs on the market, and usually favoured by solo campers.
Dome Tent
A recent design on the market.
As the name implies, these tents are dome shaped. They are supported by two flexible poles, with an optional third pole to create a porch out the front of the tent.
Affordable and simple to pitch and dismantle.
Pop Up Tent
A new and innovative design, when unfolded their supports will be released to construct themselves.
Popular for use at music festivals.
Often feature a double skin.
Available for larger camping parties, many made in two- and four-man varieties, and some accommodating up to six campers.
A Lightweight Tent for Festivals
It is a common pursuit – even a rite of passage – for UK citizens to attend outdoor festival concerts, whether at Reading or Glastonbury or simply enjoying the myriad of open air concerts and festivals held throughout summer.
There are festival tents available on eBay to cater for this. A festival tent is not made to withstand extreme weather conditions, but is light, easy to transport, affordable and simple to pitch. They also differ from the neutral shades of tents made to blend into the natural surround, in that they can be found in colours that stand out to help you identify your tent when pitched with many others.
Festival tents that are designed to accommodate two people may well have a single skin without a lining so that the tent only weighs an incredibly light 1.4kgs. Festival tents are easy to put up and easy to pack away in waterproof carry bags.
A festival tent is equally suitable for anyone who wishes to travel very light; fans of mountain biking often elect to travel with a single skin lightweight tent, as do hikers and backpackers.
Summer is the time of year to get out and enjoy the natural world and a tent that is easy to put up, sleeps two and comes with light but strong collapsible poles, guy lines and metal tent pegs is the ideal travelling companion.
What to Look for in a Lightweight Tent
The features to prioritise when making a purchase of a tent will depend largely on the activity it is intended for. Keeping this in mind, the key concerns to focus on should be:
Accommodation; whether single berth, double berth or more.
Whether the tent has a single or double skin.
The size of the floor area and its durability.
Strength and length of the support poles.
The overall dimensions of the exterior tent.
The size of and weight of the tent when packed away.
Space within Your Lightweight Tent
If a 1-2 berth tent is not big enough for your needs, there are lightweight tents that sleep three or more. This is also an option for campers desiring a more spacious home for their camping venture.
Larger tents suit hikers and climbers who wish to carry only one tent between them. The design of a typical three-person lightweight tent, weighing about 3,7kg, includes:
Two entrances, headroom space and storm lines for extra stability.
Mesh covered window vents.
The option to erect inner and outer skins both separately or both together – a choice often dependent on weather conditions.
The addition of an elasticised cord to enable the outer skin of the tent to be tightened from inside the tent especially during rainstorms or particularly windy conditions. This feature could make larger tents the best choice for campers expecting to encounter inclement weather.
Inbuilt window vents and weather protection hoods, adjustable from within the tent interior.
What to Look For in a Large Lightweight Tent
Before browsing the collection of lightweight tents on eBay, consider what your tent will need for your intended use.
· Will the tent deliver the protection you need from the elements? Is rain, snow, extreme heat, cold or wind expected?
· How easy is your choice of tent to put up? Often, tents have to be erected in less than ideal circumstances and so the easier your tent is to put up, peg to the ground and provide shelter, the better.
· What is the air like within your tent? The quality of the microclimate within your tent can deteriorate after several hours. Ventilation, even in cold weather, is important and so vents to let out hot air should be covered by a water resistant mesh to keep out the wet.
Searching for Lightweight Tents on eBay
To find a lightweight tent on eBay, enter the type of tent you would like to buy in eBay's search box and you will be presented with a choice of tents and sellers. For information on how best to find products on eBay visit Tips for better searching.
If you cannot locate the exact type of lightweight tent you want, you can save your search criteria on My eBay and eBay will let you know via email when your choice of tent is posted for sale on eBay.
If this is your first time buying via eBay, take a look through the guidelines for buying on eBay including how to buy with confidence in the Safety Centre.
eBay lists product descriptions, prices and delivery costs, clearly, together with customer feedback. If you have any questions, you will get most answers when you visit Buying Basics.
Bidding for goods on eBay is fun but if you are unsure about the process, you will find all you need to make a confident bid at All about bidding.
For information on why it is safe to buy online via eBay, visit eBay Buyer Protection. Also, visit Manage your buying activity for tips on how best to keep track of your bids and if you do have any issues, visit resolving buying problems where eBay offers information that will help you.
Conclusion
Take time when choosing your lightweight tent and have fun looking through the many choices of tent you will find on eBay, remembering to consider:
The kind of uses to which the tent will be put,
The number of people expected to share it; and
How much weight you are prepared to carry.
Technology advancements in manufacturing and design have enabled the use of incredibly lightweight building materials in tents. Fortunately, the days of canvas are long gone and lightweight tents, manufactured in strong polyester, are very much the norm. For any occasion where overnight shelter from the elements in required, whether trekking, biking or festival-going, a lightweight tent is the ideal solution to cover both function and convenience.