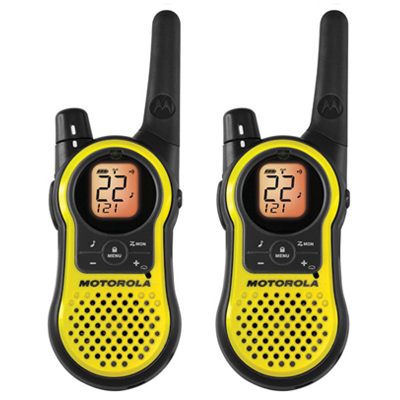 The first walkie talkies were developed in the years leading up to World War II, and were rather large, heavy devices mounted on backpacks. They were used extensively by armed forces during the war. After the war, walkie talkies made their way to public safety services. Today, they also used for personal purposes, and by businesses at jobsites. Walkie talkies are also known as handheld transceivers. Unlike mobile phones, walkie talkies use a half-duplex channel, meaning that only one radio transmits at a time, even though any number can listen. Most walkie talkies still use the push-to-talk (PTT) switch that was a feature of the first walkie talkies.
Walkie talkies allow users to communicate in areas where other means of communication may be more expensive or unreliable. They do not depend on mobile phone towers to carry signals, and are free to use. Users with charged, spare batteries can also use walkie talkies in areas where there is no electricity. Buyers shopping for long range walkie talkies should understand the differences between the two most common types, the business and personal radios. They should also consider factors like number of channels and whether to buy UHF or VHF frequency walkie talkies. Finally, business walkie talkie users should learn how to apply for a licence to operate on channels reserved for such use in the UK.
Two Primary Types of Walkie Talkies
There are two primary types of walkie talkies: those designed for personal, recreational use, and those designed for use by businesses. In general, personal walkie talkies are low power, low range devices that do not require licences to operate, while business models are higher power, long-range devices that need to be licensed for legal operation within the UK.
Licence-free Recreational Walkie Talkies
Licence-free walkie talkies are short-range devices that can be sold and used without a licence. Short-range walkie talkies designed for use in the Unites States (FRS and GMRS radios) should not be used in the UK or EU, and vice versa. FRS radios interfere with public safety communications in the UK and the UK and EU standard (PMR446) channels interfere with the United States UHF amateur allocation. "PMR446" is a European Union standard for radios that specifies eight channels and a maximum range of around three km in open country. PMR446 walkie talkies are limited to a maximum transmission power of 500mW.
Business Walkie Talkies
Walkie talkies designed for professional use are very different from recreational models. Business walkie talkies use more powerful (up to five watts) and are generally much more rugged than recreational walkie-talkies. Because of their greater power, business walkie talkies can operate within longer ranges.
Long-range business walkie talkies need to be licensed. This ensures that different organizations can effectively communicate using radio frequencies that do not interfere with each other. The licensing rule also makes sure that important users of walkie talkies, such as the police and other emergency services, can communicate without radio interference, since specific frequencies are reserved for their use. More details on licensing are discussed later in this guide.
Factors to Consider When Purchasing Long-Range Business Walkie Talkies
Business walkie talkies are available with a host of different options. The sections below discuss several of the common options available. Buyers can pick and choose those that are best meet their needs.
UHF or VHF Frequencies
While recreational walkie talkies, or PMR446 devices, offer eight standard UHF (Ultra High Frequency) frequencies, long-range business walkie talkies are available with either UHF or VHF (Very High Frequency) radios. UHF walkie talkies provide the best coverage indoors, in steel and concrete structures, in large industrial buildings, or in buildings with many floors. VHF works well for outdoor use ("line of sight") and inside wooden structures. VHF walkie talkies can be much larger than UHF models because they need larger antennas and battery packs.
| Band | Frequency Range (in MHz) | Permitted Frequencies for Business Radios in the UK (in MHz) |
| --- | --- | --- |
| UHF | 300 - 3000 | 400 - 470 |
| VHF | 30 - 300 | 136 - 174 |
Buyers should ensure that the walkie talkies they purchase operate within the permitted frequency range for the UK.
Number of Channels
Depending on the model, business long-range walkie talkies may be available with a number of user-selectable frequencies, or the frequency may need to be programmed into the device by the dealer. In either case, business models are available exclusively in the frequency range reserved for business radio communication. Some models also allow users to name channels. This is useful in situations where, for example, different teams are on different frequencies.
Information Display
Most long-range walkie talkies come with LCD displays. These displays offer quick access to useful information, including battery levels, and frequency or channel in use. Some models are available with backlit displays for easy viewing in the dark.
Ruggedness Testing
Since business long-range walkie talkies are made for professional use in harsh conditions, most of them have undergone some sort of ruggedness testing. Buyers should check for drop tests, rain and splash resistance, and dust resistance.
Privacy or Squelch Codes
Also known as interference eliminator codes, privacy or squelch codes allow different sets of users to use the same channel without experiencing interference from each other. Business walkie talkies within the same group of users are set to the same channel and privacy code. Other groups using the same channel with a different squelch code is not audible, and cannot receive transmissions from the first group. Privacy codes are user changeable.
Intrinsically Safe Walkie Talkies
An intrinsically safe walkie talkie is designed so that no sparks are exposed to the environment when operating knobs or switches. This is very important if the device is to be used in industrial settings where flammable vapours are present.
Other Factors to Consider
Apart from the options mentioned above, buyers should also consider the following factors before purchasing a particular model.
Battery life
Rechargeable battery packs
Included battery charger
Battery meter and indicator
Loudness levels for use in noisy environments
DTMF keypads to remotely operate some devices including repeaters
Vox operation for hands free use
Keypad lock
Available accessories
Included accessories
If buyers must purchasing additional radios to expand an existing set, business walkie talkies from different manufacturers can communicate with each other, as long as they are capable of using the same channel and privacy code.
Obtaining a Licence for a Long-Range Walkie Talkie
Licences for long-range business walkie talkies can be obtained from Ofcom, the independent regulator and competition authority for the UK communications industries :
Spectrum Licensing
Riverside House
2a Southwark Bridge Road
London
SE1 9HA
Some retailers provide a service of submitting applications to Ofcom on behalf of customers when licensed radios are purchased. Buyers then receive a request for payment from Ofcom for the appropriate fee.
Long-Range Walkie Talkie Licences Available in the UK
There are five different types of licences available for the use of long-range and business walkie talkies in the UK. Buyers should choose the licence that best suits their needs.
1. Simple UK Light
The Simple UK Light licence is valid for five years, and allows the use of handheld or mobile radio equipment anywhere in the UK. Everyone who has this license can access the same set of 15 frequencies and must coordinate among themselves to avoid interference if they are operating in the same area. Base stations are not permitted for use with this licence.
2. Simple Site Light
Ideal for use within an area of one kilometre or less, the Simple Site Light licence permits the use of a base station and mobile stations. As with the Simple UK Light licence, licensees have access to the same range of frequencies and must coordinate to avoid interference if operating in the same region. This licence is valid for five years.
3. Suppliers Light
A specialist licence for radio suppliers, the Suppliers Light licence allows users to service and repair business radio equipment, hire out licenced business radios for up to one year, allocate business radio equipment to customers awaiting licences for up to three months, and demonstrate radio equipment to customers for up to eight days. This licence is also valid for five years.
4. Technically Assigned
A Technically Assigned licence authorises the use of a large variety of business radio equipment. A wide range of frequencies across all Business Radio bands are available for licensees to choose from. Licensees can also choose the size of the coverage area ranging from very small (use within a building) to very large (use within a county).
5. Area Defined
A licensee can opt for an Area Defined licence for exclusive use of a certain frequency within a defined area. Areas can range from 50 sq km to the whole of the UK.
Finding Long-Range Walkie Talkies on eBay
Buyers in search of walkie talkies online find that eBay offers a complete selection of long-range business walkie talkies and a convenient buying experience. Buyers can begin searching on eBay by entering a keyword phrase into the search bar located on every eBay page. Buyers looking for a particular feature can enter specific keywords into the search field. For example, entering "UHF long range walkie talkie" displays a list of all UHF long-range walkie talkies available on eBay. Accessories, including replacement chargers, headsets, microphones, and replacement batteries, are also available on eBay. In some cases, buyers can purchase walkie talkies bundled with common accessories.
Buyers planning to use walkie talkies in the UK are advised to ensure that the long-range walkie talkies they are considering match approved UK frequency ranges before committing to a purchase. It is also recommended that buyers find out about a seller's return and exchange policy before ordering.
Conclusion
Walkie talkies use radio transmissions to send and receive voice communications on a certain frequency. Used by armed forces from the days of World War II, walkie talkies are now used for business communications, public safety services, and personal use. The power used by the radio in a walkie talkie dictates the range of the device. Licence-free walkie talkies use a maximum of 0.5 W for transmission, and have a maximum range of three km in open air. Longer range walkie talkies use more power and require a licence for use within the UK. It is important to buy long range walkie talkies that operate within approved UK frequencies.
Walkie talkies made for use in other countries (e.g. the United States) use frequencies that are not available for use within the UK. Buyers can easily apply for a business licence online. Walkie talkies are available with several options and accessories. Buyers looking for walkie talkies online find that eBay offers a good selection of walkie talkies and accessories for use in the UK.