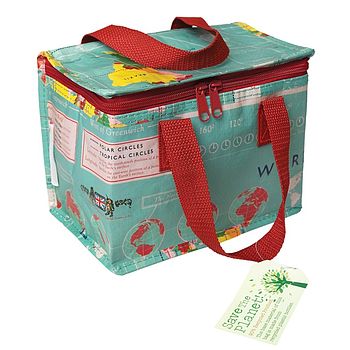 Millions of people opt to take packed lunches with them when they head off for school or work, preferring healthy, home-prepared lunches to dreary canteen fare or calorie-laden vending machine snacks. Packed lunches are also a good – not to mention cost effective – option for children who are picky eaters, and for those who have food allergies and sensitivities.
About Lunch Bags and Packed Lunches
The earliest packed lunches consisted of foods that came in their own 'packages', such as walnuts. Using the same idea to great effect, the wives of Cornish tin miners invented the Cornish pasty by wrapping meat and other ingredients and sealing them in a sturdy pastry case. For people in England at the other end of the social scale, meals were also wrapped in handkerchiefs, or carried in a carved wooden box by the wealthy. The first actual lunch bags were tobacco tins and biscuit tins, which were superseded by lithographed metal boxes. The first licensed character metal lunch bag was produced in 1935 and featured Mickey Mouse. It was an oval tin with a pullout tray and a handle. Industrial workers have always needed to keep their packed lunches protected against getting crushed, but for people who can put their packed lunch on the car seat and then pop it into a refrigerator at work, there is little need to resort to those heavy duty steel boxes and pails that nineteenth century labourers used to protect their food from the grime of the industrial workplace. In the same way, early lunch pails for children were designed to resemble picnic baskets and decorated with delicate images. Today, the relative comforts of the modern workplace mean that lunch bags will provide a more than adequate service.
Types of Lunch Bag
Huge numbers of people carry their lunches in lunch bags these days, so it will surprise no one to find that they are being manufactured on a mass scale in all sizes, colours, and styles. Finding the best lunch bag is often a matter of personal taste, but it is helpful to be aware of the different options available.
Plastic Lunch Bags
First used for the handle of the lunch bag, but later developed to encompass the whole bag; the first moulded plastic version was produced in the 1960s. Since then, plastic lunch bags have become available in a veritable kaleidoscope of bright and vivid colours, and many feature artistic designs on their surfaces. These range from the contemporary to the stylishly retro. Plastic lunch bags are hygienic and attractive, and many are also cool bags. These cool bags have thermal insulation, which means that chilled contents will remain safely below room temperatures for hours at a time. This can be particularly beneficial if the food is to travel in a warm car on a sunny day or if dairy products, such as cheese, are to be kept fresh. Typically, children's lunch bags are made from plastic and often printed with a colourful image. Images from films and television shows are popular and cartoon characters abound. Aladdin Industries created the first lunch bag for children based on a television show - Hopalong Cassidy - back in 1950. It was marketed as the 'Hoppy' and sold 600,000 units in its first year. Another early lunch bag featured Roy Rogers in full colour lithography. Today, lunch bags sporting children's favourites are always very popular, as are lunch bags decorated with generic images. Alternatively, plain plastic lunch boxes have a retro feel, or they can be customised with stickers, photographs or paint. A little caution is advisable when considering plastic lunch bags, however. It is generally best to establish with the seller that the item is not made from vinyl PLC, which contains traces of lead, and that the plastic used does not contain leach chemicals such as phthalates. Modern food safety requirements will usually mean that plastic lunch bags are safe for food transportation, however.
Fabric Lunch Bags
Fabric lunch bags range from simple canvas 'shopping bag' styles to more advanced thermally insulated varieties that are capable of keeping their contents chilled over extended periods. These are rather good for those who like snacks such as yoghurts for pudding; there is nothing especially palatable about trying to down a warm yoghurt, especially if the heat has started to make it into a potential health hazard. Not only that, but fabric lunch bags are completely free from any danger of potentially hazardous leach chemicals and are also light to carry.
Metal Lunch Bags
As well as standard plastic lunch bags, there are also variants made from tougher, more durable materials such as aluminium, metal, and stainless steel, but the vast majority of these products are either rigid boxes - in the case of metal - or adjuncts to lunch bags such as food flasks and drinking bottles. The latter typically feature as part of a lunch bag package and usually share the same artwork. Metal lunch bags are more commonly used by adults than children due to their greater need for durability. Despite the smaller production costs of plastic lunch bags, there is still a healthy market for their metal cousins. Such bags prove popular in heavy industrial settings, but are also favoured by walkers and people involved in other outdoor pursuits.
Lunch Bag Bottles
The term 'lunch bag' often encompasses both the bag and the drinking bottle. The original steel vacuum bottle with a Bakelite (early form of plastic) cup, cork or rubber stopper, and glass liner evolved during the 1960s and 1970s to become an all-plastic bottle, with insulated foam replacing the vacuum. The all-plastic bottles are lightweight and hardwearing, which makes them suitable for taking on picnics and other family outings. Their rugged design even means they can survive on trips where a great deal of travelling or outdoor activity is planned. Another option is the food flask, which can be added to the lunch bag and used in winter for stews and soups or in summer for fruit salads or chilled soups such as gazpacho.
Find Lunch Bags On eBay
For a focused search, click the All Categories tab at the side of the search box and select Home Furniture & DIY from the dropdown menu before clicking Search. On the left-hand side of the new page is a vertical column titled Categories. Simply select Cookware, Dining & Bar from this list and, on the next page, select Food & Kitchen Storage from the Categories list. Then look for Lunchboxes & Bags and click. From here, the search can be fine-tuned. Enter 'lunch bags' in the search box and use the new column on the left to select product criteria, such as Material, Style, Condition, Price, Brand, Colour, and so on. Ticking the small boxes that appear under these headings will lead to a more targeted product search. If simply interested in browsing through the offerings under broad categories such as 'lunch bags for girls' or 'lunch bags for boys', the process is simple – just enter these terms in the search box, click, and start exploring the listings. If having something a little more specific in mind, it can be a lot more efficient to use eBay's search tools. It is also possible to choose to buy items from the UK only, from the EU or Worldwide, and to opt for purchases with private sellers, businesses or top-rated vendors.
Conclusion
Thanks to the advanced search technology, looking for lunch bags could not be easier on eBay. Automated bidding ensures that there will be no risk of 'going wild' and exceeding reasonable price limits in the heat of the moment. Taking the time to research individual items and sellers will result in the knowledge that the best lunch bag has been purchased at the best possible price. Any queries about the items can be sent to the seller by using the Ask a Question link found at the end of the product description, and it is possible to read feedback from other purchasers by clicking on the number in parentheses by the seller's name. Top-rated sellers can be identified by the gold rosette icon, which signifies that confidence that dealing with a tried and tested seller with a good reputation can be had.