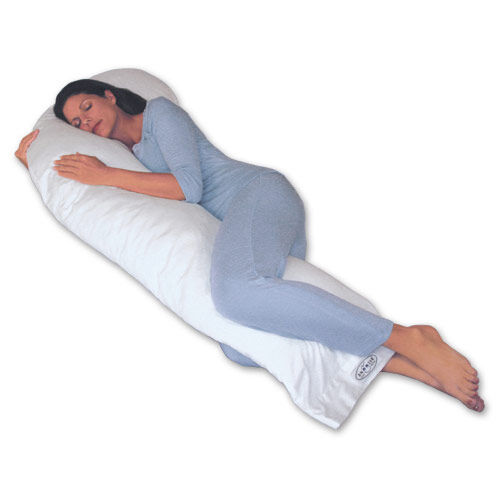 A maternity pillow is essentially a specially designed pillow used to relieve stress on the body during pregnancy. Maternity pillows come in a variety of sizes, from small wedge types to full body size pillows. Finding a comfortable position to sleep in can be a challenge for a pregnant woman and these pillows offer back, hip, and stomach support to make it easier to get a full night's sleep. Most are easy to maintain and still can be used once the baby is born.
A number of features and characteristics should be considered when choosing a maternity pillow. All women's needs and body types are different and one woman may have aches and stress where another does not. The woman and her doctor should be consulted to find out which parts of the body need the most support. This information should be used to choose the appropriate maternity pillow type. Additional features such as the filling and cover types should be considered and research done about the best brands. Maternity pillows are available from department and baby stores, and online sources such as eBay.
Types of Maternity Pillow
Maternity pillows come in all shapes and sizes. The most basic form is a simple rectangular pillow that can be used to add support where needed. Before buying a maternity pillow ask the woman where her body aches when she tries to sleep. Get advice from her doctor about the best pillow shape or type for her specific needs and consider buying more than one pillow in order to find the right fit.
Detachable Maternity Pillows
Detachable maternity pillows are made up of two or more parts that are held together with velcro fasteners. The pillows can be adapted as needed to provide support to different parts of the body.
Shaped Maternity Pillows
Shaped maternity pillows include V, U, J, and C-shaped pillows. J-shaped pillows offer the least support and some do not consider them to be maternity pillows. A C-shaped pillow supports the head, shoulders, and legs. It can be used to support the back or the stomach. Many women prefer V or U-shaped pillows as these support the back and stomach at the same time, allowing women to sleep on their sides or backs without getting heartburn.
Wedge Maternity Pillows
Wedge maternity pillows are small triangular pillows designed to support specific parts of the body, usually the back or stomach. The pillow can be placed under the stomach while the woman is lying on either side to offer support for her bump. Alternatively wedge pillows can be placed under the woman's back to alleviate some of the pressure experienced as a result of the pregnancy.
Body Maternity Pillows
Body maternity pillows offer the most complete support from the head to the feet, particularly to the stomach, back, and legs. These pillows are up to six feet long. Women can lie on them, against them, or can wrap part of the pillows around aching areas. These pillows are considered very comfortable and, as with normal pillows, come with varying levels of firmness. The firmness chosen depends on the woman's preferences.
Wrap or Flexible Maternity Pillows
A wrap maternity pillow can be wrapped around the woman and changed according to her needs. Similarly, flexible maternity pillows can be twisted to create a shape that is comfortable for the woman, providing the right amount of support where it is needed. The versatility and adjustability of these pillows make them a popular choice.
Materials for Maternity Pillows
The maternity pillow chosen should be made of the right materials for the woman, both inside and out. These pillows come with a range of fillings, outers, and pillowcases.
Hypoallergenic Maternity Pillow Fillings
Although down maternity pillows are scarce, make a point of checking whether the pillow's filling is hypoallergenic. The changes that a woman goes through during pregnancy could leave her sensitive to fibres and materials that she was not sensitive to before the pregnancy.
Memory Foam Maternity Pillows
Memory foam takes the shape of the warm body pressed against it within minutes. This synthetic material was developed by NASA in the 1960 and offers excellent support. After use this type of pillow regains its original shape. As it shapes itself according to the woman's body, memory foam can be considered a individual tailor-made option.
Organic Fillings for Maternity Pillows
Organic maternity pillows are filled with organically grown wheat, cotton, or other natural materials. These pillows have a unique smell and some women find the rustling of the filling comforting when they shift around. Organic maternity pillows are perfect for women who want to avoid contact with man-made materials.
Maternity Pillow Covers
Maternity pillow covers should be removable for easy cleaning. Choose a soft fabric such as brushed cotton or flannel for the most comfortable covering. The cover should be absorbent and should breathe well to improve air circulation throughout the pillow's filling.
Researching Maternity Pillows
Research popular maternity pillow brands before choosing one. Customer and expert reviews can be used to gain an understanding of the advantages and disadvantages of various types of maternity pillows. Reading what other pregnant women have found when using specific pillow brands or designs may highlight design flaws that were not immediately apparent. In addition, this is an easy way to find out which pillows are considered the most comfortable by the majority of women.
Factors to Consider When Buying a Maternity Pillow
Although choosing the right type of maternity pillow materials is crucial, a few additional factors should be considered before buying. Versatility, breathability, and ease of cleaning play important roles in choosing a pillow.
Breathability and Heat Retention of Maternity Pillows
Pregnant women tend to get hot quickly. Choose a pillow made from a material that does not trap heat against the body and wicks away moisture. Adequate circulation helps to keep the woman cool and comfortable. Natural materials are usually the most breathable, but some synthetic pillow fillings are designed to improve air flow.
Choose a Versatile Maternity Pillow
A maternity pillow should be usable after the birth of the child. Most pillows can be used to support the baby during nursing and as it grows older. Ask the seller about alternative uses for the maternity pillow before buying it.
Choose a Maternity Pillow that is Easy to Clean
A maternity pillow should be easy to clean as it will absorb sweat and, once the baby is born, can become quite soiled with milk and other contaminants. Choose pillowcases that are easy to remove. Opt for a zip or simple slip cover design instead of buttons or press studs where possible.
Buying a Maternity Pillow on eBay
Buying a maternity pillow on eBay is simple. Type a search phrase, for example "100 per cent cotton hypoallergenic maternity pillow", into the search bar, which can be found on every page, to see the listings available. Choose the most appropriate category and product features to narrow down your selection. Remember that items may be listed in more than one category.
Before You Buy on eBay
Before buying on eBay, learn as much as you can about the item you want and the person selling it. All the information that you need can be found on the item listing page, which is accessed by clicking on an individual listing. The information found here includes details about aspects such as the item's description and condition, the seller's accepted payment methods, bidding and buying options, and the seller's feedback information. Click on the number next to the seller's username to see what other buyers think of their products and customer service.
Conclusion
An ergonomically constructed maternity pillow offers the support that a pregnant woman needs while lying down or sleeping. Many women suffer from heartburn and backache during pregnancy. Adequate head, neck, upper body, and lower back support may offer some relief for these conditions. In addition, sleeping on the back is not recommended during the later stages of pregnancy and a support pillow helps to keep the woman lying on her side comfortably. A pillow between the knees avoids twisting of the stomach and abdomen, and should keep the flow of blood and nutrients to the unborn baby flowing freely.
Maternity pillows come in a variety of shapes and sizes. Different shapes offer different levels of support. For example, a small wedge shaped pillow can be used for localised support of the back or stomach, while a full body pillow offers support from head to toe. The filling for the maternity pillow should be hypoallergenic and should allow air circulation. The material used for the cover should be easy to launder, breathable, and absorbent.
Research the brands and types of pillows available by reading customer and expert reviews to find out about any less obvious design issues and to gauge the level of comfort of different pillow types and brands. Maternity pillows should be durable and versatile, making them useful after the pregnancy, for example to support the baby while nursing. eBay sellers offer a wide range of maternity pillows to suit women of all shapes and sizes.