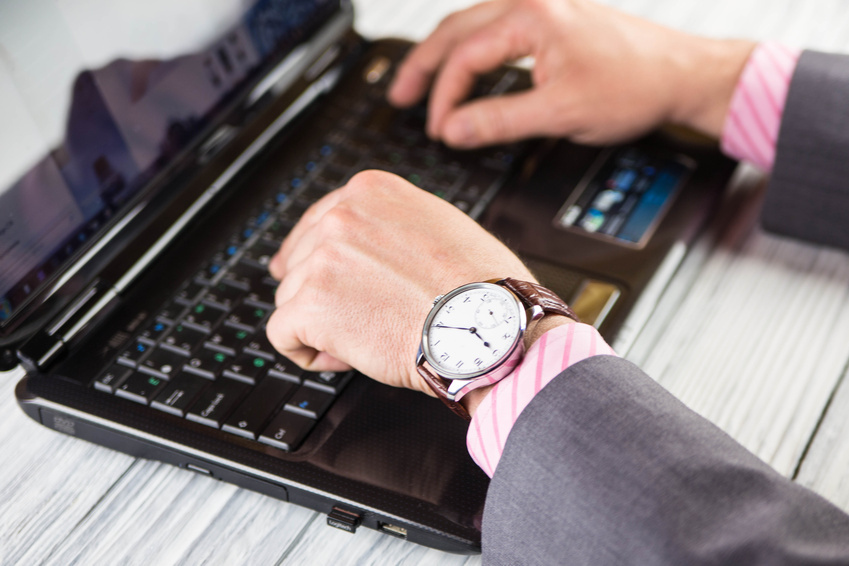 Originally designed in the late 1700s, an automatic watch winds itself using the natural movement of the wearer's arm. Most of today's mechanical watches are automatic watches. To purchase an automatic watch, consider your favourite watch case, the kind of watch crystal that best suits your needs, and what kind of band is most comfortable. Wearing a watch has been a classic addition to men's fashion for years.
Consider Cases for Men's Automatic Watches

A watch case is its frame but doesn't include the glass or plastic that shields the hands from harm. Men's automatic watch cases come in several shapes from round to rectangular. Their materials vary, but they are typically made from steel, gold, or silver. If they are made from a precious metal, the seller should know the percentage of precious metal. A watch case can be shiny, matte, or inlaid with gems. A large part of choosing a men's automatic watch is finding which case suits you.
Learn About Men's Automatic Watch Crystals
The crystal of an automatic watch is the clear cover of the watch's face. Cheap watches generally use plexiglass, which is difficult to shatter but easily scratched. Mineral glass is the opposite; it is quick to shatter but rarely scratches. Synthetic sapphire has the same benefits as mineral glass.
Find a Comfortable Watch Band

Generally, you don't have to use the band a manufacturer includes with an automatic watch. Instead, choose a comfortable leather band or find a professional metal one. For outdoor adventures, consider a plastic band that can withstand moist conditions. Sometimes bands are replaceable by yourself, and other times they must be replaced by a professional. A properly fitting band does not move up and down the wearer's wrist, nor does it leave a mark.
Look for Reputable Watch Brands
Rolex, Fossil, and Burberry offer automatic watches for men. Rolex in particular has offered automatic watches since their founding in the early 1900s. Burberry is an older company, but they are more widely known for their clothing lines than watches. Lastly, Fossil is the most affordable brand out of the three, selling men's watches in supermarkets across the world. There are plenty of other companies that offer automatic watches; explore and find a brand that appeals to you.
After Buying a Men's Automatic Watch
Once you've found the right watch, make sure its time is correct. If the time is wrong, keep in mind that automatic does not mean it never needs adjusting; in fact, automatic watches tend to lose about an hour of time every year. If having the exact time is important, double-check its accuracy every month. Ensure the band fits properly or purchase a band that does.