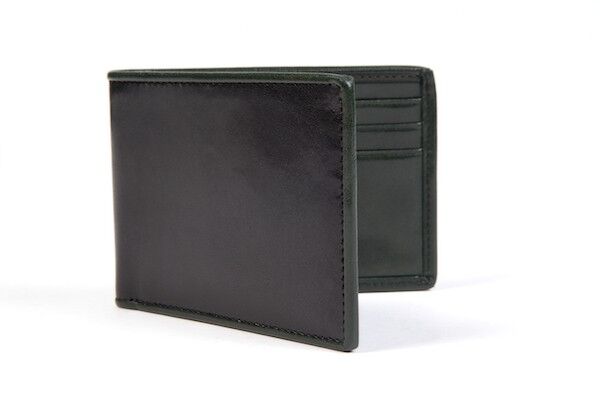 The most common type of men's wallet is the bifold. There are a number of other types of wallets, which this guide reviews, but among these the next most popular, the tri-fold, is about one-fifth as likely to appear in an eBay search, and the other variants are substantially less common again.
Although "bifold" is not a contraction of "bill-fold", it might just as well be. The term simply means folding in half, and it is commonly seen in modern architecture, where sliding doors that fold back in segments are known as bifold doors. A bifold wallet folds paper currency in half for convenient storage although that is just one of the things that a bifold wallet can be used for.
This guide looks at some of these uses and also at some of the different kinds of wallet available in eBay's shops and auctions in order to help the men make an informed decision when purchasing a bifold wallet.
Men's Wallet Variations
At its simplest, a wallet can be described as a small bag, or a small, flat case. Traditionally, its small size was the more identifiable element, rather than its flatness. In classical times a wallet might be used for carrying a variety of things, including food. For a long time in recent history, a gentleman would carry a leather wallet to store his pipe tobacco and pipe-smoking bits and pieces. Such a wallet could easily be adapted to modern use.
Nowadays, in addition to paper money, a wallet is likely to include specially designed niches for things like coins, credit cards, identity papers, memorabilia, such as personal photographs, or business accoutrements, such as electronic entry keys and calling cards. However, there are items that might come up in a search, which are listed as wallets, but are not the type of item that someone wishing to carry cash will be looking for.
Travel Wallet
Although a travel wallet is designed to accommodate cash among other things, it is generally larger than a pocket wallet and fits more conveniently into something like a small overnight bag or a briefcase, rather than being carried about one's person.
Phone/Pad Wallet
The popularity and convenience of mobile phones, and more recently, ultraportable tablet computers, such as the Apple iPad or the Microsoft Surface, has spawned a whole industry devoted to making accessories to complement these devices. Wallets, essentially carrying cases, are among these.
Digital Wallet
On the other hand, a "digital wallet" is just a skeuomorphic concept, as they call them at Apple. The idea is to imitate the function as a convenient cash resource that a conventional wallet performs and reproduce it in digital form. eBay's PayPal service, and others such as Neteller, Moneybookers, and Bitcoin, are all examples of this concept. You cannot buy a digital wallet as such.
Tri-fold Wallet
Turning now to items that might appear in a search that more closely resemble a bifold wallet, the obvious place to start is with the tri-fold wallet.. A characteristic of tri-fold wallets is that they accommodate charge card-sized items in a vertical position. Usually, that means the overall length is greater than what most people will need for their paper currency. Maybe this design is better suited to people whose primary spending style is via debit, credit, and charge cards, where the extra available slots are more valuable than cash storage space.
Long Wallet
The so-called "long wallet" resembles a tri-fold wallet, except that it does not normally fold. There is quite a sharp difference between the ambience of a woman's long wallet and a man's. For women, they are typically a highly elegant and minimal variety of purse. For men, the association is with biker chic, and frequently, a man's long wallet is designed to be attached to a chain, which can then be secured to the owner's jeans, or jacket, or conceivably to one of his piercings.
Breast Wallet
For a man, the equivalent in elegance to the ladies' long wallet is the breast wallet, designed to slip into the inside pocket of a tailored lounge suit jacket, or similar garment, where the kind of bulge that a folded wallet produces is not desired. Compared to a woman's long wallet, a man's breast wallet is likely to be nearer the dimensions of an unfolded bifold wallet, since both comfort and security argue against a long edge protruding from the neck of the pocket containing it.
Regional Differences in Wallets
Since the main use for a bifold wallet is storing and carrying money, it is worth bearing in mind that the materials used to make coins differ from country to country, and the size of paper bills varies too. For example, a regular visitor to continental Europe may very well find that they accumulate a greater weight of coinage than an equivalent period of time at large in the UK might yield. A wallet with extra space for coins might be something to have available for visits abroad, while keeping a slimmer type for use at home.
Broad Men's Bifold Wallet Types
Having reviewed some of the varieties of wallet available, let us now narrow the search to our main topic, the bifold wallet. To begin with, we can sort the options into three categories: basic, everyday, and designer.
Basic
First of all, there are basic wallets. They are made in simple designs from durable but cheap materials, typically plastic of one sort or another. At their most basic, they are the kind of thing that banks and building societies give away to their customers, so the chances are that a buyer would not be looking out for one of these wallets.
Everyday
As it is the most common type of men's wallet, the bifold wallet is available in a wide range of qualities, materials, designs, and prices. The median, though, is a cow leather item without a fastening but with a number of pockets for storing cards, coins, and miscellaneous items, such as postage stamps or personal photographs. Other types of leather and finish are available, such as lambskin, goatskin, and buckskin. Some come with a finish designed to highlight the natural grain of the material. Others are embossed with a variety of entertaining motifs. Remember Jules in Pulp Fiction retrieving his wallet during the diner hold-up?
Designer
Many of the well-known high street menswear brands include accessories in their range of products, and wallets are one of the most recognisable types of item in this category. On any given day, an eBay search on the basic term 'wallet' will yield upwards of eighty different brand names with price tags to match. A buyer can spend anything from a few pounds to several hundred for an exclusive design in an exotic combination of materials such as snakeskin lined with silk, hand-embossed with the buyer's name.
It is a good idea to shop around using the internet as a window. All the leading brands have well-designed and informative websites, where buyers can get a feel for the kinds of materials different manufacturers and craftspeople use, how their products look, and what they cost. The one thing that cannot be gauged from the internet is the way the item feels, its weight, and balance. If such factors are important, then it will be necessary to spend some time on foot researching in high street stores.
Finding Men's Bifold Wallets on eBay
eBay is one of the best places to carry out a comparative window shopping expedition. Not only are there many storefront outlets selling brand-new items, but wallets are the kind of thing that friends and family find easy to give as gifts, so there is a very good chance that a second hand item will be in excellent condition and might prove to be a terrific bargain.
To start looking for used men's bifold wallets on eBay, the quickest way is to type keywords into the search bar on the eBay home page.. If you are not certain that a bifold wallet is exactly what you want, then a general search like "men's bifold wallet&" will be a good to start. If you have a more specific item in mind then you might choose to begin with that instead, but a narrow search such as "men's black leather bifold snakeskin wallet&" might eliminate more results than you want. Remember that long lists of results can be filtered by selecting criteria that make the list more manageable. That way you can progressively eliminate aspects that you are not interested in.
You can eliminate auctions, if you prefer buy-it-now deals, or you can focus entirely on auctions. You can also choose how your results are sorted: one good way is by price, and another, if you like hunting for last-minute bargains, is to sort by listing time. Bear in mind that the search window is always available, and can be used to search within filtered results.
Conclusion
There are plenty of reasons why you might want to buy a men's bifold wallet. You might be looking for a gift idea, you might be planning an overseas trip, or you might simply want somewhere new to keep all your cards and cash together. There is a multitude of variation and choice on offer from eBay's shops, traders, and auctions catering to just about every conceivable desire and demand. Bear in mind that there is no reason why you should not own several wallets, each with its own unique attribute that can make it suitable for any given occasion.
Whichever reason it might be, eBay is the ideal place to start your research and then finish off with a purchase. If you like making spontaneous, spur-of-the moment purchases, or if you prefer to take a meticulous, carefully planned approach, eBay's filters, tracking tools, and purchasing options give you all the flexibility you need.