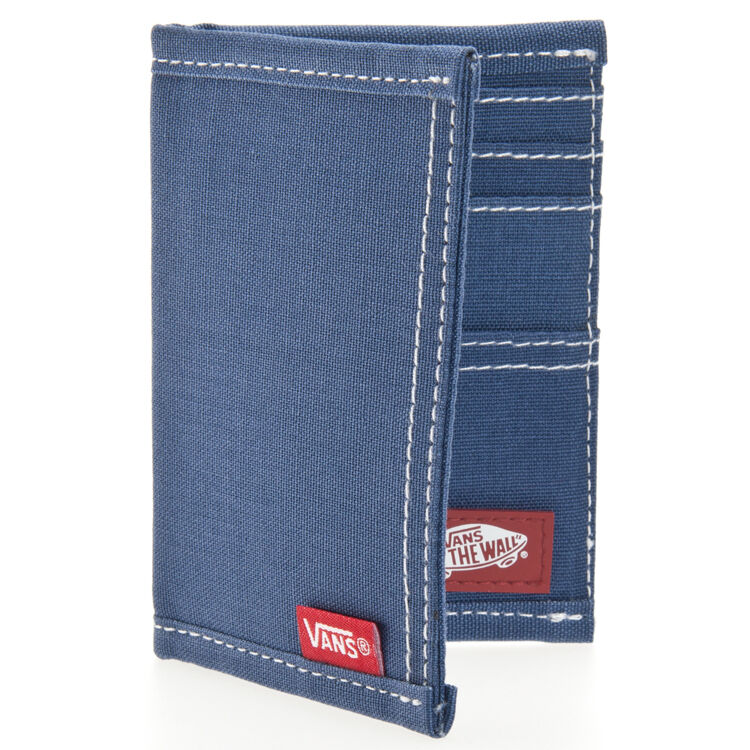 Men's wallets help owners keep their cash, cards, and photos safe and organised. These products are designed from a variety of materials, and canvas is one of the most durable and lightweight options available. Canvas can also be stylish, and is produced in many different colours. Buyers can find a broad selection of wallet designs, including bifolds and trifolds. Bifold wallets hold fewer items, but tend to be slimmer, while trifolds have several pouches and slots for organising cards and cash. The orientation of a wallet can also be an important consideration. Vertical and horizontal wallets are suitable for different types of users, so understand the differences between them for the best fit. Consider the types of fasteners and closing mechanisms used on a wallet, and inspect the item's construction to find long-lasting products that can provide many years of use.
Canvas wallets can be purchased from department and clothing stores, as well as online retailers. Marketplaces like eBay provide buyers with many opportunities to purchase used and new wallets from both private and commercial sellers. Shop around to find the best prices and products, and choose canvas wallets that suit the wearer's style and needs.
Choosing Canvas Wallets
Wallets are often overlooked as an accessory in men's wardrobes. Though many buyers simply look for a wallet that can hold money and cards, the specific design of an item can actually improve the wearer's comfort and increase ease of use. A great-looking wallet can also add style to a wardrobe, and reflect the wearer's lifestyle. Consider the materials, design, and style of canvas wallets.
Types of Canvas
Canvas wallets can be made from several different materials, including traditional fabrics like cotton and linen, as well as nylon, twill, and vinyl. Many canvas wallets made from hemp are also available. In some cases, the specific materials may not be indicated, and a wallet's label may only indicate that it is canvas. In all cases, buyers should attempt to feel the texture of the canvas to get a feel for its durability and quality.
Style
Wallets can vary greatly in their folding style and orientation. There are two popular folding styles, including bifold and trifold. Wallets can also be either vertically or horizontally-oriented. Small wallets are also available, and have a minimal design. Choose the wallet style that is most suitable for the tastes and needs of its user.
Bifold
Bifold wallets have two sections connected by a single hinge. This type of wallet is the most popular design for wallets, and offers users simplicity for organising their cards and money. The relatively limited space of bifold wallets encourages users to keep the number of business cards, receipts, and other non-essentials to a minimum. Look for bifold canvas wallets for efficient wallet use.
Trifold
Buyers who tend to collect business cards, photos, receipts, and other pieces of paper in their wallets should consider a trifold. These wallets have three sections and two hinges. The additional space in these wallets can be used for a higher number of bank cards, credit cards, and other materials. Be sure to close a trifold wallet in the same way each time to help it develop a natural and comfortable shape in the pocket.
Horizontal
Wallets designed to be kept in a back pocket have a horizontal orientation, and are often referred to as billfolds. These products are wider than they are tall. Horizontal wallets are typically designed with a long top opening used for cash, along with several vertical slots and side pouches for holding credit and business cards. These products can typically hold more than vertical wallets, making them suitable for users who like to keep everything together in one place.
Vertical
Vertical wallets are taller than they are wide, and are meant to be carried in a breast pocket. As a result, they are commonly called breast wallets. These items tend to have fewer slots and pouches for cards than horizontal wallets, and many do not have the long opening at their top for cash. Instead, the slim design of vertical wallets encourages users to keep their cash secure in a money clip, usually kept in a separate pocket. Choose vertical wallets for holding essential-only items like credit cards and a bank card, along with a few other cards, and keep everything else separate.
A variation of the breast wallet is the travel wallet, which is larger and meant to store a high number of cards and papers. These wallets are ideal for travelling to other countries, as they are large enough to hold several forms of identification, a passport, boarding pass, and other essential papers and cards. Due to their size, travel wallets are normally kept in a bag.
Small Wallets
A third kind of wallet is also available. Known as small wallets, these items have a minimal design and are meant to hold only essential items like bills and a couple of cards. The most popular of these is the flap wallet, which is built as a single section with a flap that folds over and is secured to the front. These wallets typically have only a single compartment, so they are the ideal choice for men who like to keep their wallets light.
Coin Wallets
Some wallets are designed as a single pouch for holding loose change. These coin wallets are an easy way to keep coins organised and out of the way of keys and other items in an owner's pocket. In some cases, coin wallets may even include a slot for holding an identification card and a credit card or two.
Colours and Design
Canvas wallets can be produced in several different styles and colours. Choosing the best-looking wallet is ultimately a matter of personal choice, though there are some things to keep in mind while shopping. In general, bold colours are best left to wearers with colourful wardrobes. Most buyers can do well with a black, brown, or beige wallet that can work well with any type of clothing.
Look for wallets with a trim, as it helps the canvas material hold together, and is better than stitching alone. Many high-end canvas wallets have a leather trim that is both durable and visually appealing.
Fasteners
Though many wallets simply fold shut, some can be clasped or fastened shut. The primary types of fasteners include velcro, buttons, and snaps. Each of these has its benefits and drawbacks, so choose the type that is most suitable for the user. The following table offers some considerations for each type of fastener.
| Fastener Type | Description |
| --- | --- |
| Velcro | Velcro can be an easy and convenient fastener, though it can also wear out over time. Velcro tends to accumulate bits of lint and other materials that can reduce its effectiveness, as well, and it can be difficult to clean. |
| Zippers | Zippers are another quick and easy way to close up a wallet. This is an ideal option for coin wallets and travel wallets. Look for metal zippers when possible, as these will last longer than plastic. |
| Buttons | Buttons can be a better option than velcro for long term use, though it is important to find wallets with quality stitching to hold the button to the canvas. Also, be aware that large buttons can cause a wallet to become uncomfortable in a back pocket while sitting down for extended periods of time. |
| Snaps | Snaps are one of the most durable options for holding a wallet closed, though they can be difficult to use if a wallet is overly full. |
How to Buy Canvas Wallets on eBay
All types of canvas wallets are available for purchase on eBay. An easy way to begin shopping for these products is to type "canvas wallet" into the search field on the homepage. Search results can be refined by adding additional terms or by clicking on any of the category options that appear in the results page. For example, to search for black canvas wallets, add "black" to your existing keywords, or find the category option for colours and select black.
Take the time to read item listings before committing to a purchase. Look for the full price of the item, and be sure to check the seller's shipping charges. Sellers also list their accepted payment methods in an item listing, so be prepared to pay in one of the designated ways to ensure a smooth transaction. Read item descriptions for information about the materials, design, and condition of a wallet.
Click on a seller's name in an item listing to see the user's full eBay profile. There, you can view the seller's positive feedback rating, number of completed transactions, and information left by previous buyers. This includes ratings based on criteria like shipping speeds and accuracy of item descriptions, as well as comments about specific transactions. Once you have received your wallet, return to eBay to leave feedback for the seller. This helps inform future buyers, and also provides sellers with information that can help them improve their performance in the future. Many users operate like retail stores, and are happy to work toward a resolution of any problem that may arise during the sale, so contact the seller before leaving negative feedback.
Conclusion
Wallets are an important, but often overlooked, accessory in a man's wardrobe. Canvas wallets are all-purpose items that can be durable, water resistant, and stylish. They are produced in a wide range of designs to suit the tastes of individual buyers. The two primary styles for wallets are bifold and trifold. Trifold wallets can carry more items, but are also bulkier. Wallets can also be oriented to a vertical or horizontal position. Horizontal wallets, or billfolds, are meant to fit in a back pocket, and can typically hold more than vertical items. Breast and travel wallets are vertically oriented. Breast wallets tend to be slim, and can be used in conjunction with a money clip. Travel wallets are large enough to hold passports and other essential items for traveling abroad.
Canvas wallets can be purchased from department and clothing stores, as well as a variety of online retailers. Marketplaces like eBay are a great way to search for a variety of products, and include both private and commercial sellers. Consider the design and appearance of canvas wallets to find the best products available, and begin shopping to add a quality accessory to a wardrobe.