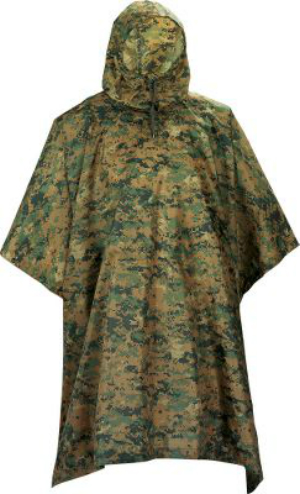 Capes have been part of men's wardrobes for centuries if not longer. They are the preferred garments of both opera goers and superheroes, and impart a sense of style and panache that is not seen with any other article of clothing. A cape makes a statement as much as it covers the body. They are an essential part of period garb, and can be a practical garment for those who have to go out regularly in the rain. Much like a poncho, a cape is notable for being sleeveless, providing protection from the weather without binding or fitting closely to the body. They are often popular with various military and police forces, both as a means of identification in some situations, and because of their ability to cover without binding, which also makes a cape particularly easy to don, or remove, in a hurry. Although they may fall in and out of fashion, the nature of the cape is such that it is unlikely to ever disappear completely.
Background of the Cape
Capes and cloaks are very similar garments that have been worn by both men and women for a very long time. No one knows exactly when they were invented, but the same basic garment was independently developed in both the Old World and the New. In the latter, it was known as the poncho, and differed from its Old World equivalent in that it hung down as much at the front as at the rear, while still remaining loose-fitting and sleeveless.
Differentiating Between the Cape and the Cloak
When considering buying a cape, one thing that's important to note, is that a cape is not the same thing as a cloak, despite the fact that the two garments are often conflated. As a general rule, a cloak is not only a much heavier garment, but also a longer one. The traditional cape, like the poncho, only reaches as far down as the hips, or possibly the waist. The cloak, on the other hand, normally comes down well below the hips, often reaching as low as the knees, or even in some cases the ankles, of the wearer. One reason for this is that the cloak is a more protective and less decorative garment than the cape, being more suited for winter wear.
Both capes and cloaks can include hoods, although the hood on a cloak is usually heavier. Cloaks also tend to cover more of the front of the wearer's body than capes do, as befits a garment designed more for warmth. However, despite these distinctions, it is fairly common for at least some people to distinguish between capes and cloaks almost entirely on the basis of weight rather than length.
Different Kinds of Capes
Despite their relative rarity, there are still a number of different kinds of capes that can be found by anyone seeking one. These capes range in size and form, from almost duplicating a poncho, through to something that even the most painstaking fashion expert would agree is a true cape, all the way to a garment that bears more resemblance to a light cloak than a cape. While most fashion capes are worn by women, there are a number of cases where a man might be found wearing one.
Rain Cape
A rain cape is a relatively short, sleeveless garment designed to protect against rain in otherwise relatively warm weather. They are often popular when hiking or camping because their light weight makes them readily portable just in case the weather turns nasty. These garments are sometimes made of clear plastic, particularly when they are meant for emergency wear only. In most cases, a rain cape will look as much, or more, like a poncho than a traditional cape, but for all its appearance, it makes an excellent garment to wear in a storm.
Inverness Cape
This is a relatively long cape, almost as long as a cloak, that is particularly popular in Scotland. This garment provides full body protection against the rain, while leaving the arms free. This configuration makes the cape very well-suited for pipers and other musicians, especially in rainy climates. Inverness capes can often be found in tweed patterns. They may not be as commonly worn as they once were, but they are still seen on occasion.
Costume Cape
Capes are an essential part of many costumes, ranging from superhero costumes to those worn by many famous entertainers. Superhero capes are often found in bright primary colours and usually come down to at least the knees, while many entertainer capes are much shorter, reaching only the waist. While neither of these choices may be common as everyday wear, both are readily available and represent what many people think of when considering a cape. Capes, and cloaks, are also common in period garb such as is worn at renaissance fairs or by historical re-enactors.
Cape Materials
Capes can be made from a wide variety of materials, ranging from thin plastic to silk and satin. A formal cape may have a satin lining, or even be made of crushed velvet. Inverness capes are often made of wool. Modern rain capes can be made of thin plastic, or water-repellent synthetics that provide both breathability and dryness in any weather. In the majority of cases, though, a cape will be made of a relatively lightweight material, whether synthetic or natural.
Choosing a Men's Cape
The first step in choosing a cape is identifying the reasons why the prospective purchaser wants a cape, and the circumstances in which they intend to wear it. Knowing this, makes it much easier to determine exactly what cape is best fitted to that person's needs. For example, a person intending on wearing a cape to dress as a vampire at a costume party will need an entirely different cape than someone looking for a cape to carry with them when hiking in Scotland. Another factor is whether the cape will be worn on a regular basis, or only on very rare occasions; and possibly only once. An emergency garment is likely to be thin and inexpensive, as it will probably be replaced after use, while a cape meant for more frequent use will likely be more expensive and made of better materials. In either case, the most powerful tool the purchaser has is knowledge.
Where to Buy a Men's Cape
Even though capes are no longer as common as they once were, they are certainly still available. Those who prefer to shop locally can often find rain capes on the High Street, and vintage capes in a number of charity shops. Others, who may be looking for a greater choice and wider variety, may choose to shop on the web; where they can find capes both at major Internet retailers, and auction sites such as eBay.
Buying a Men's Cape on eBay
Buying a men's cape on eBay is as quick and easy as typing the words. All you have to do is type what you want into the search box, which you can find on every eBay page, and watch as the results appear on your screen. Once you have a list of capes to choose from, you can use the filters in the sidebar to narrow your results down to just the kind of capes you are looking for. You can filter by everything from the maker of the cape, to size and even function. eBay also offers a sort function that can ensure your results are focused on the capes that best fit your existing needs. By using the site's wealth of tools, any search can become both quick and intuitive.
After you have found those capes which best fit your needs, the next step is to find a match from amongst eBay's many reputable sellers. The best place to start that process is at the seller's profile page where you can see anything from their feedback and location, to whether they have any special shipping policies or offer bundles as well as individual items.
Conclusion
A cape can do many things for the man who wears it. It can add a bit of classic style and even panache to an otherwise quiet personality, or protect a hiker from a cold rain. As befits a garment that has been worn for centuries, the cape has taken on a wide range of roles. Some capes are more like cloaks, coming down to the knees and being worn primarily as part of a costume. Others are worn on stage by entertainers, helping them shape their public persona. Still other capes are utilitarian wet-weather gear, worn by people who want something lightweight that will keep the rain off without binding or overheating. All these needs can be met by capes, whether they serve as the mark of a superhero, or just that of a prepared hiker. Whether it looks like a cloak or a poncho, the cape still has a place in a man's wardrobe.