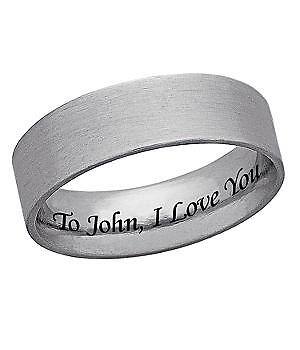 Engagement rings for men have become increasingly popular in recent years, and there is a growing range available to choose from. A buyer can therefore select a ring which reflects the style and personality of the man who will be wearing it. For example, men's engagement rings are available either with or without diamonds, and can be as masculine or as decorative as the wearer chooses. Men's engagement rings can be found in all the traditional, precious metals. But for the man who works with his hands or insists on a ring which is overtly masculine, rings are also available in hardwearing industrial metals, such as tungsten and titanium.
Men's engagement rings are often substantial purchases, and are bought to be worn long term. Therefore it pays to consider the purchase carefully. The sensible shopper will spend time researching the market to find out about the options available, likely costs, and best places to buy engagement rings, before spending any money. Although men's engagement rings are available in the high street, trailing from shop to shop to examine their comparatively limited range can be time consuming. For those buyers who want to view the widest range in the least time, men's engagement rings are readily available online, where Internet markets such as eBay offer a massive selection across all price points and styles. The breadth of range available makes eBay a good place to find the perfect men's engagement ring.
Types of Men's Engagement Rings
Whereas engagement rings for women are traditionally extravagant, acting as showpieces to display one or more diamonds or other precious stones, engagement rings for men are much more variable.
With Jewels
Although there are comparatively few jewelled engagement rings for men with the florid or extravagant look of a female ring, there are some. Ultimately it is matter of taste and preference. There are however many engagement rings for men which feature jewels in a more discrete setting. Usually these have a single, small diamond, and the stone is generally set deep into the ring, rather than standing out above the line of the metal. This makes it a little less obvious, and may help protect it in cases where the wearer uses their hands a lot.
There are no hard and fast rules, though. Some men's engagement rings are diamond bands, with a series of small diamonds set at intervals around the ring, while others are quite showy, with numerous small diamonds in florid patterns.
Without Jewels
The fact that a man's engagement ring is less likely to have showy gemstones than a woman's, does not mean that they need be plain. Many rings for men have elaborate but subtle patterns, such as rope motifs, hammer finishes, brushed metal finishes, or geometric designs. Others are two-toned, being made from different metals, such as gold and platinum.
Vintage Men's Engagement Rings
Antique men's engagement rings are also considered much sought-after, as they add a classic, timeless appeal to the ring. Top quality antique jewelry in mint condition can be expensive, but antiques are allowed to be a little worn, so that shouldn't detract from the essential appeal of the piece.
Character Men's Engagement Ring
Men's engagement rings are about romance rather than money, and there is no reason why they need to cost the earth. A carefully chosen ring which is in keeping with the wearer's character or interests can mean far more than simple gold or jewels. If the wearer is concerned about the environment, a hand carved ring made from wood grown in a sustainably managed forest may mean more to him than any precious metal. If he is a motor enthusiast, a ring styled on a motoring theme may appeal to him. The opportunities are endless, and by choosing something appropriate and meaningful, the buyer demonstrates their knowledge of and concern for their future spouse.
Practical Men's Engagement Rings
For those men whose practical nature means that they dislike 'frippery', there is no reason why an engagement ring should not reflect their belief. Rather than gold, silver or platinum, men's engagement rings can also be found in practical, hardwearing industrial metals such as tungsten or titanium. Polished to a brilliant smoothness these metals can be attractive and yet masculine, and are very resistant to abrasion or other damage.
Materials for Men's Engagement Rings
Ranging from the beautiful to the practical, metals can match the personality of any engagement ring wearer. The table below summarises the metals used to craft men's engagement rings.
| Metal | Description |
| --- | --- |
| | Gold in its natural state; alloyed with other metals to harden it |
| | Alloyed with nickel, silver, platinum or other white metals; often plated with rhodium for durability |
| | Rarest of metals; does not corrode; attractive, white, highly sought-after metal |
| | Less costly than gold or platinum; still very desirable |
| | More dense than lead; capable of being polished to an attractive finish |
| | Exceptionally strong for its weight; used in military applications and engineering. |
Many men who might baulk at the idea of wearing an engagement ring made of gold or platinum, will be very happy to wear one made from titanium, the same material as the armour on an A-10 tank-busting ground attack aircraft. And if titanium does not appeal, tungsten or even ceramics might.
Ring Sizes
When buying a ring, it always pays to know the wearer's ring size. There are charts readily available which rank the diameter or internal circumference of the ring, with sizes represented as letters. Common ring sizes for men might be Q, R, S, or T. There are also half sizes, such as Q1/2, R1/2, S1/2, T1/2.
As an example, the size Q equals a diameter of 18.34 mm, or an internal circumference of 57.6 mm. The size Q1/2 equals a diameter of 18.54 mm, or an internal circumference of 58.3 mm.
The best way to obtain the wearer's ring size is either to measure an existing ring which fits, or to let a jeweler measure the wearer's finger. This is best done at the end of the day, when the finger is likely to be at its largest.
Remember that although many rings can be resized, rings of tungsten or titanium are too hard and brittle, and cannot. Some jeweled rings cannot be resized either, which often includes jeweled bands.
Where to Buy Men's Engagement Rings
Although perhaps not yet as ubiquitous as women's engagement rings, men's engagement rings are becoming more and more popular. Increasingly, therefore, they are becoming a common sight in high street jewellers, although the range available there can be rather limited.
Being on average larger than women's engagement rings, and therefore requiring more precious metal, a men's engagement ring can amount to a substantial purchase. Therefore, careful consideration needs to be given before buying one, to ensure that the materials and design are appropriate for the wearer. As with any purchase, it is also sensible to ensure that the price being paid represents good value. It is worth remembering that the glitzy packaging from a high street store will quickly be forgotten, whereas the ring itself will endure.
For these reasons astute buyers often look beyond the high street, and shop instead on the Internet. Online retailers such as eBay can offer a greater choice than high street retailers, and without the glitzy marketing prices, the rings are often more affordable.
Finding Men's Engagement Rings on eBay
Searching for the ideal men's engagement ring is easier and less time consuming on eBay. Not only is eBay able to offer a wider choice than the high street stores, giving you a much greater chance of finding an engagement ring which matches the character of the man you are buying it for, but eBay also makes it simple to search through the engagement rings on offer. From the eBay homepage, just type in a phrase such as 'men's engagement rings' and hit the send button. This will bring up a very large number of rings on offer. You can filter these results by specifying, for example, the particular metal that you prefer.
No matter what your purchase, it always makes sense to study the pictures and descriptions carefully, to be sure the ring meets your requirements. If you are planning on spending a substantial amount of money, you can also opt to see only results from Top Sellers. These are sellers who have been awarded high feedback ratings from previous buyers, so that you can be confident about what you are buying. Choice and simplicity make eBay a good place to buy an engagement ring for a man.
Conclusion
Men's engagement rings are gaining in popularity, and as they do so the range available is expanding. There are differences between engagement rings for men, and those worn by women. The latter normally include diamonds or other gems in a deliberately showy display, whereas engagement rings for men are normally comparatively plain. If they include gemstones at all, they tend to be smaller and less florid. There are exceptions to this however, and some men prefer to wear a ring with showy diamonds.
Men's engagement rings can be found in a wide range of materials and styles. As well as traditional precious metals, men's engagement rings can also be found in hardwearing industrial metals, which can appeal to those practical men who might otherwise be reluctant to wear an engagement ring. They can even be made from materials such as wood or ceramics.
When buying an engagement ring for a man, the key thing is to choose one which captures the man's character or which accurately reflects his interests. Buying men's engagement rings online overcomes the issues of limited range and inflated prices found on the high street. This makes eBay a good place to shop for a man's engagement ring.