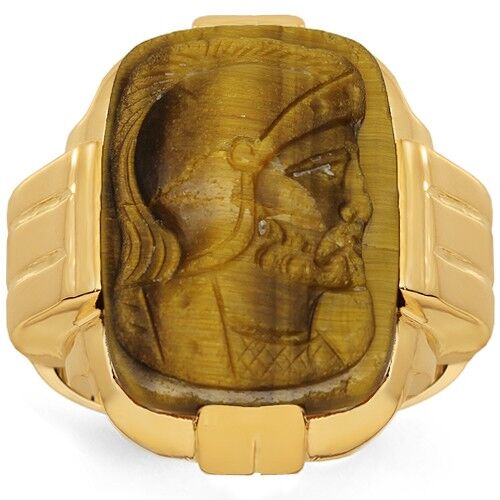 Men's gold rings are worn as a type of ornamental jewellery. They are circular bands around the finger that come in a wide array of sizes, styles, and prices. Men's gold rings may be set with a stone, although most consist of a plain band. Men's gold rings can be worn for an array of reasons, including normal day to day wear. However, they are most popularly associated with wedding rings and worn to signify marital commitment. Men's gold rings also come in the form of signet rings that represent style and sophistication. The top of these rings are meant to be engraved and many men take the opportunity to display a family crest or their initials. When purchasing a men's gold ring, buyers should consider the various colours of gold and their purities, understand how to identify gold hallmarks, familiarise themselves with the resizing process, and learn how to care for a men's gold ring properly. Men's gold rings are available at jewellers and online at retailers such as eBay.
Colours of Men's Gold Rings
Men's gold rings are made of pure gold alloyed with other metals such as copper, iron, nickel, platinum, steel, silver, and zinc. Alloying pure gold with different metals not only makes it easier to work with, but also it lowers the cost of the ring. The types of metals used determine the colour of the gold. Nickel and platinum are often used to create white gold, while copper is used to create a rosy tone.
Purity of Men's Gold Rings
The purer the gold, the softer the ring. Therefore, creating alloys is an essential part of the ring making process to ensure that the materials are durable. Men's gold rings that are to be worn every day should be made from lower carat gold or from metal that is gold plated. Delicate rings with intricate designs that are not intended to be worn frequently can be made safely from 24 carat gold, the purest quality. 24 carat gold is the softest and the most expensive carat. Other popular gold purities are indicated in the table below.
| Carats | Marks | Meaning |
| --- | --- | --- |
| 22 | 22 ct, 916 | 91.6 percent pure gold or 22 parts pure gold out of 24 |
| 18 | 18 ct, 750 | 75 percent pure gold or 18 parts pure gold out of 24 |
| 14 | 14 ct, 585 | 58.5 percent pure gold or 14 parts pure gold out of 24 |
| 9 | 9 ct, 375 | 37.5 percent pure gold or 9 parts pure gold out of 24 |
18 carat gold is more durable and less expensive than 24 carat gold, while still soft enough to create an intricate design. 14 carat gold is the most popular quality of gold in ring making. It is appreciated for both its strength and price. Most wedding rings are made of 14 carat gold.
Gold Hallmarks
In order to help buyers feel comfortable and confident throughout the buying process, a quality control mark is placed on all gold products, including rings. This hallmark guarantees that the metal is in fact gold and that it has been tested by an independent body. The hallmark also allows jewellers to check quickly what carat the ring is if it needs to be repaired or altered. This hallmark is usually found on the inside of the ring so as to be inconspicuous. It is a legal requirement for gold to be above a certain minimum weight to carry the approved hallmark.
In the UK, a hallmark is made up of at least three obligatory symbols. These marks represent the sponsor, fineness, and the Assay Office. The sponsor's mark indicates the manufacturer, or sponsor, of the item. This consist of the initials of the company who sent in the item for assaying. The fineness mark indicates what the metal is and its standard of purity in parts per thousand, while the Assay Office mark identifies the office where the item was tested and marked.
Resizing a Men's Gold Ring
When purchasing a men's gold ring, it is important to buy the right size for the wearer's finger. However, sometimes this is not possible, for example when shopping online. Therefore, buyers should consider how to resize the ring properly in the event that it does not fit. In most cases, a gold ring can be resized easily by any trained jeweller. However, it is never a good idea to increase the ring more than two sizes as the metal will become too thin. This is also the case if the ring needs to be made smaller.
When properly sized, the ring should be snug enough so that it does not fall off, but comfortable enough to wear without constricting the finger. Fingers tend to swell as the day goes on, so it is best to get a gold ring sized in the middle of the day when fingers are at their average size. Before resizing a ring, buyers must consider any engravings on the inside. Often, when resizing a ring, the engraving will be altered. However, it is always possible to have the ring engraved again if necessary. Gold rings that have an eternity band or patterns that circle the entire ring are usually impossible to resize.
Caring for a Men's Gold Ring
In order to preserve its quality and lustre, buyers should learn how to care for a men's gold ring properly. It is a good idea to take the ring off before going swimming as chemicals can damage the gold. If the ring is showing a build-up that is making the surface dull, then it should be washed with a soft cloth in warm soapy water. Buyers should avoid using a toothbrush or other hard bristled object as this can scratch the gold ring's surface. After rinsing the ring in clean water, the wearer should allow it to dry thoroughly before putting it on again. When storing a men's gold ring, ideally it should be kept separate from other jewellery. Other jewellery may compromise the ring's metal by scratching it. The ring should be kept in the box it came in or wrapped in a cloth and stored in a jewellery box.
How to Buy a Men's Gold Ring on eBay
Shopping for a men's gold ring on eBay is a great way to find a good quality item because the jewellery selection available is wide ranging. Buyers have the pick of the most unique gold rings at some of the best prices. To navigate to the assortment of men's gold rings, buyers should use the search bar located on the eBay homepage to enter a phrase, such as "men's gold ring". Once buyers have been redirected to the list of results, they can then narrow down options based on price, condition, or features of the ring. Alternatively, a buyer can use eBay's advanced search function.
Buyers can also limit their results to men's gold rings sold by Top-rated sellers. Top-rated sellers are recognised by the eBay community for their high levels of customer service. These sellers receive consistent positive feedback ratings, which are left by past buyers.
When buyers have found the men's gold ring that they wish to purchase, they should read the item listing carefully and look at any photographs closely. The seller should provide information, such as the type, size, and, condition of the ring. Sellers must use standard terminology to describe the condition of their items, as outlined in eBay's guidelines. Each listing for men's gold rings includes a brief definition of the item's condition in the Item Specifics section. Buyers who need further clarification or additional information regarding an item are free to use the "Ask a question" link to contact the seller directly. Sellers are usually more than happy to provide additional details to promote a positive online shopping experience.
Conclusion
Men's jewellery has become increasingly popular over the years. Men's gold rings are often worn as both wedding and signet bands. They may be simple in design or feature intricate detailing, stones, and engraving. Buyers should consider the colour of the gold and its purity. The colour is determined by the type of metals added to pure gold, while the purity is determined by the percentage of pure gold in the ring. Buyers also need to familiarise themselves with hallmarks. A gold ring's hallmark provides insight about its purity and manufacturer. In order to maintain the appearance of the ring, buyer's should clean it periodically to keep it free from body oils and other compromising factors that can degrade its quality.
When buying a men's gold ring on eBay, it is important to bear in mind sizing. Although possible to resize a ring, buyers should have a good sense of the wearer's size before completing the purchase. Resizing a ring more than two sizes can pose a problem, as can resizing a ring that contains engraving or intricate details. With so many men's gold rings to choose from, eBay can help buyers to find the perfect ring for any occasion.