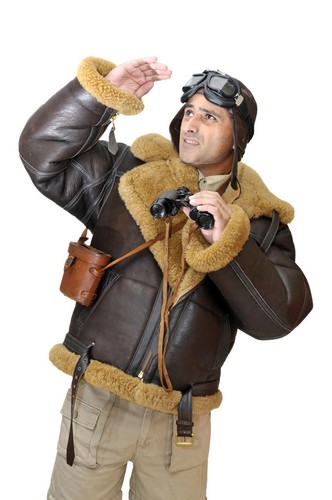 Many men love the style of a classic vintage military jacket, which combines rugged, good looks with solid construction and warmth. With the right jacket, a man can project the image of being one of the "few" or just relax in the confidence of knowing that whatever the weather, they will be warm and dry. Vintage military jackets have a long history in Britain; just consider the way the Mods adopted the US Army parka and made it their own. Even though the Mods themselves are long gone, the idea of wearing vintage military jackets remains. The trick is knowing where to find them, and also identifying the ones that perfectly fit any particular buyer's needs. One of the best places to look for such a jacket is eBay, the online marketplace that combines a one-stop experience with a wide variety of vintage military jackets in all styles and conditions.
History of Military Jackets
Jackets have been a part of military fashion for centuries. Originally popular with the cavalry, who wanted something relatively short because they needed a coat that would not bunch up when the wearer was mounted, the early jackets came in a riot of colours. Still, despite the brightness of their appearance, these jackets were rarely if ever seen in civilian life. Trench coats became common, if not always exactly popular, in the years after the First World War, when old soldiers brought them home. As for jackets, they really entered the public eye during the Second World War, when they became regular wear for aircrew, both in Bomber Command and the USAAF. It was these leather, fleece-lined, jackets that became known as "Bomber Jackets" and set the style for years to come.
Army Surplus Parkas
No discussion of vintage military clothing is complete without a mention of the US army parka that became so beloved by the Mods in the 1960's. These parkas went from languishing in surplus and charity shops to being worn all over London in a very short span of time. This is a great example of just how popular a vintage military jacket can become. They became so popular, in fact, that people were able to start up successful businesses based entirely around selling modern recreations of vintage military parkas.
Authentic or Reproduction Military Jackets
There is no real way to discuss purchasing vintage military jackets without considering the choice between buying an authentic vintage jacket or buying a modern reproduction.. Either option is valid, and there are advantages to both. One key point to remember is that there is always a difference between good reproductions and inexpensive ones. An inexpensive reproduction is often going to do little more than approximate the style of the original, without the quality. A good quality modern reproduction, on the other hand, is often a near duplicate of the original but made with modern materials. They are usually lighter in weight, and in some cases even warmer than the originals despite that fact.
The one catch with buying a modern reproduction is that no matter how high quality the jacket is, or how inexpensively one can find it, the fact remains that it is not an authentic vintage military jacket. For some people, that can be enough to put the replica jacket permanently off the list.
Anyone buying an authentic vintage military jacket is buying a piece of history. A Second World War Flight Jacket for instance, provides a direct connection to the men who flew in that war. Jackets reflect the branch of service, and in some cases the country of origin. They have a symbolic meaning that cannot be duplicated with a modern reproduction. A reproduction military, or military-style, jacket was not there. This may not matter for someone looking for an inexpensive surplus coat to wear on a cold night, but not everyone buys a military jacket simply for warmth alone.
How to Choose a Men's Vintage Military Jacket
Before going out and dropping one's hard-earned cash on a vintage military jacket, it is important for a prospective purchaser to determine just what they want the jacket for and when and where they intend to wear it, or even if they intend to wear it at all. Some buyers may solely want to buy the jacket as a piece of history, not a garment.
Will the Jacket be Worn?
This is one of the most important questions any potential buyer can ask themselves before they start searching eBay. Are they looking for a garment they will be wearing, or do they want a piece of historical memorabilia? If they are looking for a garment to wear, condition is important. The jacket cannot show holes or stains or other signs of wear. Surplus military jackets are usually the first choice for these people. While it can be difficult to find never-issued military surplus jackets, especially vintage ones, those that were sold as surplus after the war are more likely to have survived in wearable condition than jackets which were worn by servicemen on active duty.
People looking for something to wear are also unlikely to be concerned by any repairs or restorations that may have been done to the jacket. While a restoration can impair the value of an artefact, repairing holes and replacing zips can only help a jacket that is going to be worn regularly.
Will the Jacket be a Historical Artefact?
A person looking to purchase a men's vintage military jacket for its historical significance is going to have a very different set of priorities than one looking for something to wear. For these people, condition is a very minor concern, and primarily revolves around whether the jacket will require special storage. For these buyers, what matters more than the condition is who originally wore it? What unit was the wearer in? What battles or events were they involved in?
These are the kinds of questions that excite a historical collector. They will probably never put the jacket on, so details such as size are, in such a case, of little to no concern. As for repairs and restoration, these kinds of buyers are likely to view that as nothing less than killing the existing history of the item. Any original damage is merely a part of what makes the jacket desirable, as it is proof the jacket was worn. These buyers want authenticity in every detail. They want the right shell, the right lining, the right badges and patches. They want all the things that prove the jacket in their hands was really a part of the same war their fathers or grandfathers fought in.
Buying a Men's Vintage Military Jacket on eBay
It is very easy to buy authentic men's vintage military jackets,, or even reproductions, on eBay.. All it requires is a few moments of searching to put you on the track of the jacket you want. The first place to start is the search box which can be found on every eBay page. You just enter your terms in the box and watch as the results appear. If you have more results than you expected, it is an easy matter to use the filters in the sidebar to narrow the search down to just the jacket styles you are looking for. Once you have your results, you can also sort them in order to ensure the focus is on the jacket or jackets that best fit your needs.
After you have a good idea of which jacket, or jackets, you want to buy; the next thing to do is determine which of eBay's many reputable sellers will be your best match. The best place to do that is at the seller's profile page, which can include everything from their location and feedback to sometimes even a picture. This is also where you can find the details of their shipping policy, such as whether they offer bundles to reduce your costs, or even combine multiple items into a single shipment. Some sellers may even make a deal with a local customer that they may pick up their vintage military jacket in person, eliminating the need for shipping entirely.
Conclusion
Whether a person wants a men's vintage military jacket as a personal fashion statement, or as a piece of history and a poignant reminder of some family member's contributions to history, eBay is an excellent place to find one. eBay can lead a purchaser to a vintage US army parka that could have been worn by a Mod, or to an RAF flight jacket that was produced for Bomber Command. Vintage military jackets are not only surplus, some bear the marks of active duty. A jacket that one person may wear on a regular basis might be the one that another buyer would keep stored away to remember the past. Some may settle for reproductions, only wanting the classic style of a bygone era. Others will insist on nothing but the originals that were worn by those who were actually there. Regardless of the jacket one wants, or the purpose one wants it for, eBay is a superb place to find a vintage military jacket.